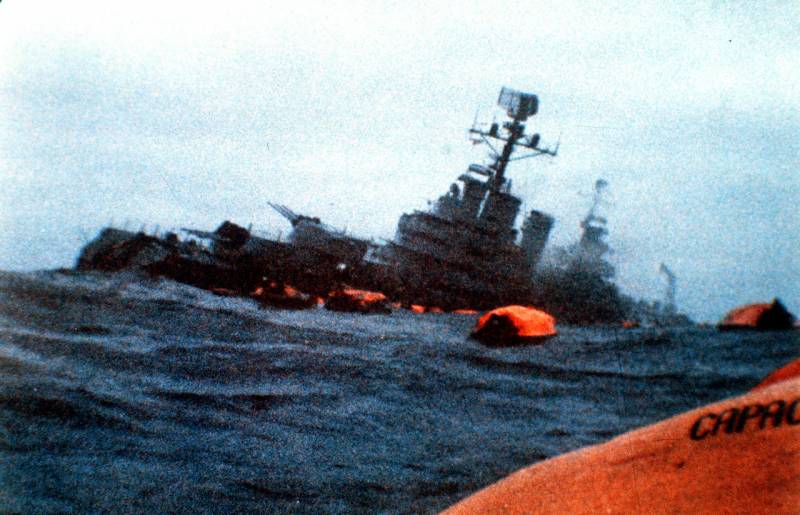 They say generals are always preparing for the last war. Whether this is good or bad is a debatable issue, what is much more important is what conclusions they drew from victories or defeats. 40 years ago, the Falklands War between Great Britain and Argentina took place in the southern hemisphere, in which the British won with great difficulty "over the Indians". What experience of the opposing sides can be useful to us if Russia suddenly needs to conduct a similar naval operation in another part of the world?
We will not specifically deal with a detailed analysis of the Falklands War, its causes, course and results, since this topic is complex, multifaceted and many works have already been devoted to it. Let's try to isolate only the most important, in our opinion, that could determine the vector of further development of the Russian Navy. This war once again showed that without a strong navy, no power can be considered great. So what criteria should he meet then?
Faced with the real prospect of losing the Falklands, Great Britain decided to prove to the whole world that she was still "mistress of the seas." London sent over 40 warships of various classes to the coast of South America, including two light aircraft carriers Hermes and Invincible, as well as about 40 VTOL aircraft Sea Harrier and Harrier GR.3, 8 landing ships, over 40 auxiliary ships, more than 9 thousand people of landing forces. They quickly established a naval blockade around the disputed islands within a 200 nautical mile radius, destroying everything that crossed it. The poor former colony of Argentina opposed the British, armed with old aircraft and a few air-launched anti-ship missiles. Despite their courage, the general level of training and experience of the Argentine pilots was also clearly far inferior to the Royal Air Force.
And despite all this, the "Indians" were able to beat the British hard, who were saved from imminent defeat only by a combination of several factors! London in this war, which lasted only 74 days, lost 2 destroyers, 2 frigates, 1 landing ship, a container ship used to deliver aircraft, 1 landing boat, 10 aircraft and 24 helicopters. How did this become possible?
According to statistics, a third of all British ships that went to South America received strikes from Argentine aircraft. 4 air bombs fell on the Plymouth frigate, the Glasgow destroyer received a direct hit from a 1000-pound bomb, which for some reason did not explode. The Antrim frigate received exactly the same weighty "gift". The Broadsword frigate was hit by a 500-pound bomb that fell into the water and ricocheted aboard. Two Argentine air bombs fell on the Argonaut frigate and did not explode. 1000-pound bombs hit the landing ships Sir Lancelot, Sir Galahad and Sir Tristram.
The real "British miracle" was that 80% of the ammunition that the Argentine Air Force used did not work properly. If not for the "rotten" bombs, a third of the ships of Her Majesty's Navy would have died or become incapacitated, which would mean defeat in the war. At the same time, even the vaunted "Exocets" showed themselves not from the best side.
The British destroyer Sheffield was killed by an unexploded anti-ship missile, largely due to the negligence of her officers and design flaws in the ship. The Sheffield caught fire like our Agile corvette, and was completely burned out so that it had to be flooded. Subsequently, it turned out that his commander ordered all radars and other electronic devices to be turned off, the crew was bored with inactivity, and the duty officer peacefully drank coffee. As a result of a rocket hit, which did not explode, and the ensuing terrible fire, 20 people were killed and 28 more were injured.
The foregoing allows us to draw an intermediate conclusion that aviation against the fleet still "steers". Even old aircraft with primitive aerial bombs can be a real danger to ships. If the Argentine Air Force had modern fighters, attack aircraft and bombers with long-range anti-ship missiles capable of providing a simultaneous dense salvo, the British fleet would have remained there near the Falkland Islands in the form of underwater reefs. No sea-based air defense system is capable of reliably covering warships from constant air attacks for 74 days.
So why did not Argentina win this war, but Great Britain?
Because the British brought their own aircraft with them. They brought in two bad aircraft carriers, Hermes and Invincible, with bad Harriers, but in the hands of good RAF pilots, they were able to provide anti-aircraft cover for the fleet. VTOL attack aircraft, which have a relatively small radius and combat load, are generally not adapted for maneuverable air battles, had to fight with Argentine fighters, and they shot down more than two dozen of them. The British Harriers, for all their shortcomings, have become one of the main characters and a symbol of the Falklands War and a weapon of victory.
This allows us to draw a second, even more important conclusion: without our own aircraft, there is nothing to do against enemy aircraft. No naval air defense is capable of reliably protecting against massive air attacks, so the most important thing is to stop them with your aviation forces, preventing the opponent from developing and using the advantage in the air. Even a bad plane in capable hands is better than none at all.
Without its carrier-based aviation, any naval operations against an enemy of the level of conditional Argentina will turn into a gamble, obviously doomed to a fiasco.