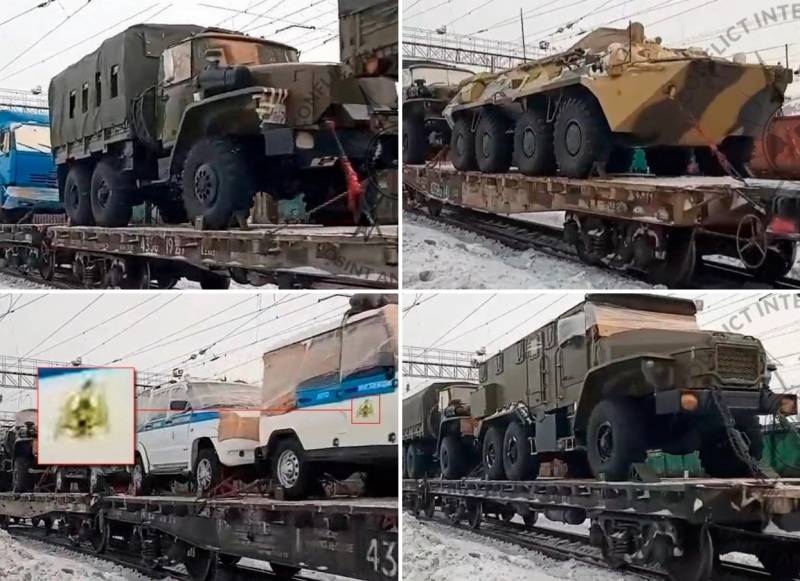 Recently, evidence has begun to appear of the redeployment of forces and means of the National Guard Troops of the Russian Federation (Rosgvardia) on the territory of Russia. Eyewitnesses recorded numerous movements
equipment
and personnel of the specified department towards the western part of the Russian border.
On the frames published on the Web, it can be assumed that the National Guard has set in motion throughout the European part of the country, as convoys and trains have been pulled from different parts in the indicated direction. For example, the equipment of the 141st Special Motorized Regiment named after Akhmat-Khadzhi Kadyrov "North" of the Federal Service for Military Guard of the Russian Federation and the BTR-80 armored personnel carriers in service with the Russian Guard, special armored vehicles (SBM) "Tiger" with off-road terrain and protected trucks Ural-432009 ( "Ural-VV"). After that, social media users remembered how in December 2021 the head of Chechnya, Ramzan Kadyrov,
regretted
that they have no right to solve the "Ukrainian issue" once and for all.
The movement of trains with military equipment from Arkhangelsk in a southerly direction was also recorded. At the Konosha station, more than 400 km from Arkhangelsk, on the platforms of one of the echelons, equipment typical for the Russian Guard was noticed, but without license plates.
In particular, it is reported about the BTR-80 in sand-protective coloring, camouflage Ural-VV and Zvezda-V trucks with yellow reflective stripes on the sides, as well as military traffic police vehicles with the symbols of the Russian Guard.