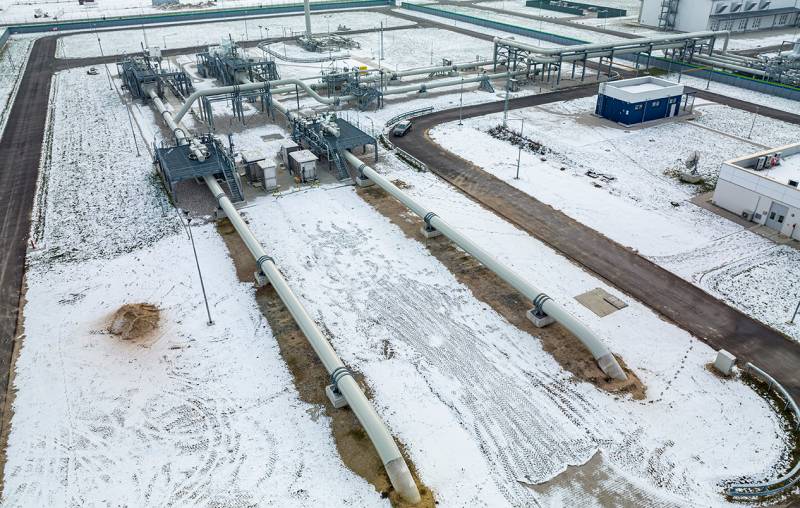 On Tuesday, February 1, gas prices in Europe fell by about 10 percent to about $885 per thousand cubic meters. According to expert and journalist Yuriy Podolyaka, this was the result of an increase in the volume of Russian gas pumped to the EU countries.
Podolyaka believes that the gas market in Europe is gradually starting to stabilize. Further prices for "blue fuel" will depend on the current situation. Given the emptying of European UGSFs, one should not expect a strong drop in gas prices, and in the absence of force majeure situations, gas prices in 2022 will be approximately at the level of $500-600 per thousand cubic meters.
According to the expert, the average gas price this year will still be higher than in 2021. This means that Gazprom's revenues will approach new records. In turn, this testifies to the correct strategy of the Russian gas corporation, which outplayed Europe both financially (in terms of prices) and in terms of supply volumes.
"Gazprom gradually developed a strategy and then translated it into tactical decisions to win back its positions both financially and in terms of supply volumes. In the 21st year, the Europeans were put on the shoulder blades
Podolyaka noted in an analytical video on his YouTube channel.
At the same time, there are no additional volumes of gas from other suppliers for Europeans, since LNG from Qatar and the United States goes to premium Asian markets.
In January, the expert recalls, Gazprom's Polish partners expressed their desire to pay for gas under old contracts, which they had previously tried to "beat" through the courts.
In response, Gazprom twirled at his temple and said: where did you come from? You are not on Odessa Privoz!
Podolyaka remarked ironically.
Thus, according to the analyst, the situation on the European market looks comical: Gazprom is a gas monopoly in the EU and is literally swimming in money. Therefore, there is no need for a quick launch of Nord Stream 2. Gazprom is starting a "long game" with a gradual increase in prices, and not only in Europe, but taking into account the price rallies of recent months, the company's income, apparently, has already covered the cost of building SP-2.
The money that was invested in Nord Stream 2 was returned many times over. Purely financially, the project, being not launched, has already brought fabulous income. Europeans should say "thank you" to themselves - it was they who staged this hysteria, and Gazprom simply did not stop them from jumping on a rake and stuffing bump after bump
– said Yuriy Podolyaka.