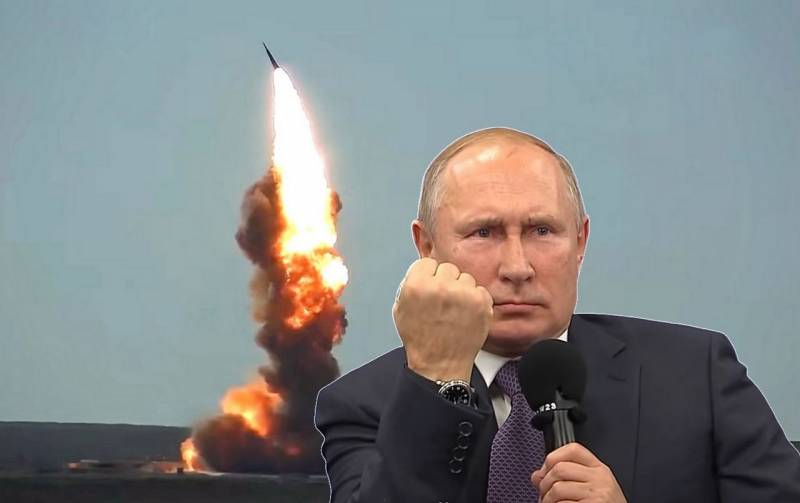 Well, now we have reached the final part of this epic military-diplomatic saga, unprecedented in its scale, which was muddied by the Kremlin at the end of last year, and I sat down to describe it on New Year's Eve, hoping to fit in 2-3 texts, but it turned out much more , and even now it is still not clear how this whole story can end. Because this is a task with many unknowns, and the script is being written and rewritten as the play progresses. And the screenwriter sits, you know where, and does not report to me.
But I promised to tell what served as the starting point of this story, after which the Kremlin moved from passive defense to active offensive operations (so far only in the diplomatic field, but behind the figure of Lavrov, the shadow of Shoigu is clearly visible, and it is she who is forcing Grandpa Joe to go to hitherto unthinkable until compromises). And this reference point should not be confused with the reason that prompted the Kremlin to escalate. I put the reason in
third text
. And she hasn't gone anywhere yet. And also it should not be confused with a pretext that will start the countdown (the Kremlin will receive the pretext for the transition to open confrontation along with the official written refusal of the West to satisfy its demands). This reference point simply became that watershed, a kind of Rubicon, after which Putin abruptly took the helm, setting his demands on the collective West, activating the "Review the results of the Cold War" button, which frightened all our sworn "partners and friends" to death.
Grandpa Joe's Mental Improvement Medicine #4: Nudol
The start for all the events described was one, at first glance, inconspicuous
news
, flashed in the reports of news agencies in mid-November last year, which most of you did not even notice. From my point of view, it became the very starting point of the dramatic series of events that the collective West and we, together with it, open-mouthed, have been observing for the third month already (albeit with opposite feelings). We are proud of our country, and the collective West, which no longer knows how to react to Moscow's outrageous behavior, with a sense of bewilderment, gradually turning into panic.
What happened in mid-November 2021? Nothing special. According to foreign news agencies:
On November 15, 2021, an unknown Russian rocket launched from the Plesetsk cosmodrome hit the long-failed Soviet satellite Tselina-D.
In this way, Russia has demonstrated its ability to shoot down satellites in low Earth orbit and intercept ballistic missile warheads in near space - in fact, this is one and the same
technology
. Not that there was any doubt about it, but after that Russia officially joined the US in shooting down its satellites in 1985 and 2008, China in 2007, and India in destroying its target satellite in 2019. Only the next day, the Russian Defense Ministry, represented by its head, Sergei Shoigu, modestly confirmed this fact, by the way. Thus, Russia became the 4th country that managed to do this at all.
Help
: On January 11, 2007, China at an altitude of 850 km in near space with an SC-19 rocket destroyed its failed weather satellite FY-1C, launched eight years earlier. In 1985, the United States, using an ASM-135 ASAT anti-satellite missile launched from an F-15 fighter, shot down its Solwind P525-78 scientific satellite, which had been hanging in orbit since 1, at an altitude of 1979 km. And in 2008, already by the forces of the US Navy, with the help of a ship-based anti-missile SM-3 launched from a destroyer, a military reconnaissance satellite USA-273 was destroyed at an altitude of 193 kilometers. On March 27, 2019, India joined the list of these countries, destroying a specially launched Microsat-R target satellite with a Mission Shakti anti-satellite missile at an altitude of 282 km.
Immediately, the US Space Command cackled, which stated that
On November 15, 2021 Moscow time, Russia tested an unknown direct-to-orbit satellite interception missile that hit the Russian satellite Kosmos-550 at an altitude of 1408 km, resulting in the formation of debris in low Earth orbit, which posed a threat to the crew of the ISS.
Kosmos-1408 (another name is Tselina-D), launched in 1982, was intended for electronic intelligence and has not functioned for many years. The head of the Space Command, General James Dickinson, said that such a test, according to the United States, indicates that Russia is indifferent to "the security, stability and long-term rational use of space by all countries." He explained that, according to US Space Command estimates, because of this debris, spacecraft will have to maneuver more often to avoid collisions. As a result of the Russian test, according to US State Department spokesman Ned Price, about 1,5 thousand large and hundreds of thousands of small debris were formed.
However, Russian Foreign Minister Sergei Lavrov denied these claims, saying that there was no confirmation of these figures from other sources:
To say that Russia poses risks to activities in the peaceful use of outer space is hypocrisy to say the least. There are no facts!
Pentagon spokesman John Kirby, who said that Russia did not warn the United States about these tests, was answered by the former head of the 4th Central Research Institute (TsNII) of the Russian Ministry of Defense, retired Major General Vladimir Dvorkin, who said that we are not obliged were to warn anyone:
"There is no direct violation of any international agreements. And we don't have to warn anyone when we test our anti-missile or anti-satellite weapons systems.
The general said Russia sends warnings to the US when it test launches ICBMs. According to him, this does not apply to missile tests of the anti-missile defense system (ABM). In the past, Dvorkin headed the 4th Central Research Institute, which is engaged in scientific support for the development of the Strategic Missile Forces and the Aerospace Defense Forces of the Russian Federation.
The secret space weapon of the Kremlin
And why, in fact, our "friends" are so alarmed? The thing is that no one knows what kind of system Russia has tested. They are guessing between our newest S-500 air defense system, the first production model of which has already entered the troops, the promising PKO S-550 air defense system, as well as the A-235 Nudol strategic anti-missile system, which was originally developed to modernize the missile defense of the Moscow industrial region, and is now considered as part of a multifunctional anti-missile and anti-space defense system, the combat capabilities of which allow it to fight not only with ballistic aerospace targets, but also with maneuverable manned and unmanned spacecraft.
But the whole point is that in order to test the rocket, it was not necessary to shoot down your own satellite. The launch of a ballistic missile, which, in fact, is an interceptor missile of this class, could be performed in the direction of a predetermined point in space. It could contain a conditional virtual satellite, and with the help of modern telemetry it was possible to track whether the missile hit the target or not. We did this before. So, when testing interceptor missiles for the A-235 Nudol, which the Ministry of Defense conducted at the Sary-Shagan training ground (Kazakhstan) on September 17 and April 26 last year, we launched our anti-missiles simply into the clear sky. Launched and watched how it flew. If, according to telemetry data, it has reached a given point, it means that the conditional target has been hit. All right! You can uncork champagne.
But this time, we wrecked our own satellite. In the West, they grabbed their heads - what was it? If the Russians treated their own spacecraft this way, then what prevents them from demolishing their entire low-orbit grouping, which is the eyes and ears of the Pentagon, turning all their wonderful missiles into an unnecessary "blinded" pile of metal. Is it just missiles? The entire global navigation system, early warning system of a missile attack, numerous space communication systems, weather satellites, everything without which it is impossible to conduct a modern war, we can bury with just a few volleys from the ground of our hitherto unknown missiles. There is something for the head to grab.
And they had an option that this interceptor missile could in no way relate to either Nudol or the S-500. The S-500 Prometheus air defense systems, which began to be mass-produced on August 23, 2021, and already entered the troops on September 16 of the same year, belong to a new generation of surface-to-air anti-aircraft missile systems. This is a universal long-range and high-altitude interception complex with an increased anti-missile defense potential and a range of up to 600 km. But it's already in production. What can be experienced for him if he is already in the series? And then the worst fears of our "partners" began to come true - no matter how it was not the very promising PKO S-550 air defense system that Vladimir Putin scared them with when he said that they were already working on systems capable of destroying targets flying in hypersonic. In space, they fly at exactly these speeds. No matter how the Russians tested the new class of "earth-to-space" air defense systems. Anti-space defense air defense systems. Mother of God! Well, what are you going to do with these Russians?!
S-500 or S-550?
The fundamental difference between the S-550 and the S-500 already entering the troops is that this is an atmospheric interception system aimed at hitting exclusively space targets, while the S-500 is a combined atmospheric interception system. According to unofficial performance characteristics, and in terms of target engagement range (750-800 km vs. 600 km), and in terms of engagement height (over 200 km vs. 150 km), and in terms of target detection range (1000 km vs. 800 km), and in terms of number simultaneously fired at objects (15 vs. 10), the PKO S-550 air defense system surpasses its predecessor. The difference between them is that the S-550 is a PKO (anti-space defense) system for long-range transatmospheric interception (in near space in low orbits), and the S-500 is an air defense-missile defense system for medium interception in the upper atmosphere.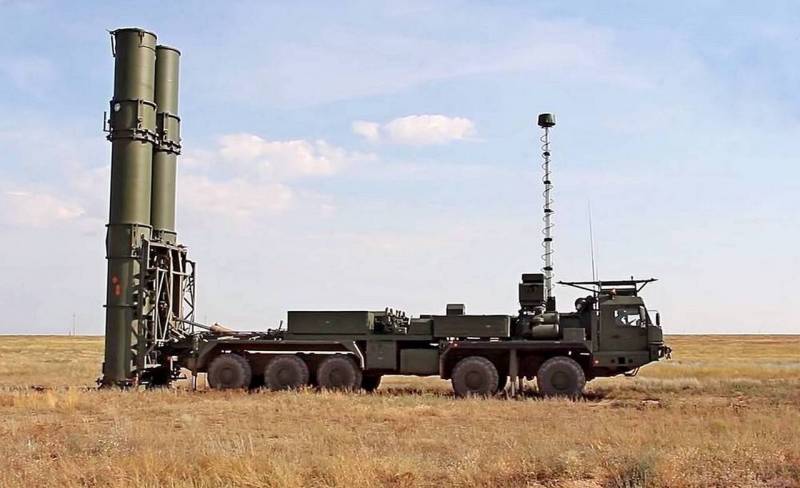 The S-500 air defense system solves the tasks of point (objective) anti-aircraft and anti-missile defense of any object in any given area by intercepting and destroying any moving aircraft in the stratosphere: from fighters to enemy cruise and hypersonic missiles. The S-550 air defense system holds exclusively near space. The systems are independent, but have unified elements (in radar systems in particular), which facilitates their mass production. Both systems are mobile, on MAZ tractors, from two (for S-550) to four (for S-500) missiles per vehicle. Unfold "from the wheels" in 10-15 minutes. They can work in conjunction with the close combat systems of the S-350 Vityaz air defense system, the Tor-M2 air defense system and the Pantsir-S1 air defense missile system, which provide protection for themselves. After deployment, in almost 15 minutes the sky over a given area is tightly closed for all possible enemy aircraft.
Scary "Nudol"
What alerted our "friends" was the height of the satellite we shot down. According to their own data, he was in an orbit of 540-560 km. This is very high. Only China (850 km) managed to shoot down satellites higher, but there they used the old silo-based ICBM. And from what the Russians shot down from the Plesetsk cosmodrome, no one knows. What if it's a mobile S-550? Although the A-235 Nudol complex has also been put on wheels for a long time. The Russians showed how it works on August 30, 2018. From the same Kazakh training ground Sary-Shagan. Please note that only one rocket is installed on the mobile tractor, but it can fire from anywhere where there is a mine prepared for this (and there are a lot of them on the territory of the former Soviet Union!).
And here you need to understand the main thing - the Russians do not scare anyone. They are simply defending themselves against possible threats by our adversary of a preventive nuclear (and non-nuclear) strike from space against elements of our strategic infrastructure. The main secret of the A-235 Nudol complex is its unique A-929 long-range interception missile (a deep modernization of the Soviet A-925). Its characteristics are still unknown, even the type of engine and other details are not disclosed. Although it is known for certain from unofficial sources that this is a solid-propellant missile with a high-explosive fragmentation warhead, which allows it to cover a significant area and reduce the consumption of missiles per target, reducing them to 1 missile per 1 target (American analogues of silo-based anti-missiles deployed in Alaska and in California, up to six missiles are spent for guaranteed destruction of targets, and they have only 44 such installations on combat duty, you can calculate for yourself how many missiles they are guaranteed to shoot down as a result).
About the A-929, it is only known that its speed is "at least 2 times" higher than the speed of the prototype (A-925) and is approximately 6 km / s. Knowing this, one can calculate how long it would take her to destroy the Tselina-D satellite (after all, no one knows for sure which rocket the Russians shot down their satellite with). A-929 would take only 90 seconds to do this. Faster than an American general can run to the bathroom. I just sat down, and in space there was already one less American object. And after all, it is there that all their vaunted unmanned spaceplanes Boeing X-37B fly, with which they have already begun to blackmail us. Frightening by the fact that these drones, which, according to them, are called upon to inspect space objects in low Earth orbit, can also be equipped with nuclear weapons (although there is a convention prohibiting the deployment of nuclear weapons in space, but what is this convention to them?).
Goodbye weapons: Boeing X-37B
This pride of the American aviation industry is very compact, reminiscent of a shuttle, but without a pilot. It weighs about 5 tons, the cargo compartment is only a couple of cubic meters, and the payload is about 900 kg. But the capabilities of the device are quite enough to monitor other people's satellites and even damage them. And in this case, the X-37 is already a space weapon. But the most important thing is that it can return to Earth and quickly go back into space - already to another orbit. A weapon for it is already being developed and, according to our experts, the Kh-37 can carry from 3 to 6 nuclear warheads (this is the opinion of the general director of the Almaz-Antey aerospace defense, Yan Novikov). By 2025, the Americans are going to bring their number in orbit to 8 pieces. We can significantly thin out this grouping of them. That the launch on November 15, 2021 was confirmed.
Our sworn "friends" can only guess what we made it out of. From the A-235 "Nudol" or from the PKO S-550 air defense system, or maybe even from the S-500 air defense system, the result is the same - all these means are mobile, without a clear reference to the terrain, equipped with the latest solid-propellant hypersonic missiles, differing only in size and ceiling height. If you take the arms race into space, then we will end it in space. Stupidly turning off your light. Our ground-launched anti-satellite missiles can blind and disable your entire low-orbit constellation of missile launch early warning satellites in a couple of minutes. Then fight with us blind and deaf!
All the events described occurred on November 15, 2021, three days later, the Admiral Gorshkov frigate of the Admiral series of project 22350 successfully fired a sea-based hypersonic Zircon at a surface target in the White Sea, after which Vladimir Putin realized that he had a long-cherished plan to implement "B" everything is ready, and on the same day he activated the button "Revisiting the results of the Cold War." Operation Unthinkable has begun. The start of the campaign was his speech at the expanded Collegium of the Ministry of Foreign Affairs on November 18, the further course of events is well known to you - the West, upon receiving the Kremlin's demands, fell into prostration, where it remains to this day. I wouldn't scold Grandpa Joe, what is at stake is not even world domination, where he is before him, but the banal survival of the United States, and there is no time for fat.
Finishing in a few days. Putin's plan "B" will finally be presented there.