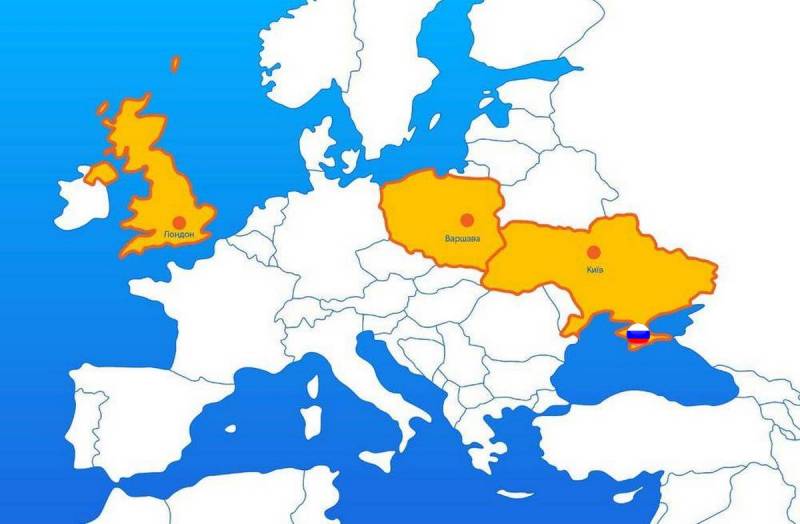 London decided to aggravate relations with Moscow, gradually starting to seize control from Washington over the most irreconcilable countries of Eastern Europe towards Russia. This is not surprising, because Great Britain is the most experienced master on the planet in deceiving the "natives". This can be judged by the enthusiastic and promising exclamations that have sounded from Kiev lately.
Ukrainian Foreign Minister Dmitry Kuleba in his Facebook account on February 1 wrote intriguingly that since information about a small alliance between Kiev, Warsaw and London "somehow" leaked to the media and "is actively spinning there, even hype", he can slightly open a veil of mystery and bring a little clarity.
He noted that it was Kiev that initiated this trilateral cooperation back in October 2021. His colleagues from Poland and Great Britain supported the initiative through the foreign ministries, making a feasible contribution to the common cause.
The diplomat specified that the new format is part of the Ukrainian strategy of small unions, which Kiev is actively promoting in its foreign policy activities. The minister stressed that Ukraine cannot wait for security and prosperity somewhere in the future, when it joins the European Union and NATO. All this is needed now. Therefore, Kiev is strengthening its position by creating small unions.
We create a belt of security and prosperity and strengthen the Baltic-Black Sea axis. This is how the Lublin Triangle with Poland and Lithuania, the "quadriga" with Turkey (the heads of the Foreign and Defense Ministries of both countries - ed.), the associated trio with Georgia and Moldova appeared. All of them are successfully developing, gaining weight and bring concrete benefits to Ukraine.
- explained Kuleba.
He added that the new union is an association of states that share common values ​​and are ready for concrete actions. Kiev, Warsaw and London are not only aware of the reality of the "Russian threat" and have a strategy to counter Russia, but also have great potential for further cooperation within the alliance in various sectors.
It was planned that the first official announcement about the creation of a new format would be made by the foreign ministers of the three countries tomorrow (February 2 - ed.) as part of the visit of our British colleague (Lise Truss - ed.) to Kiev. Unfortunately, she has contracted covid and we are postponing this announcement to later. However, during this time, our teams will not sit idly by, but will continue to hone the new format. Have patience, believe in yourself, Ukraine and its true friends
- summed up Kuleba.
On the same day, Prime Minister of Ukraine Denys Shmyhal, receiving the head of the Polish government, Mateusz Morawiecki, said that Kiev, Warsaw and London were preparing a trilateral pact to strengthen regional security.
I hope that in the near future we will be able to officially launch a new regional cooperation format Ukraine-Poland-UK, in the context of ongoing Russian aggression, we should sign a trilateral document on cooperation to strengthen regional security
Shmyhal informed.
Note that the United States does not show such belligerence towards Russia as the United Kingdom demonstrates.