At the beginning of the year, President Vladimir Putin, at a meeting with workers in Kazan, shared a curious idea - to make a civilian airliner out of a Tu-160 strategic bomber.
With such a vast territory like ours, it will not take much longer from Moscow to New York to fly than to Vladivostok. Therefore, I am sure that this will be in demand.
He said then.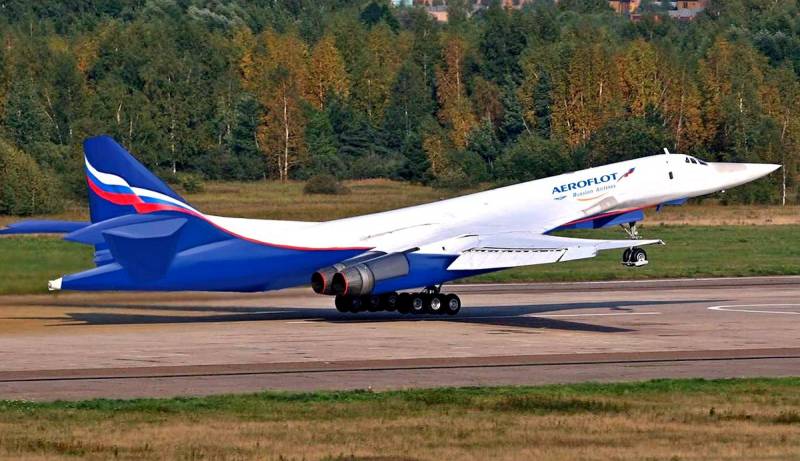 Despite the enthusiasm of the head of state, a number of experts this idea was criticized reasonably.
The experience of operating supersonic liners is already there. In the USSR there was a Tu-144, in Europe there was an English-French Concord. The United States also had its own achievements. But all these projects, despite their high technology, ended up being phased out due to the banal unprofitability of use. "White Swan" operates in two modes, supersonic speed is achieved only by afterburner, which consumes a lot of fuel. Due to the design features in the civil liner based on the Tu-160 it is impossible to make a single cabin, it will always be divided into two parts.
Thus, no more than 30 passengers can be shoved into the peaceful version of the "strategist". And the Tu-144 and Concord flights were unprofitable even if there were 150 and 100 passenger seats, respectively. As a result, the market for long-haul flights was divided among themselves by subsonic aircraft from Boeing and Airbus.
But accounting developers were not afraid of Russian developers, and now, after six months, the Tupolev Design Bureau, together with leading scientific institutions of the country, completed the calculation work on the supersonic airliner project. So, the pre-civil version of the bomber will have the following characteristics: take-off weight of 70 tons, speed of 1500-2200 kilometers per hour, up to 30 passengers can fit on board.
If necessary, domestic aircraft manufacturers promise to create new turbojet engines that can save up to 20% of fuel, which will make its operation somewhat more cost-effective. This airliner will take off and land on a subsonic mode, then, having retreated 200-300 kilometers from the airport, having gained the necessary height of 10-11 kilometers, it will be able to switch to supersonic speed.
The creators acknowledge that it is not worth counting on the mass operation of such supersonic aircraft in civil aviation. A business jet is that segment of the market where it may be in demand. Russian oligarchs will be able to fly them in Monte Carlo, and governors on business in the capital.