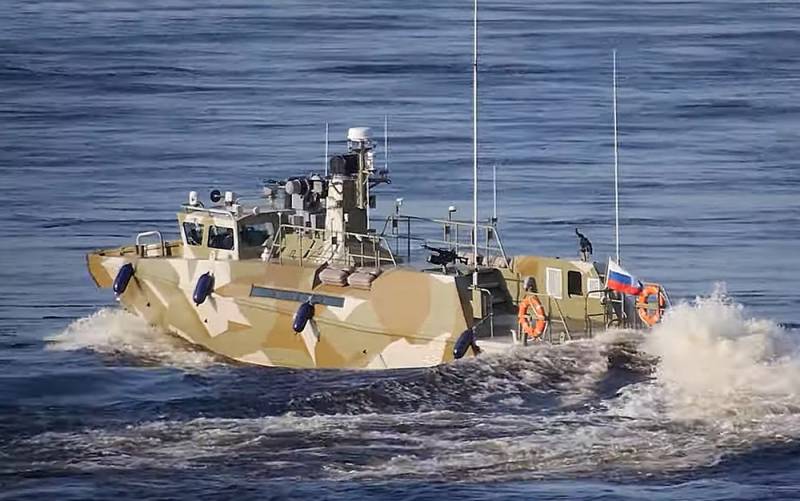 According to social networks, high-speed boats of Project 03160 Raptor, designed for the rapid delivery of the Special Operations Forces, are being transferred to the Sea of ​​\u4b\uXNUMXbAzov. Transportation is carried out by land along the MXNUMX Don highway. Judging by the video footage of eyewitnesses, we are talking about four Raptors so far.
One of the boats is painted white, which may indicate its ceremonial purpose. Other "Raptors" have a camouflage color. The number 002 is visible on the white boat - according to experts, this indicates its commissioning in 2015 and belonging to the Baltic Fleet. However, there is a speedboat with the same number in the Caspian flotilla.
The Raptor is armed with a combat module consisting of a 14,5 mm machine gun, a gyro-stabilized optoelectronic module (GOEM) and a fire control system. In addition, the boat's arsenal includes two Pecheneg machine guns of 7,62 mm caliber. The cruising range of the Raptor is about 556 km.
The Ukrainian authorities have already reacted to the relocation of Russian boats to the Sea of ​​Azov, pointing to the military activation of Moscow in the water area. According to the Polish publicist Grzegorz Kuczynski, Russia's activity in the region aims at a naval blockade of Ukraine and the deployment of air defense systems on Zmiyiny Island, located in the Black Sea, 120 km from Odessa and 300 km from Crimea.