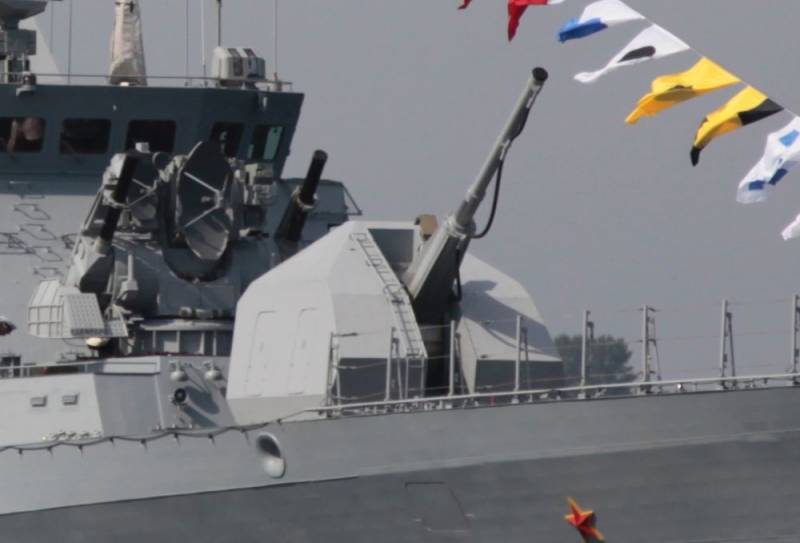 The Ministry of Defense of the Russian Federation decided to move the area of ​​the upcoming exercises of the ships of its Navy in the Atlantic beyond the limits of the exclusive
economic
zone (EEZ) of Ireland. This is stated in the communiqué of the Russian Ambassador to Dublin Yuri Filatov, published on January 29 in the Twitter account of the diplomatic mission.
The document says that Defense Minister Sergei Shoigu met the requests of Irish fishermen and moved the missile launches, scheduled for February 3-8, to another water area. The Russian side did not want to create interference in the place of traditional fishing.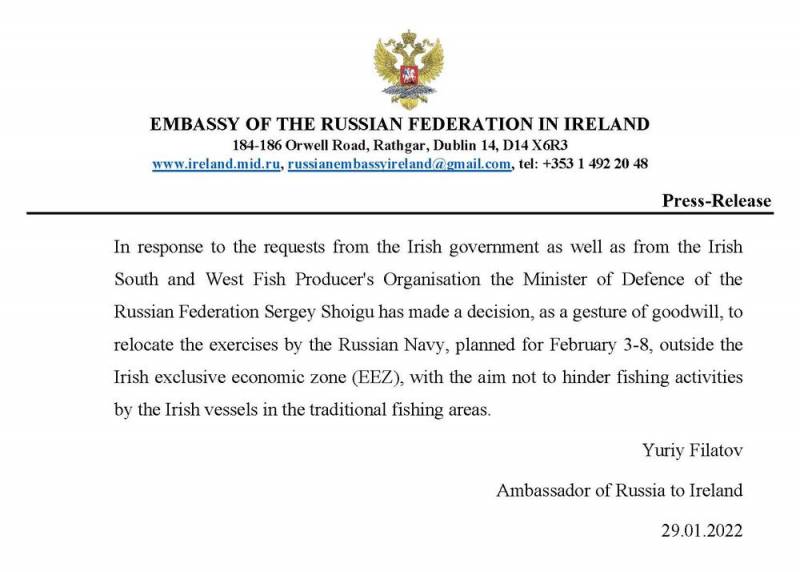 The embassy specified that on January 27 the delegation of the Irish Organization of Southern and Western Fish Producers headed by P. Murphy visited the diplomatic mission. During the conversation, issues related to the planned maneuvers of the Russian Navy near Ireland and Great Britain were discussed. The move was also requested by officials from the Irish government, who were concerned that the missile launches would take place just 240 kilometers southwest of the coast of County Cork.
The embassy noted that the Russian side did not violate anything by the desire to conduct exercises in the Irish EEZ. Russia, in accordance with international law, can do this. Moreover, Moscow did not threaten Dublin in any way and went to meet his wishes.
Thus, Russia refused to fire in the mentioned area of ​​the Irish Sea of ​​the Atlantic Ocean. But she can safely hold them away from the said site.
Remember that the Irish
expressed their
anxiety on January 22nd. It is not yet clear exactly what forces and means the Russian Defense Ministry is going to use in the exercises. However, it is known that on this day into the Atlantic Ocean from the Arctic Ocean
advanced
group of ships of the Northern Fleet of the Russian Navy. It includes: missile cruiser "Marshal Ustinov" (Project 1164 "Atlant"), multi-purpose frigate "Admiral Fleet Kasatonov" with URO (Project 22350), large anti-submarine ship (BOD) "Vice-Admiral Kulakov" (Project 1155) and medium sea ​​tanker "Vyazma" (project REF-675) for supplying ships and vessels in the far sea zone.
In addition, on January 24, two corvettes with URO "Stoykiy" and "Savvy" (project 20380) of the Baltic Fleet moved into the Atlantic from the base in Baltiysk.
We remind you that against the backdrop of an acute crisis in relations between the West and Moscow, British Defense Minister Ben Wallace officially
invited
to London of his Russian colleague Sergei Shoigu. But the Russian minister has not gone there yet.