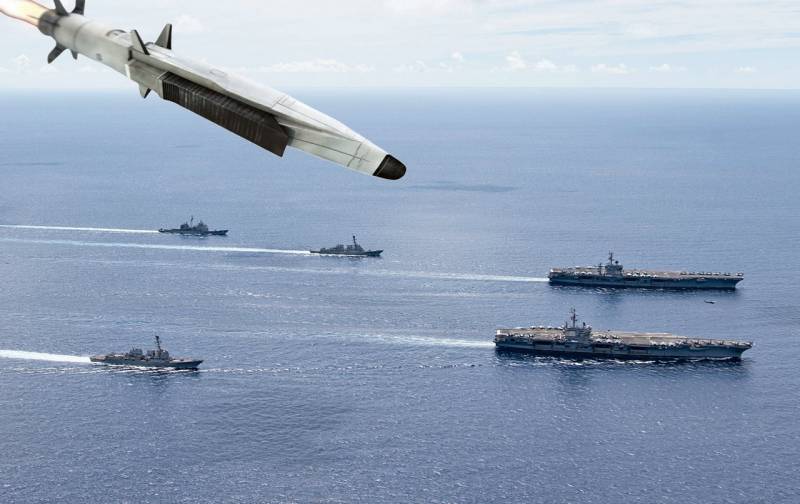 Today, when Ukraine and Georgia have come close to joining the NATO bloc, and it will be possible to deploy elements of the American dual-use missile defense system and even direct strike weapons on their territory, the question of the need to curb the expansion of the "hegemon" has become an edge. As a new "wunderwaffe" in Russia, promising hypersonic weapons have been announced, protection against which so far does not exist. But are Zircons and Daggers really capable of fulfilling their task, and if not, then what is required?
Once again, we will not describe the undoubted advantages of Russian hypersonic missiles, such as the phenomenal speed of movement and the inability to intercept them with existing missile defense systems, we will not, this has already been done many times and with great enthusiasm before us. Unfortunately, with the actual use of Zircons and Daggers, some problems may arise that need to be mentioned in order not to create false illusions and adequately represent the scope of their use.
Mobile targets
If you look at the domestic press on this topic, then it is all devoted to the fact that the Zircons, as well as the Daggers that joined them, are an irresistible strike weapon against the US Navy AUG, capable of easily destroying any ship, "from a frigate to an aircraft carrier" . Alas, but several
more difficult
than we would like.
Contrary to a dangerous misconception, an aircraft carrier strike force is an extremely difficult target to destroy. An AWACS aircraft is constantly circling above it, which will be the first to see approaching (our) surface ships or aircraft, and carrier-based fighter aircraft will go towards them. In principle, the AUG will not be able to get close, so anti-ship missiles of the Russian Navy will have to be launched from a distance of at least 900 kilometers. It is not for nothing that the Zircon has the ability to cover a distance of up to 1000 kilometers.
And everything would be fine: a serviceman launched a hypersonic missile and went with friends to drink beer, forgetting about the AUG, but there are some problems. American aircraft carriers and an escort order are capable of moving at speeds up to 30 knots. While the rocket, even as fast as the Zircon or Dagger, will fly, the AUG will move at least ten kilometers. In order to avoid an offensive miss, the anti-ship missile must be aimed at the target and constantly adjusted, and this is precisely the "plug". The Liana satellite constellation of the RF Ministry of Defense has not yet been developed, and the Russian Navy does not have its own carrier-based AWACS aircraft (DRLOiU), which are responsible for performing such tasks in the US Navy. For their sea-based aircraft carriers are needed, but in our country, ships of this class are anathema.
Paradoxically, in order to be able to sink enemy aircraft carrier strike groups with hypersonic missiles, you need to have your own aircraft carriers with carrier-based AWACS aircraft for reconnaissance and target designation of Zircons, Caliber, Daggers and Onyxes, as well as carrier-based fighter aircraft for air cover for our ships, which have a frankly weak air defense system. About what aircraft carriers and carrier-based aviation we need, and whether Russia can afford them, we
reasoned
earlier.
But in any case, even if a couple of aircraft carriers are laid down right today and the development and production of carrier-based AWACS aircraft Yak-44 is resumed, it will really take 10-15 years to achieve a result that allows their use. This is vital, but quite a long time. Is it possible to somehow use "Zircons" and "Daggers" in the more foreseeable future?
Stationary targets
Note that, unlike mobile ones, hypersonic weapons have no problems with hitting stationary targets.
You can hang 1 "Dagger" on the MiG-31K fighter-interceptor and release it at a command post or ammunition depot somewhere in Ukraine or Eastern Europe, and the Tu-22M3 bomber will be able to take four such missiles at once. Project 22350 frigates "Admiral Gorshkov" can be fired at coastal targets with 16 Zircons without any problems, and in version 22350M - with 48 hypersonic missiles.
In 2019, President Vladimir Putin mentioned that work had begun on the creation of a ground-based Zircon. Probably, the Bastion coastal missile system will be used as a carrier. With the defeat of naval mobile targets at a great distance from the DBK, the problems so far will be the same as we described above. However, the experience of the Syrian campaign has shown that such systems can be quite successfully used against land targets.
In other words, by creating a ground-based Zircon based on the Bastion, the Russian Defense Ministry will receive an almost irresistible hypersonic missile capable of hitting targets at a distance of up to 1000 kilometers. For example, the DBK could be located in the Kaliningrad region or Belarus, from where they would target continental Europe or even Great Britain, as well as somewhere in Kamchatka or Chukotka, from where they would block the US military infrastructure in Alaska. There is only one problem.
The problem lies in the relatively small Zircon warhead. There is no exact data anywhere, but in open sources you can find figures from 300 to 400 kilograms, sometimes up to 500. For a frigate in the event of a hit, this will be enough, but is it enough to restrain the aggressiveness of the United States and the NATO bloc as a whole? How many "Bastions" with ground "Zircons" can we put up? It is likely that hypersonic missiles will not be too massive due to the presumably high cost of their production. What then remains?
It remains to realize the nightmare of US Department of Defense spokesman John Kirby:
Of course, we are aware of President Putin's statements. And while I won't go into details or do any analysis of his claims, it's important to note that Russia's new hypersonic missiles potentially pose significant risks because they are capable of carrying nuclear warheads.
With a nuclear warhead, "Zircon" or "Dagger" will become a truly effective means of deterring the NATO bloc. So, the distance from Kaliningrad, say, to London in a straight line is only 881 kilometers, that is, a hypersonic nuclear missile will definitely fly to Foggy Albion and hit it for sure. With nuclear "Zircons" on board, not only SSBNs, but also, for example, SSGNs of projects 885 "Ash" and 885M "Ash-M" and promising nuclear submarines "Husky" can pose a real danger to the United States itself.