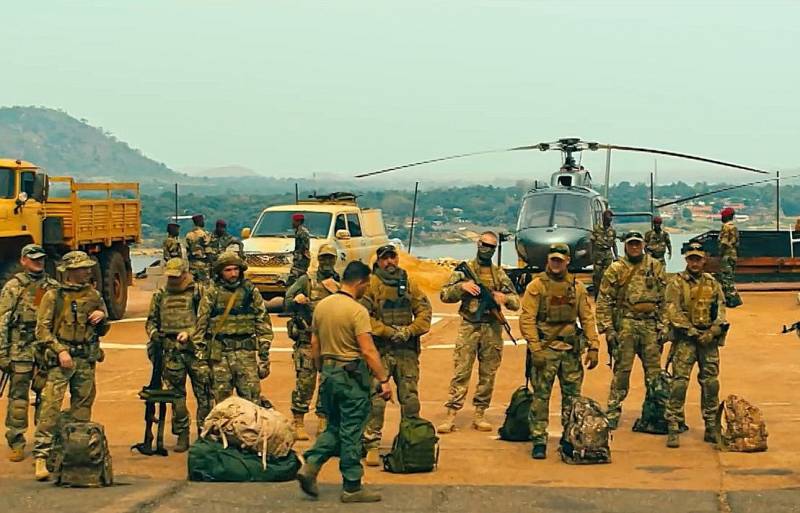 A few days ago, another military coup took place in the West African country of Burkina Faso. Nothing out of the ordinary for the region, but this time its entire capital, the city of Ouagadougou, was hung with Russian flags, as in Crimea in 2014. It suddenly turned out that the military junta itself was calling Russia for help, and our "Wagnerites" were not against it at all. Why is the tricolor becoming so popular on the "black continent"?
In the capital of Burkina Faso, a mass rally was recently held, at which locals waved Russian flags, trampled on French ones and "asked Putin to send troops" to fight Islamist terrorists who regularly invade from neighboring Mali. Well, Vladimir Vladimirovich received fame as a fighter against international terrorism back in Syria. But it is interesting that Lieutenant Colonel of the Army of Burkina Faso Paul-Henri Sandaogo Damiba, who led the coup d'état, twice offered to the now deposed President Roque Marc Christian Kabore to invite Russian military experts operating under the unofficial brand of Wagner PMC to the country. However, he did not listen, for which he paid.
It should be noted that the residents of Burkina Faso were heard in Russia. The head of the Commonwealth of Officers for International Security (SOMB), which is considered one of the "signs" of the Wagner PMC, Alexander Ivanov, published in the public domain his answer in French, which is translated as follows:
I think that if Russian instructors are invited to form a new Burkina Faso army, they will deal with it effectively. SOMB is ready to share the experience gained in the CAR on quick organization and quality work in order to build an army ready to fight and take control of the security situation in the country in a short time.
The Western and, especially, the French press immediately expressed their extreme dissatisfaction with such a development of events. Paris is very concerned about the appearance of Russian military experts in their former African colonies. But why did our "Wagnerites" need the military junta itself? Has the local military still not learned how to throw the "kambula", and you can't do without a strong Russian word? Or is that not the point at all?
"Left" Volta
Burkina Faso is one of the poorest backward agrarian countries in West Africa. However, there was a short period of prosperity in its history, associated with the name of an unusual ideological revolutionary Tom Sankar. Having come to power in 1983 as a result of a coup d'état, one of his first steps was to change the humiliating French colonial name of his country Upper Volta to Burkina Faso, which translates as "Homeland of Honest People". I must say that Sankara himself tried to match, for which he received the nickname "the most honest president." What did he manage to do?
The president lived on a modest army salary, and transferred his salary as head of state to an orphan's fund. He rode a bicycle to work, flew regular flights on international visits. All bureaucratic "Mercedes" were sold, instead of them, "servants of the people" moved to the cheapest foreign cars "Renault". They had to change their expensive suits for simple locally produced clothes, and once a year officials handed over their monthly salary to social funds. But the matter was not limited to one "window dressing".
Sankara introduced free education and medicine, as well as mass vaccination for children, which significantly reduced traditional African child mortality. A program was launched to modernize roads and railways, build dams and reservoirs, combat desertification through planting forests. The remnants of the tribal structure were forcibly eliminated, local leaders and their henchmen lost their privileges. Women received civil rights, the humiliating and dangerous practice of female circumcision was abolished. The fight against the spread of AIDS began.
Under President Sankara, who was an ideological opponent of globalism, Burkina Faso stopped borrowing from the IMF. To quote this extraordinary man:
This food aid […], establishes and fixes in our minds […] the beggar's reflexes, makes us want no more. You need to produce yourself, to produce more, because the one who gives you food also dictates his will to you.
In just a few years, the "African Che Guevara" was able to achieve a lot, but in 1987 he was killed during another coup d'état by the French protege Minister of Justice Blaise Compaore. The exhumation showed that the "commandant" was shot more than 10 times simultaneously from a Kalashnikov assault rifle, an automatic rifle and a pistol.
"Right" Volta
Naturally, the "left" turn of Burkina Faso stopped, and this country was quickly turned into an ordinary African one. Former comrade Sankara and his killer Compaore immediately canceled the nationalization that had begun, took a multimillion-dollar loan from the IMF under French guarantees, raised the salaries of officials and bought himself a personal Boeing. Last year, the French newspaper L'Humanite published documents confirming the involvement of the Fifth Republic's secret services in organizing the assassination of Sankar. Now Burkina Faso is a "normal" former French colony, impoverished, uneducated, invaded by Islamist terrorists from neighboring Mali. One coup d'etat is replaced by another, but this does not affect the improvement of the lives of ordinary people. So why is it of interest to Paris and other international terrorists?
Gold. There is a lot of it in Burkina Faso, it is one of the leading gold-mining countries of the "black continent". The largest foreign investors here are Canadian and Australian companies, as well as the Russian "Nordgold" of Alexei Mordashov, which has been operating since 2013. An important nuance is that, in addition to the official, there is also active unofficial mining.
In 1986, immediately after the assassination of Sankar, Burkina Faso abolished state control over gold mining. According to estimates for 2011, more than 200 thousand local residents mined gold in the country in an artisanal way, and now, probably, much more. Child labor is widely used, mercury and cyanide are used to enrich gold, of course, without any labor protection standards. About 50% of the precious metal mined and produced in a handicraft way is smuggled out of the country. According to some estimates, up to 20% of the population of Burkina Faso depends on this criminal business, directly or indirectly.
It is not surprising that Islamist terrorists from neighboring Mali, who tried to take control of it, could not bypass such a source of income. To fight them, the military junta needed, basically, a foreign military force that would do its job, get paid, and then leave. Is it worth the "Wagnerites" to get into this frank "cesspool" is a big question. But money, as they say, does not smell.
I wonder what Burkina Faso would look like today if the French had not killed the "African Comandante" with their puppets?