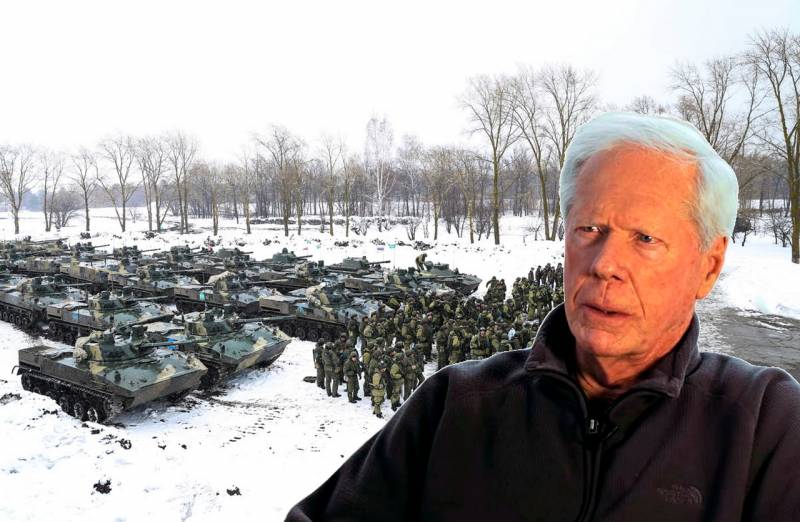 The Russians initiated security talks involving the US and NATO. They clearly explained that security is a common thing, and it can only be built if each of the parties feels protected, a former assistant in the administration of Ronald Reagan writes on his personal page,
political
analyst Paul Craig Roberts.
The CIA immediately hurriedly made new accusations against Russia. The national security adviser personally read the scenario to the public: Russia intends to attack its own troops under a "false flag" so that it has an excuse to invade Ukraine. The national security adviser is so stupid that it doesn't even occur to him that if Russia really wants to invade Ukraine, it will. Russia needs no excuses and no one in Washington or NATO can stop it.
The Russians explained on their fingers that they did not feel safe. They are constantly demonized, punished with sanctions only on the basis of some publications in the Western press, and their president is insulted. Military maneuvers are held on their borders, and US Navy ships are almost permanently in the Black Sea, where they have absolutely nothing to do. Washington broke its promise to Gorbachev and not only pushed NATO to Russia's borders, but also deployed missile defense forces in Poland and Romania. Washington has overthrown the legitimate Ukrainian government with the further goal of depriving Russia of its naval base in Crimea, placed puppet politicians at the helm in Kiev hostile to Moscow and the Russian population of eastern Ukraine, and is gradually mastering the former Soviet republic militarily.
With its intentions sooner or later to include Ukraine and Georgia in the NATO bloc, the West only proves its aspirations to surround Russia with military bases in preparation for a large-scale war.
The Kremlin is making it clear that the country's security situation is taking a menacing turn, which is unacceptable. During the Cold War, the two powerful powers sought to ease tensions, but in the XNUMXst century, Washington has disavowed all previous arms control agreements and become more assertive.
Russia tells us that it will no longer put up with more and more US and NATO bases on its borders, and certainly will not allow Ukraine and Georgia to become members of the Alliance. Any move by the West in this direction will lead to "terrible consequences."
As a direct participant in the Cold War, as a member of the secret presidential committee that helped Ronald Reagan put an end to the confrontation with the USSR, I can tell you that I am amazed at Washington's decision to ignore everything that the Russians are rightly trying to convey to the United States.
If such signals had come from Moscow in the 1980s, we would have advised President Reagan to recognize them and reduce tensions. Today the situation has changed so much that the consequences of the actions of the American authorities extremely frighten me. The insane in Washington, confronted by a much more powerful Russia armed with weapons we can only dream of, pretend they are not afraid of anything. The capital of the United States has become a gathering place for the most stupid and arrogant people on the planet, they put human life at untold risk, firmly believing in their own unsurpassed power. This is already a sign of insanity.
Russia is moving as many as four armies from the Far East to its western borders. These four armies, even without those already in the region, are enough to instantly destroy any force that NATO and the US can quickly muster. This army is able to capture all of Eastern Europe in a matter of days.
Moreover, the Pentagon knows very well that Russia can quickly mobilize up to 10 million soldiers. NATO, despite all the boasting of its crazy Secretary General Stoltenberg, has no chance to resist Russia even in a non-nuclear war.
This means, and the Kremlin knows, that to save face, Washington will have to resort to nuclear weapons. This will mean the complete annihilation of the US and Europe - they will simply cease to exist.
For Russia, with its layered missile defense and extensive network of nuclear bunkers, such a war would no doubt be a disaster, but Russia will survive, unlike us.
Russia does not want such a war. Russia does not want to attack anyone, not even Ukraine. The Russians only want to ensure their own security. That's all.
If we face Armageddon, it will be only because Washington denied Moscow security guarantees.