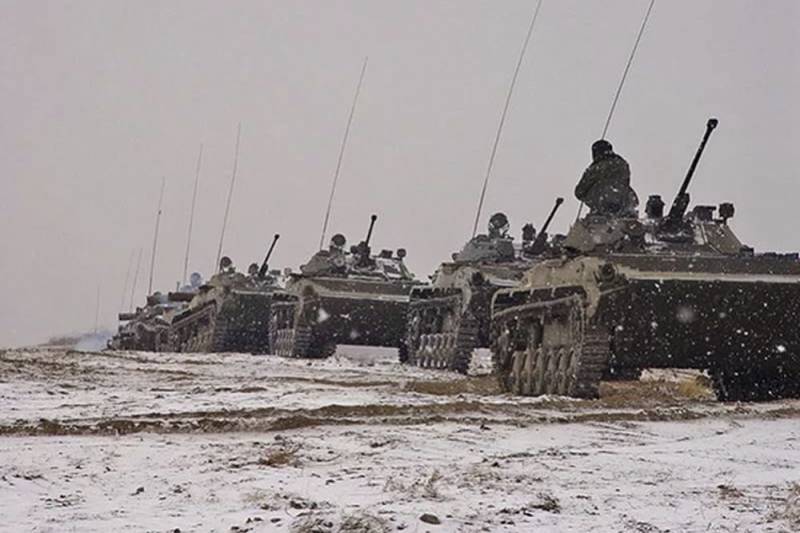 The diplomatic solution to the crisis around Ukraine has reached an impasse. The military version of the development of events has become the most likely and a miracle is unlikely to happen, the "Russian invasion" can begin at any moment, writes the British Arabic-language electronic newspaper Rai Al Youm from London.
The US administration is evacuating diplomats and their families from Ukrainian territory. The head of the State Department, Anthony Blinken, during his recent visit to Kiev, advised Ukrainians to prepare for hard days, and Ukrainian President Volodymyr Zelensky urged to remain calm and not to believe all media reports. Not surprisingly, many Ukrainians are confident that their country is on the verge of a bloody war, stocking up on food in anticipation of the worst-case scenario.
Moscow "concentrated" on the Ukrainian border more than 100 thousand military and thousands of weapons systems, continuing to "build up" forces. At the same time, deliveries of weapons from Great Britain, France and the Baltic countries began to Ukraine.
The Americans said they were not going to comply with the demands of the Russians for security guarantees. Russia wanted Ukraine and Georgia to never become NATO members, and the Alliance withdrew its troops from Bulgaria and Romania.
That is why Moscow sees no other option but to invade the Donbas, separate it from Ukraine and create two separatist states with Russian-speaking populations, as it did in Georgia. The West fears this outcome, as Putin's Russia has invaded Ukraine twice in the past decade. Therefore, without hesitation, he will do it for the third time.
- explains the media.
At the same time, there is a split in NATO. Germany is categorically against the conflict with Russia. In fact, Europe is weak and unable to defend itself without the US. This was a serious victory for Russian President Vladimir Putin, who considers Russia the rightful heir to the USSR, which provoked a split in the transatlantic unity.
Europe depends on Russia for 43% for gas and 20% for oil. Therefore, US President Joe Biden invited the Emir of Qatar, Sheikh Tamim bin Hamad Al Thani, to visit the White House this month. The Americans want to make Qatari pipeline gas an alternative to the Russian Nord Stream 2, with the help of a gas pipeline from Qatar to Europe. Doha remains silent for now, because agreement will anger Moscow, and refusal - Washington.