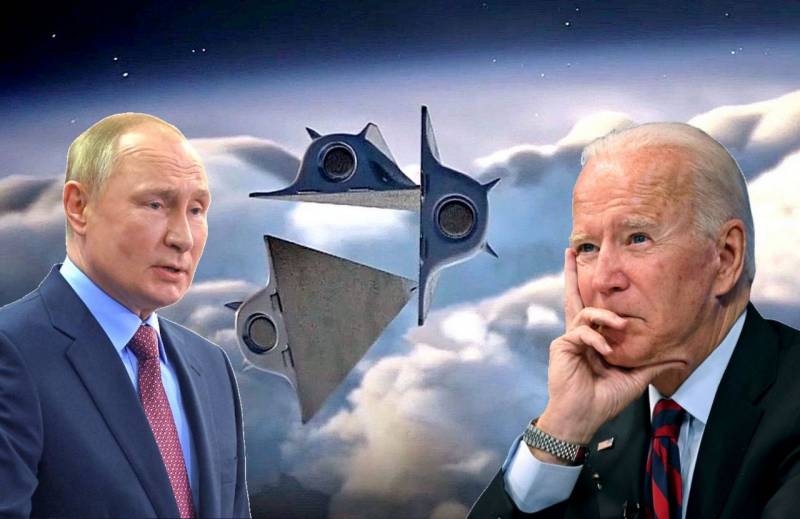 The end of the military-diplomatic
sagas
, which I took up without even thinking that it would turn out to be so long. The ending came out in three parts (today the 1st part), you'll have to be patient (you yourself asked to lay out the performance characteristics of Putin's arguments, I'm posting it), especially since Putin himself is in no hurry to throw the final "presentation" on Biden's table, why should I run ahead of the locomotive ?
I still don't know exactly what he's going to throw out. There are at least three options, because Putin is so unpredictable! If even in the Pentagon and the CIA people with big stars and salaries are lost in terrible guesses, then what do you want from me? As they say, the question is not about salary, but I will offer my version of the plot development at the end of the 3rd part. All other options have been considered in
предыдущих
texts and dismissed them, proceeding from the principle of "by contradiction". But this is not my fault, Putin is to blame for everything, who, like any great politician, knows how to pause. In the previous parts, we have covered
diplomatic
component of the confrontation along the Moscow-Washington line, today we are finally moving on to
military
phase. And the whole joke is that no one in Washington knows how it could end. The hope that Putin is just frightening still lingers in their souls. But in vain!
Everyone who flatters themselves with such illusions in the hope that Putin is bluffing does not understand the main thing - why did he start all this, putting forward impossible demands to the collective West in a defiantly daring and ultimatum form, which can only be considered as a package, and the answer must be given exclusively in writing form, and even within a predetermined minimum time frame. The answer to this puzzle lies in the last sentence - the Kremlin needs a written answer. It is clear that such ultimatums are not issued in order to be accepted. What Putin really needed was a refusal on paper. Then Plan B comes into play.
To all the haters of Putin who declare him a fiend who has lost touch with reality, I would advise you to remember his basic specialty. Putin is an intelligence officer by his second specialty, and by first he is an international lawyer. This is the key to his strange behavior. Putin needs a legal document certifying that the West refuses to provide security guarantees to Russia and why. After that, Russia's hands become untied. Legally, after a written refusal to provide security guarantees, it has the right to ensure its protection by any means available to it. And she has more than enough of these funds! And the West knows about them.
To everyone who finds Biden's behavior strange, who has begun to seriously consider the Kremlin's demands, which are impossible from the point of view of an ordinary layman, I suggest simply typing in the Google search engine such banal search queries as "successful launches of Zircon hypersonic missiles and Bulava strategic ballistic missiles" , and score a search period of at least the last 6 months. At the same time, it would be nice to know which new nuclear submarine missile carriers, including strategic ones, were accepted into the Russian Navy in the last 45 days, and when the new air-launched hypersonic missiles will enter service with the Russian Aerospace Forces. And then think that this is not all. Not all events are reflected in the press.
Cause of Biden's Nightmares
The experience of the war in Syria taught the Americans a lot - you need to keep your ears open with the Russians. They have not yet forgotten October 2015, when just on Putin's birthday, 26 winged Caliber took off in one gulp from some inflatable mattresses in the Caspian Sea and, flying 1,5 thousand km, fell on the heads of the unsuspecting warriors of Allah in the provinces Raqqa and Deir ez-Zor, sending them to meet with the Almighty much earlier than scheduled in Washington. And this at a time when all 17 US intelligence services were convincing the White House in unison that Russia did not have any Calibers (at least with such a range), as well as a fleet capable of carrying them, not to mention the Caspian the sea, which did not appear on the Pentagon maps at all - for one strongly tanned gentleman, who was then temporarily registered in the White House, this came as a complete surprise and overshadowed the last year of his stay there, with which he retired to write memoirs under the general title "I and Genius Villainy Putin. Losers from Langley, who then overslept the Russian "rusty" Caliber, went to school to study where the Caspian Sea is, from where they can atone for their guilt straight to the Syrian front, but the nightmares for America did not end there. They were just getting started. Putin, it seems, was just getting a taste of it.
When, 4 years later, the pale-faced brother of Obama, who had retired to a well-deserved rest, who did not live up to our hopes placed on him and fell under the weight of internal corporate intrigues, Donnie Trump, tried to drag the Kremlin into an unnecessary arms race by withdrawing from the INF Treaty and scaring him with the withdrawal from START III, Putin he, as always, politely warned:
If someone has a desire to withdraw from the Treaty on the Reduction of Nuclear Arms - our answer will be instant! And mirror...
Everyone has already noticed that Putin does not throw words into the wind. The balance of power in the world is very important, and when the Americans try to break it over and over again, we have to respond to it. And this is not a maniacal desire to wipe the nose of the Americans, but a cruel necessity caused by concern for maintaining peace throughout the world and, of course, in order to ensure their own independence and security. If you paid attention to the words Putin said then, he said - the answer will be mirrored. And this means asymmetrical (because in the mirror you see yourself the other way around). This means that Obama's nightmare with Putin's signature asymmetrical response will continue. And who said that he would be in the nuclear plane? Not at all. After all, back in September 2005, Putin transparently hinted that Russia had committed
technological
breakthrough in the creation of hyper-weapons. I quote the original source:
We are developing new strategic complexes that no one else in the world has. They will operate on hypersonic, change direction along the course and height. Virtually invulnerable to missile defense.
He said it back in 2005! Then no one believed it. Nor did they believe it two years later, when Putin delivered his famous Munich speech. The West then only laughed at him: "Yes, who is this Putin? How many divisions does he have? Then we got lost. But a year later they saw the first divisions of Putin. In Georgia. Apparently, in 2008 they did not impress our "partners" much, because six years later they decided to repeat the Georgian scenario. This time in Ukraine. After that, Putin realized that the "partners" did not understand in a good way, they would have to talk to them differently. As our favorite Donnie Trump said: "If you don't want it in a bad way, it will be worse in a good way!". But in 2014, Putin did not take the advice of the Fearless Cowboy, on the contrary, because he knew little about him then (Trump would become president only two years later). But already during his term in 2018, Putin moved from words to deeds, playing his famous cartoons in front of the Federal Assembly of the Russian Federation. In Washington, then, they were speechless for a second, then they messed themselves up, went under themselves a couple of times, but then, having changed diapers, they pulled themselves together and continued what they started with the words "You are still lying!". Putin had to return them to the sinful earth, while again verbally. Listen, he said then:
We all live in a world whose security is based on nuclear potential. Russia is one of the largest nuclear powers in the world. And, as a response to the construction of a missile defense system in the United States, we are improving our strike systems. And they are already in service with us. Some... And some, I mean the Vanguard system, will be delivered within the next few months. We are absolutely perfect, and experts understand and realize this, we have overtaken all "partners" and competitors in this area. So far, no one has high-precision hypersonic weapons! And we already have it in service! This is a high-tech modern weapon.
Grandpa Joe's Mental Improvement Medicine #1: Vanguard
So do not force us to use it (this is me already on my own)! For those who do not know or have forgotten, I will remind you what Avangard is. This is another option for our new Sarmat heavy-class intercontinental ballistic missile, which replaced the famous Voyevoda ICBM, which terrified our "friends" so much that it received the SS-18 "Satan" index according to NATO classification. I don't even know what name they will come up with for Sarmat, but considering that it will be equipped in its warhead with the Avangard air-stratospheric complex, capable of moving in dense layers of the atmosphere at hypersonic speeds exceeding the speed of sound by 20 times, which makes it inaccessible to enemy missile defense systems, then most likely it will be "Invisible Satan".
Imagine a fireball rushing towards the earth in a cloud of plasma almost from the first space one! This is the very Avangard, which embodied in metal and composite the very breakthrough in technologies that VVP spoke about. The genius of our scientists has created materials that can withstand the temperature of the plasma without breaking down. Secret is not only the material of the product, but even its shape (the level of secrecy goes off scale). Among the Sarmat's multiple warheads, there can be from one to three such modules, some of which may be nuclear-capable, some conventional, and some are decoys for withdrawing enemy anti-missiles (there can be up to 15 decoys).
So, Avangard has been in the army since December 2019. They are equipped with a regiment of the Strategic Missile Forces near Orenburg, which is part of the Dombarovsk division of the Strategic Missile Forces. As of December 2021, the regiment is already equipped with six such missile systems. So far, the old Soviet liquid-propellant ICBM UR-100N UTTKh is used as a carrier for this, but the first test launch of the newest heavy multi-stage liquid-propellant ICBM Sarmat, to which it should switch, is scheduled for this year (a test site for its testing near the village of Severo-Yeniseisky Krasnoyarsk Territory has already been built). If the tests are successful, then the first samples of our newest heavy-class intercontinental ballistic missile will enter the troops this year (they will be equipped with two divisions of the Strategic Missile Forces - the 62nd Uzhurskaya near Krasnoyarsk and the already mentioned 13th Dombarovskaya near Orenburg, located at an inaccessible distance from cruise missiles of our potential enemy).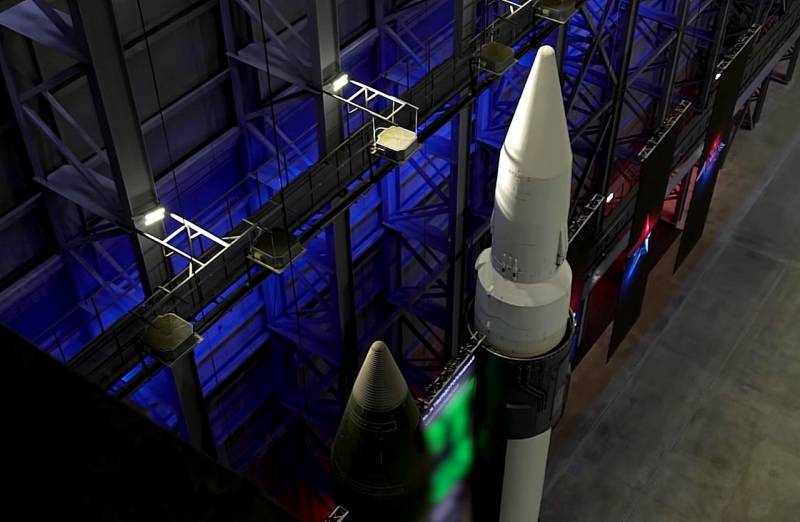 Now some performance characteristics of products (because most of them are classified). The product can reach a maximum speed of up to Mach 28 (in the latest tests on December 26, 2018, a speed of Mach 27 was achieved). The power of combat equipment is from 800 kilotons to 2 megatons (Biden will definitely have enough!). The estimated length of the block is 5-7 meters. The body of the product is made of composite materials, which provides resistance to aerodynamic heating of several thousand degrees and reliable protection against laser irradiation.
This was the main problem. We even stood a step away from closing the program, since we did not have a technical solution for controlling objects at speeds exceeding Mach 10. After a series of unsuccessful tests in 2013-2015, when it was not possible to solve the problem of stable control of the apparatus and ensure its protection from ultra-high temperatures, the government hesitated before the desire to close this project. The developers then barely managed to persuade Yuri Borisov (he oversaw the military-industrial complex from the Ministry of Defense) to continue work. Everything rested on the laws of physics - the signal did not pass through the Faraday cloud (this is a plasma cloud surrounding a rocket traveling at a speed of over Mach 10), and therefore the glider became uncontrollable. Who needs an unguided warhead? The Americans, who started their developments in hypersound even before us, eventually retreated, signing their own powerlessness before the laws of physics, and the genius of our scientists (and I will name them a little later, the Motherland should know its heroes!), Based on Soviet developments, allowed to find a way out where, it would seem, there was no way out. Against all laws of physics! As a result, we have hypersonic gliders, which our opponents do not have and will not have in the foreseeable future. It is this circumstance that does not allow Tired Joe to sleep peacefully.
In September 2020, Putin declassified the name of the main developer of the Avangard complex. This is Herbert Aleksandrovich Efremov, the greatest designer of rocket and rocket and space technology, honorary general director and honorary general designer of the famous military-industrial complex NPO Mashinostroeniya (headed this institute after the death of Academician Chelomey in 1984). It is his colossal merit that in the difficult post-Soviet years he was able to save the workforce of the enterprise and its scientific and technical potential. Grandfather is already 88 years old, twice Hero of Socialist Labor (1963 and 2017), both times by closed Decrees (one of two people awarded both of these titles at the same time - he received the GSC USSR at the age of 29, the GSC RF - at 84), other awards cannot be listed I will (there are more than enough of them). It is to him that we owe our peaceful future.
According to Russian President Vladimir Putin,
the hypersonic gliding winged warhead Avangard can break through even promising missile defense systems by maneuvering in pitch and yaw (altitude and heading - up and down, left and right - ed.). Its speed exceeds Mach 20 and it goes to the target like a fireball, the surface temperature of which is 1600-2000 degrees Celsius.
The warheads of the complex have their own engines and can maneuver on the trajectory both in direction and in speed. The control system allows you to quickly change the flight task and the distribution of targets before the start. Combat equipment can be a multiple reentry vehicle and has a set of means to overcome anti-missile defense. The warhead is positioned as an intercontinental range (more than 6 thousand km).
Russian Deputy Prime Minister Yury Borisov once noted that the Avangard strategic missile system with a hypersonic warhead devalues ​​all the US efforts spent on creating their own missile defense system. According to Russian military experts, at least 50 SM-3 interceptor missiles are required to destroy the Avangard UBB, which in fact makes the US missile defense system meaningless. Now do you understand why Putin can afford to talk to Biden from a position of strength?
But that's not all. A significant advantage of guided warheads (UBVs) is also their ability to adjust the trajectory with extraordinary precision and achieve accuracy that is not available with conventional warheads. So, similar to the Avangard, the American Advanced Hypersonic Weapon guided warhead has a CEP of about 10 m versus 250 m for Voyevoda ICBM warheads (the Americans are also working on hypersonic, let this not be a discovery for you, and have already achieved something, therefore Putin could not wait any longer - either we are them now, or they are us later!). This circumstance allows not only to drastically reduce the weight of the warhead by reducing its power due to the accuracy of hitting the object, but also fundamentally changes the scenario of use, including non-nuclear ones. The kinetic energy of the device in this case will be enough to hit a command post protected by a strong missile defense plant, nuclear power plant or other strategically important object. But the Americans still have a speed limit of Mach 5-6. And this is their ceiling. The laws of physics are not subject to them, because they do not have their own Herbert Efremov. Let's sympathize with them. When and if they nevertheless create their own hypersound, we will already have a missile defense system based on the S-550 against it. And again they will be unarmed against us.
Western experts also note that the Avangard UBB, in addition to the Sarmat ICBM, can be installed on medium or short-range missiles, from which, upon reaching a given speed, the UBB can be separated to attack a target protected by strong missile defense systems. Also, the strategic stealth bomber "Messenger" (aka PAK DA) is supposed to be the data carrier of the gliders. Therefore, the cost of investing in Avangard technology was distributed between the Sarmat ICBM projects and the strategic aviation re-equipment program. This is the fundamental difference between the Russian project and Chinese and American hypersonic vehicles capable of launching only from ICBMs.
Ending to be continued. There we will look at what else Putin scares Biden and finally present his main reinforced concrete argument, after which the US President made a deal with the Kremlin (no one knows how it will end, but definitely not a war in Ukraine).