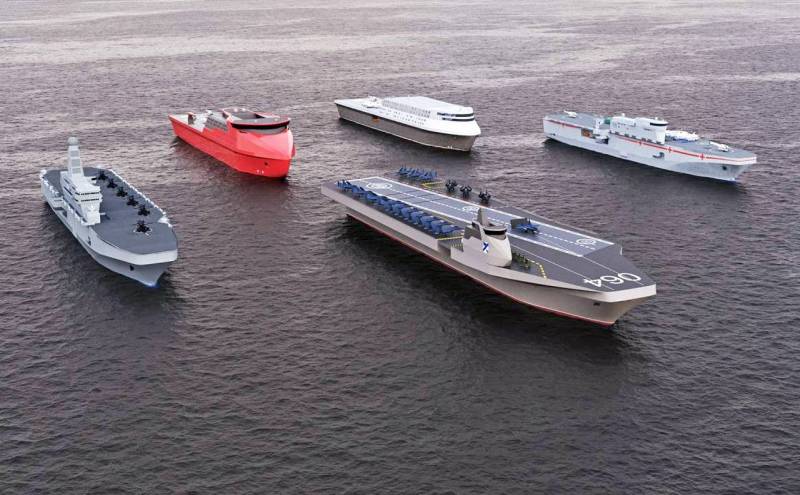 Last year, the Nevsky Design Bureau presented a project for the Russian aircraft carrier Varan. Naturally, "near-war" bloggers and journalists immediately took up arms against him, firmly saddling the hype topic of dislike for aircraft carriers. He got it for all unrealized projects at once, including for an atypical appearance. At the same time, everyone somehow forgot that Varan is more than just another Russian aircraft carrier that will never be built, but this is a real universal marine complex (UMC), about which I would like to talk in more detail.
According to the Nevsky Design Bureau, the Varan project is a unified modular platform, on the basis of which it is possible to create a whole family of large-capacity surface ships, including a light aircraft carrier, a universal landing ship (UDC), a transport and hospital ship, and even a certain Arctic supply ship. zones. The project allows assembly in a modular way, which will significantly speed up the pace of construction at any large shipyard. And this is very interesting, since it would allow the Russian Navy to meet the needs for several classes of large surface ships in an adequate time frame.
Light aircraft carrier
The need to provide air cover for Russian naval groups from the carrier-based aircraft of the AUG of the US Navy does not raise the slightest doubt. Alas, even after the modernization, the resource of the former TAVKR "Admiral Kuznetsov" can be extended by only 10 years. Then that's it, not a single aircraft carrier will remain in the Russian Navy. It is not known whether the UDC under construction in Kerch will be able to take on deck aircraft with short takeoff and vertical landing, and we do not have SKVVPs themselves. The prospects for our navy are terrible.
Unfortunately, today Russia cannot yet build an aircraft carrier of the ATAVRK Ulyanovsk type from scratch. Sevmash and Primorskaya Zvezda are busy with orders for years to come. There is no experience, but there are significant problems with professional personnel. If we work hard, then, in the end, of course, we will build a heavy strike aircraft carrier, but it will take 15 years and will be expensive. Does this mean that this undertaking should be abandoned?
Of course not! It is necessary to balance desires with capabilities, and instead of a nuclear aircraft carrier with a displacement of 80 tons, start building a series of light non-nuclear aircraft carriers with half the displacement, at a level of 000 - 40 tons. "Varan" fully fits into this framework: length - 000 m, width - 45 m, draft - 000 m, displacement - 250 tons, full speed - 65 knots. The power plant is gas turbine. The air group is represented by 9 aircraft: 45 MiG-000K light fighters, 26 helicopters and 50 UAVs. Let the deck wing be decently inferior to the American Nimitz, but it is capable of preventing a one-sided beating of our KUG by US Navy AUG aircraft, conducting reconnaissance, and striking along the coast. "Varan" will be even stronger than the Japanese aircraft carriers of the Izumo class and is quite competitive with the French and British aircraft carriers.
For your money, this may be a completely acceptable solution in order to strengthen the combat capability of the Russian Navy. But this is not all the possibilities of this project.
UDC
A series of amphibious assault ships can also be built on this platform. Yes, two project 23900 UDCs with a total displacement of 40 tons are currently laid in Kerch, but they will clearly not be enough. "Ivan Rogov" will go to the Pacific Ocean, "Mitrofan Moskalenko" will become the flagship of the Black Sea Fleet. But there is also the Northern Fleet, and UDC would not hurt in the Mediterranean Sea in Tartus. Russia is clearly building up its military
political
presence around the world, for which it is necessary to be able to quickly transfer military contingents with armored vehicles.
"Varan" in terms of displacement corresponds to the best UDC of the "America" ​​type in the world, but faster - 26 knots versus 22. On the deck, an American can accommodate 27 helicopters or 22 F-35B short takeoff and vertical landing fighters. Other combinations of the air wing are also possible, depending on the tasks assigned. The landing capacity of the UDC is 2000 marines, 40 AAV7 amphibious armored personnel carriers (in normal configuration) or 61 (in maximum). The ships have their own anti-aircraft artillery and anti-aircraft weapons.
On the platform of the universal marine complex from the Nevsky Design Bureau, it would be possible to build a series of 2-3 UDCs, larger than Project 23900 and comparable in capabilities to America. That is, "Varan" is not only an "unnecessary" aircraft carrier, but also a universal landing ship, which, fortunately, is still recognized as "necessary" in Russia.
Transport and hospital ship
However, Varan is of interest not only as a promising light aircraft carrier and UDC, but also as a transport and hospital ship. And with this, the Russian Navy has had big problems for a long time.
Recall that today we have only three special hospital ships of Project 320 built in the Soviet period in Poland: the Yenisei on the Black Sea, the Svir on the Barents Sea, and the Irtysh on the Pacific Ocean. Their resource has been exhausted, only the Irtysh is actually in service, the rest are waiting for repairs and modernization. Hospital ships are needed by the Russian Navy both in wartime, during operations in the far sea zone, and in peacetime - for humanitarian missions, and so on. For example, during the 2020 pandemic, the American hospital ship USNS Mercy arrived in the port of Los Angeles, its classmate USNS Comfort arrived in New York, where they helped treat the sick.
The Russian Ministry of Defense has long been talking about the need for new hospital ships. By the way, after the UDC "Mistral" in France, it was supposed to order hospital ships. It didn't grow. But the UMC project can also solve this problem.
So, on the basis of the same platform, the Nevskoye Design Bureau developed a project for a universal transport and hospital ship in two versions. The first is purely "conventional" with a total displacement of 29 tons with a hospital for 580 people, the second - with a total displacement of 1000 tons with a hospital for 31 people, but equipped with cargo spaces for landing
equipment
. Its class can correspond to KM (*) Arc5 AUT1-ICS EPP BWM (T) Special purpose ship, which would allow it to operate in the Middle East, Africa, and even the Arctic.
Thus, on one modular platform, it is possible to build ships of three classes at once, which our fleet is in dire need of. Even if we take into account the supposedly "unnecessary" aircraft carriers, then the UDC and the transport and hospital ships of Russia are definitely needed. A high degree of unification will simplify and speed up the construction process, as well as reduce its cost.
So, maybe it's worth taking a closer look at Varan and his family?