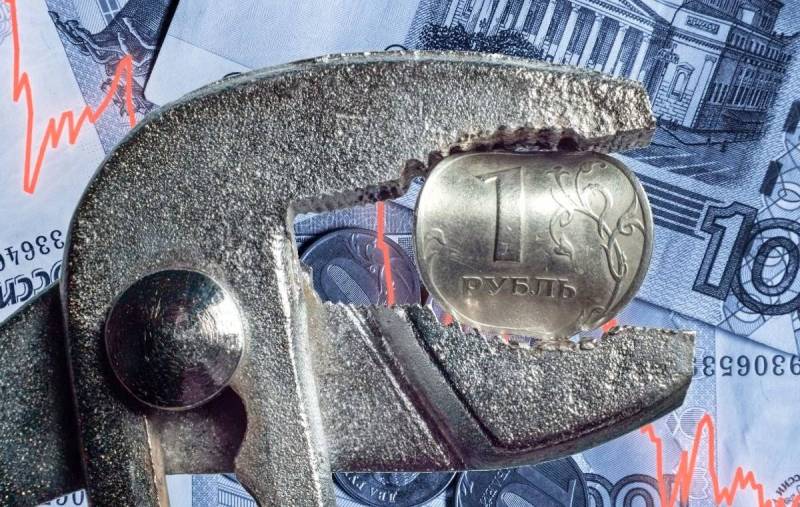 In response to a possible invasion of Russian troops into the territory of Ukraine, the United States and its allies are threatening Moscow not with war, let alone a Third World Nuclear War, but
economic
sanctions. There is even talk of personal sanctions against Russian President Vladimir Putin, which could lead to a rupture of diplomatic relations with the West. How far can the Americans really go in their sanctions war against Russia?
When discussing possible restrictive measures against our country, they are usually conditionally divided into "soft" and "hard". So what can be the retribution "for Ukraine"?
"Soft" sanctions
Since 2014, Russia has been periodically threatened with disconnection from the SWIFT system according to the "Iranian scenario". The US and its allies managed to create a lot of economic problems for the Islamic Republic by artificially isolating Iranian banks from this international financial system. But is it possible to pull off this number today with our country?
With a strong desire, nothing is impossible, but the feasibility of such measures is highly questionable.
At first
, over the past years, Russia has created its own analogue of SWIFT - SPFS (Financial Message Transfer System), as well as the internal payment system "Mir". This means that disconnecting from SWIFT will no longer bring down the Russian financial system, but will only complicate its life. It will not work to isolate our country either, since the PRC has also created its own analogue of SWIFT - the system of international payments in yuan CIPS (Cross-Border Interbank Payment System, or China Interbank Payments System), to which a number of Russian banks have already connected. That is, there will be problems, costs will rise, but the desired result of the sanctions will not work.
Secondly
, to disconnect Russia from SWIFT, the Americans will first have to knock out their European partners, and this is not an easy task. The Russian Federation and the EU are major trading partners, and Europe still needs our raw materials, for the purchase of which it is necessary to pay somehow.
Targeted US sanctions against Russian banks seem much more realistic. We are talking about a ban on transactions with dollars, for the introduction of which Washington does not need to ask someone for permission. There are already precedents: AB Rossiya and SMP-Bank no longer have the right to conduct non-cash payments in US currency. In order to forcibly disable any Russian bank from using the dollar, the US Treasury just needs to add it to its SDN (Specially Designated Nationals and Blocked Persons) sanctions list.
Most likely, the disconnection of the domestic financial system from the US currency will occur in stages. First, some large backbone bank - Gazprombank or VEB, or, say, Promsvyazbank, which is closely associated with the RF Ministry of Defense, will get into the "black list". The last option seems to be the most realistic. Instead of the dollar, it will theoretically be possible to make payments in euros, but the experience of Rossiya Bank showed that the Europeans followed the example of their allies and closed correspondent accounts in euros for it.
Here, much will depend on whether the sanctions turn out to be targeted or whether they gradually cover the entire financial sector of Russia. In the latter case, Moscow will have to move closer to Beijing, Washington's main geopolitical rival.
"Hard" sanctions
We consider it necessary to include a possible ban on the export to Russia of high-tech products containing software, components, or using US patents and licenses as "tough" restrictive measures. It is very serious.
Under the liberal slogan "we will buy everything we need abroad with petrodollars," a significant deindustrialization took place in our country. western equipment,
technique
, the software is now used everywhere, up to the defense sector. In the event of a ban on the export of products using American technology, we can suddenly find ourselves with empty shelves in hypermarkets, without new smartphones, laptops, TVs, refrigerators, without cars and spare parts for them, without imported components for shipbuilding and aircraft construction, etc. The dreaded word "deficiency" may become a reality again. Of course, in the end, China will help replace this import, but obviously with a price mark-up "for risk". Such will be the retribution for "liberalism" in the economy and the opening of its domestic market to transnational corporations.
Can we somehow respond to the West's technological embargo? Unless he voluntarily shot himself in the foot by banning the export of hydrocarbons to Europe and the United States. Thus, Russia will lose a third of its budget revenues, which will definitely not benefit economic development. Our oil and gas will undoubtedly be bought in China, but at first they will knock out huge discounts "fraternally".
As you can see, in any case, Western sanctions will lead Russia to China, but in the "hard" version, we will finally turn into an economic colony of the Celestial Empire. Do the US and EU need it? Probably not.
Therefore, a "soft" version of restrictive measures "for Ukraine" seems more likely.