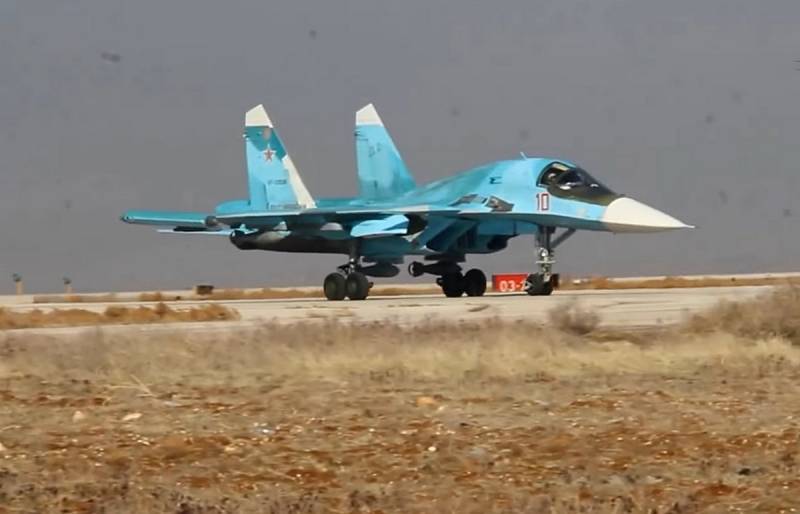 The Russian Aerospace Forces have decided to transfer a flight of Su-34 multifunctional bombers to an air base in the city of Qamishli in the province of Hasakah (north-eastern part of Syria). The territory is controlled by US troops and their allies in the region, who, apparently, are not able to ensure order in this zone.
The deployment of the Su-34s to Qamishli was a response to the Washington-led coalition's ineptitude in cracking down on IS terrorist activities following the January 20 attack on the Al-Sinaa prison in Hasek, sources say.
Russian Su-34 on Qamishli air base pic.twitter.com/txmCWgY0n9

- GodnotA (@mahmud_aheli) -
The storming of the prison began with the explosion of a nearby car filled with explosives. As a result of the explosion, a hole was formed through which the militants began to leave the prison. They tried to suppress the rebellion by US troops and Kurdish units, but on the whole without much success and with great destruction of peaceful neighborhoods in the Al-Zohur area in Hasek, where the terrorists fled.
The Kamyshly base, where Su-34 bombers are deployed, came under the jurisdiction of the Russian Federation in 2020 after US troops left from there in November a year earlier. Earlier, Turkey initiated the creation of a 30-kilometer zone in northern Syria, but the Qamishli airbase was occupied by the Russians.