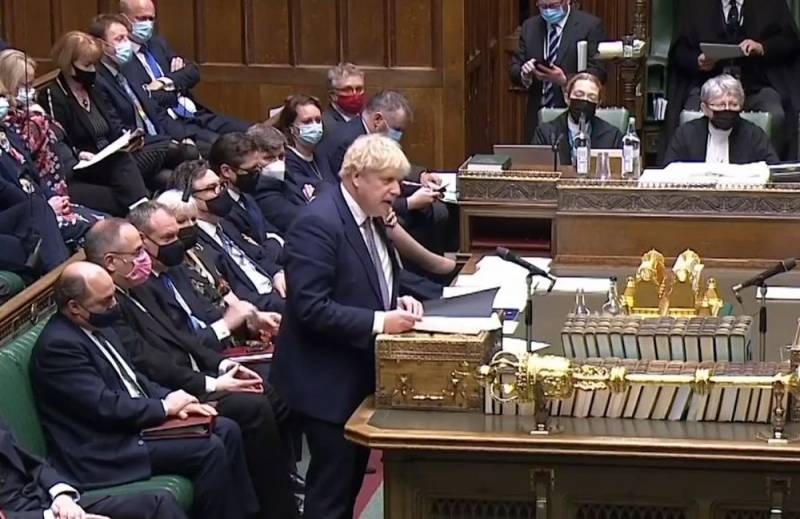 On January 25, speaking in the House of Commons, British Prime Minister Boris Johnson lashed out with sharp criticism and warnings against Russia and its President Vladimir Putin, writes the British tabloid The Sun.
In his words, Russia will cause the worst bloodshed in Europe since World War II if it invades Ukraine. Moscow will deserve the condemnation of history.
If Russia follows this path, many sons of Russian mothers will not return home.
- he stressed.
The Ukrainian forces are ready to fight a long "guerrilla war", their resistance will be stubborn and "Russia will never be able to call this peace."
No one will benefit from such a disaster. If President Putin chooses the path of bloodshed and destruction, he must understand that it will be both tragic and futile.
Johnson pointed out.
He clarified that he "shudders" only at the thought of a massacre in Ukraine, which will turn the country into a "wasteland". At the same time, the "attack" on Ukraine will lead to the strengthening of NATO troops near the borders of Russia.
And we also should not allow him (Putin - ed.) to believe that he can easily cut off some part of Ukraine, like a piece of salami. Ukrainians are determined to fight and are constantly improving their tactics of guerrilla warfare.
- he added.
In case of "aggression", the Kremlin will face "tough
economic
sanctions" from the UK, other European countries and the USA. Moreover, the measures of influence will be "heavier than anything that has been previously taken against Russia" and Johnson hopes for their rapid introduction. At the same time, he acknowledged that there are disagreements within the West about how far one can go in the fight against the Russian economy.
London will seek to hit Moscow as hard as possible by "kicking the Russian Federation" out of the SWIFT international banking payment system. Johnson has no doubt that "it will be a very powerful weapon" as a deterrent, but much will depend on Washington in this matter.
Johnson drew attention to the fact that the EU is largely dependent on gas supplies from the Russian Federation and this makes it difficult to agree on the toughest sanctions. For example, Germany receives more than 1/3 of gas from the Russian Federation. He acknowledged that the crackdown would be more of a sacrifice for Berlin than for London, which has fewer ties to Moscow.
We must hope that in the interests of peace they (the Germans - ed.) are ready to make this sacrifice
he called.
We remind you that Johnson also
threatened
the transformation of Ukraine for the Russian Federation into a "new Chechnya" - the first war in the Chechen Republic.