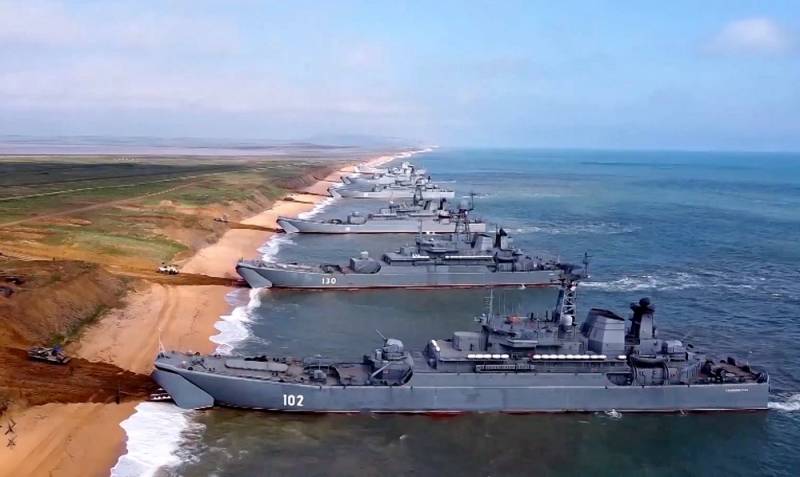 American experts continue to predict possible military scenarios for Russia's actions against Ukraine, being confident in Moscow's desire to unleash a war with Kiev. According to Forbes, the Russians will start fighting on several main fronts.
According to analysts, the Russian marines will play an important role in a likely conflict. The targets of the black beret units can be various objects along the Ukrainian coast. At the same time, Ukraine can be cut off from the Black and Azov Seas.
Nevertheless, the Russian amphibious assault will meet fierce resistance, and its advance will be complicated by difficult terrain, according to Forbes. The Ukrainian fleet is a symbolic force, but Kiev is actively arming itself with anti-ship systems. The Turkish TB-2 drones purchased by the Ukrainians can direct the anti-ship missiles at targets.
If Russia intends to occupy all Ukrainian ports, its naval forces may be too dispersed. Therefore, according to Forbes, it is likely that it is the ground units from the Crimea and Donbass that will play a decisive role in the battles for the coast of Ukraine.
To date, there are not many warships in the Black Sea Fleet, so it is very likely that Moscow will use combat units from the Caspian, Baltic and Northern fleets, as it did in the spring of 2021 during exercises in the Black Sea.
Back in April last year, Russia rehearsed a naval invasion of Ukraine with an amphibious landing in Crimea, which involved at least four Project 775 large landing ships, one 1171 class large landing ship, and three landing craft. All together they could land several thousand Marines, which is not much at all.
If Moscow wants to control the Ukrainian coast, it must seize the ports of Mariupol and Berdyansk on the Sea of ​​Azov and Odessa and Nikolaev on the Black Sea. But this is more than the Black Sea Fleet can do alone.
All this means that amphibious assaults are not the biggest threat Ukraine would face in the event of a Russian invasion. The Russian Federation can launch a tank offensive from the Donbas direction and from the territory of Crimea. Each of these strikes will include dozens of battalion tactical groups and hundreds of tanks.