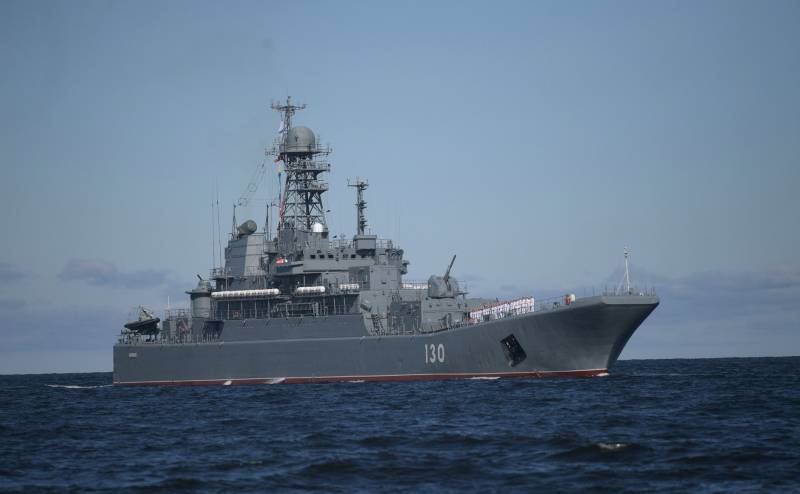 The combined detachment of six large landing ships of the Baltic and Northern Fleets of the Russian Navy continues its campaign around Europe. The French Navy has published a recording of negotiations with the Russian BDK "Korolev" project 775 from the Baltic Fleet during the passage of the waters of the Bay of Biscay (located between Spain, France and the Atlantic Ocean). The reason for the anxiety of the French was firing practice from Russian ships.
- Korolev, Korolev, this is the Rhone ship of the French Navy (logistic support vessel), located on your starboard side. Do you accept me?
- This is a Russian warship, do you accept me?
- I take it well. I ask you to designate the minimum safe distance for me in view of the firing practice you are conducting.
– Maintain a distance of 3 miles.
– How long do you intend to conduct exercises?
- I need 2 hours.
- Accepted. One more question: what caliber do you use during target practice?
- 5 mm.
- Accepted. I would like to inform you that within an hour, a French Navy aircraft will begin patrolling this area.
- Understood. Thanks for the information.
- Accepted. Thank you for your cooperation
says the audio recording.
We remind you that the AK-74M assault rifle has a caliber of 5,45 mm. It should be added that navigation resources do not exclude the activation of the US Navy in this direction. They suggest that the USS Roosevelt (DDG 80), an American destroyer (destroyer) with an Arleigh Burke-type URO, which left the Rota base in Spain on January 22, is now off the coast of northern Portugal. The ship is busy with the meeting and subsequent escort of the BDK detachment of the Baltic and Northern Fleets of the Russian Navy,
implementing
transition to the eastern part of the Mediterranean Sea and, possibly, to the Black Sea.