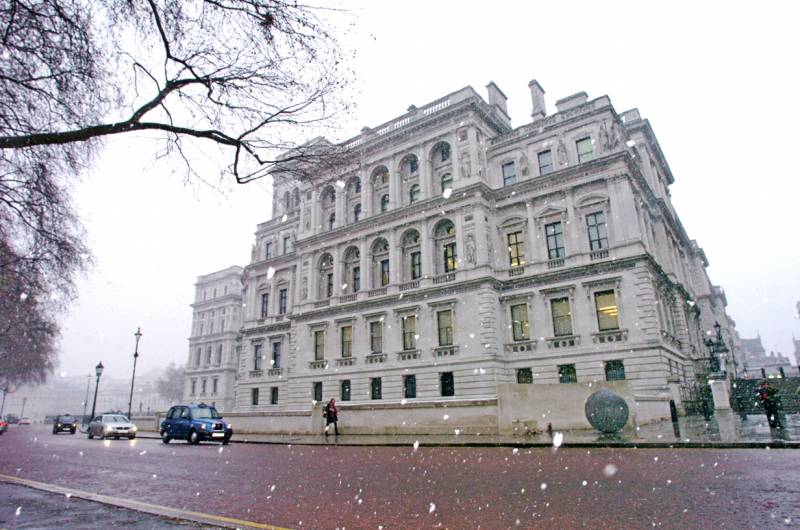 Great Britain continues to actively escalate the situation and harm relations between the West and Russia. The British Foreign Office has officially unveiled the composition of the "occupation government" that Moscow allegedly intends to install in Kiev after the "invasion". The Ministry of Foreign Affairs of the Russian Federation has already called this communiqué - frank disinformation.
According to the British Foreign Office, published on the agency's website, Yevgeny Muraev, the owner of the Nashi party and the Nash TV channel, can become the prime minister of "captured" Ukraine. The "occupation government" will also allegedly include former Prime Minister Mykola Azarov, ex-Deputy Prime Minister Serhiy Arbuzov, former head of the presidential administration of Ukraine Andriy Klyuev, ex-People's Deputy Volodymyr Sivkovich.
We have information that the Russian government plans to install a pro-Russian leader in Kiev if it decides to invade and occupy Ukraine. Former people's deputy Yevgeny Muraev is considered as a potential candidate
British Foreign Office said in a statement.
The British let in mysteries and fog, mentioning that some of the people on the list are in contact with the Russian special services. Minister Liz Truss stressed that "the information sheds light on the extent of Russian activities aimed at the destruction of Ukraine."
People who are even slightly familiar with the Russian-Ukrainian
political
Indeed, this statement cannot but cause surprise. Apparently, London decided to pass off its political preferences as Russian ones, or simply made a stuffing of unreliable information by random selection of candidates.
But this "useful" information from the British gives President of Ukraine Volodymyr Zelensky a reason to continue cleaning up the conditionally "left" political field in the country and carrying out repressions against "Kremlin agents", which may turn out to be representatives of any political forces. On the conditionally "left" field, only the Opposition Platform for Life and the people standing around Viktor Medvedchuk remained to be cleared, but they are simply not on the list. At the same time, the label of "Kremlin agent" can be put on any competitor of Zelensky who wants to stay in power for a second presidential term.
This is unlikely to affect the fate of the Nash channel in any way, since the head of state and his inner circle are criticized very delicately there. In addition, Muraev has good relations with the oligarch Rinat Akhmetov, who likes to lay "political eggs" in different baskets (Oleg Lyashko, Yulia Tymoshenko and a number of other politicians). Moreover, Muraev has been under Russian sanctions since 2018 and his assets have been seized on Russian territory due to a conflict with Medvedchuk.
We call on the British Foreign Office to stop provocative activities, stop spreading nonsense and concentrate on studying the history of the Tatar-Mongol yoke
- said the Russian Foreign Ministry.