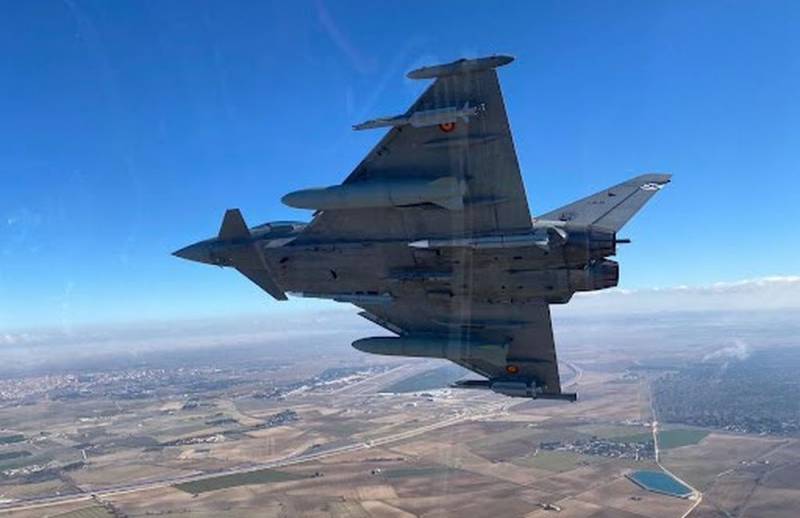 The head of the Spanish Ministry of Defense, Margarita Robles, confirmed Madrid's commitment to the NATO bloc and proposed sending Spanish Air Force aircraft to the Bulgarian airfields, and the country's Navy frigate Blas de Lezo (F-103) to the Black and Mediterranean Seas to perform tasks as part of the Alliance squadron, Spanish writes. newspaper El Pais.
The publication notes that this is allegedly required "to contain Russia" as part of NATO's efforts to prevent the threat of an "attack" by the Russian Federation on Ukraine. At the same time, the minister claims that he prefers a diplomatic solution to the crisis.
A year ago, the Spanish Air Force sent six of its Eurofighters to the Alliance's Mihail Kogalniceanu air base in Romania. This year, the General Staff proposed to organize something similar in Bulgaria. At the same time, the Spanish Air Force will send its fighters to Lithuania for the ninth time "to protect the airspace of the Baltic countries from a possible invasion of the Russian Federation."
NATO decided to deploy all of its standing forces. On January 17, the Meteoro-class patrol ship left the Spanish naval base Las Palmas in the Canary Islands. He will spend the next six months as part of this squadron. After some time, the mentioned Álvaro de Bazán-class frigate will join it.
The minister said that Madrid is actively participating in the Alliance's efforts to strengthen the bloc's eastern flank. About 350 servicemen of the Spanish army, Leopard tanks and Pizarro infantry fighting vehicles are located at a base near the city of Adazi (Latvia), 120 km from the border with the Russian Federation. In total, there are three NATO battalions in the Baltic countries (Lithuania, Latvia and Estonia), which demonstrate the solidarity of the allies that Moscow's "aggression" against these countries will be regarded as a declaration of war on the entire bloc.
Moreover, all NATO activities were planned even before the start of the "concentration" of Russian troops on the Ukrainian border. However, the Alliance held an emergency meeting for the first time, at which it demanded that the deployment of response forces and means be accelerated.
At the same time, the allies are not yet considering the option of a military conflict between NATO and the Russian Federation over Ukraine, since this country is not part of the Alliance. But the bloc supports Kiev's Euro-Atlantic aspirations. Therefore, in the event of an aggravation of the situation, NATO will strengthen its eastern flank even more "to ensure the security of the bloc's allies and contain Moscow," the media concluded.