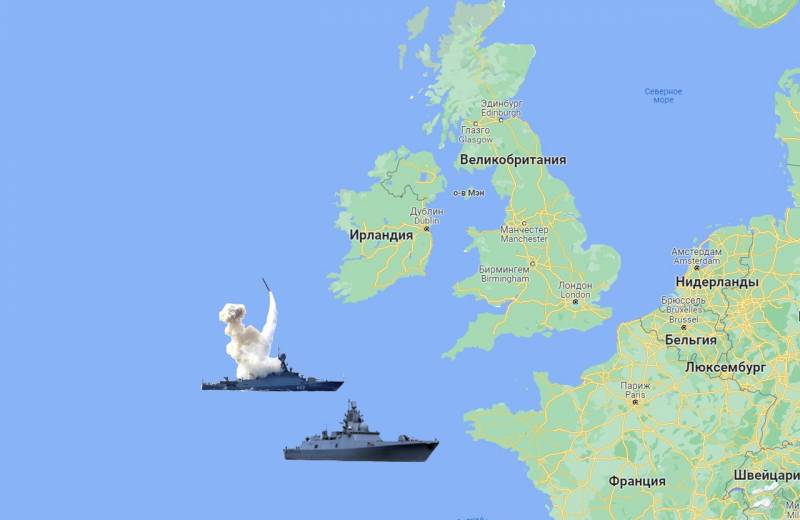 The Russian Navy and Aerospace Forces are preparing to carry out missile launches and bombing near Great Britain and Ireland. This was reported on January 22 by the Irish portal TheJournal.
The online publication notes that Dublin received a notification of a major exercise of the fleet and aviation of the Russian Federation in the Atlantic. Firing should take place 240 km southwest of the coast of County Cork in early February.
The exact details of exactly what forces and means Moscow will use are still unknown. But the Irish Aviation Authority has already confirmed that it must reroute commercial flights and issue an appropriate airspace closure warning. The specified area is a section of the international (neutral) water area located within the exclusive
economic
zone of Ireland patrolled by Irish warships and aircraft.
But with the limited capabilities of our patrol aircraft and fleet, it is very difficult to track anything on this scale.
a security source told the media.
Russia announced that it is starting large-scale exercises around the world with all the fleets at its disposal (more than 140 ships will be involved). The Ministry of Defense of the Russian Federation informed that the maneuvers of the Navy will begin at the end of January and end in February. They will pass in all oceans and many seas, including the Mediterranean.
Former Defense Forces officer Catal Berry, an Irish lower house MP, said in an interview that this is not unprecedented, but unusual, as the shooting will take place very close to Ireland.
This is what great powers do. But these exercises are more poseur in nature and represent an exchange of "courtesies" of Russia with European countries.
Barry said.
He pointed out that the Russians could have fired anywhere, but they specifically chose this particular place. He therefore sees the exercises as a potential threat to Ireland's sovereignty.
From a military point of view, the problem is that exercises are a very easy way to gather a large number of military forces and assets in the right area under false pretenses and become a harbinger of other actions.
Berry concluded.