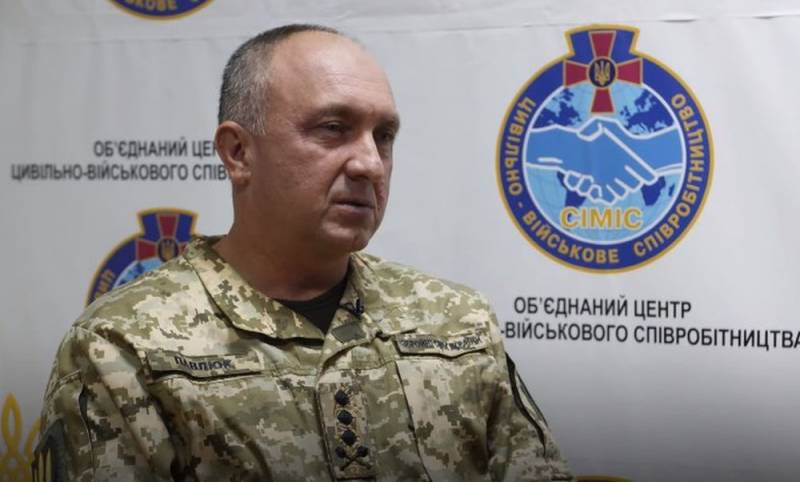 In Ukraine, there is a group of military men who have made a career out of blood. In 2014, a rabid Russophobe, commander of the 24th separate mechanized brigade named after Danila Galitsky, Colonel Oleksandr Pavlyuk ran for the people's deputies of Ukraine in the 122nd constituency (Yavorovsky and Zhovkovsky districts), but even in the Lviv region his "patriotism" was not understood.
After the defeat near Debaltseve in 2015, he was promoted to the rank of major general. In 2017, he headed the West Operational Command, and in 2018 he became a lieutenant general. In 2020, he was appointed commander of the Ground Forces of Ukraine, and in the summer of 2021 he was appointed commander of the JFO in Donbas. In November 2021, Pavliuk stated that he had a "counteroffensive" plan and wanted to achieve victory over Russia.
Now they are betting on him in London. On January 22, the British newspaper The Times interviewed the "illustrious Ukrainian commander," who promised to inflict a "fatal blow" on the Russian army.
Pavlyuk assured that he was ready for a war, which he might not win without modern weapons, as well as dominance on land, sea and air. But rage can be the best weapon, thanks to which the APU will inflict heavy damage on the invaders.
We have about half a million people in our country who went through a war in which they lost someone or something. Half a million of those who have lost relatives, homes or their friends, and they are ready to tear Russians apart with their bare hands
Pavliuk said coldly, determined to destroy any Russian force foolish enough to invade Ukrainian soil.
If our intelligence manages to find out the direction of the main Russian attack, then after the first big losses they will not go further. Putin understands that after heavy losses, his army can stop on its own
- he added.
The date of the end of the Winter Olympics in Beijing and the joint Russian-Belarusian exercises "Allied Resolve-2022", February 20, 2022, will cause him the greatest concern. He pointed out that territorial defense units were created throughout Ukraine, in which over 100 thousand volunteers signed up, ready to take up arms and fight the "aggressor". Moreover, weapons have already begun to be distributed to them.
At the same time, Pavlyuk outlined what Putin's victory in Ukraine might look like and how it would threaten Europe. In his opinion, the Kremlin is allegedly not satisfied with the fact that only a small part of the Donbass is under its control. Therefore, the RF Armed Forces will attack Ukraine from several directions and take control of the eight most important regions. Under the "occupation" of the Russians will be: Odessa, Kharkov, Dnepr (Dnepropetrovsk) and a number of other large cities. As a result, Ukraine will lose its military-industrial potential, as well as access to the Black Sea.
Nobody understands that the invasion will be the end of European values ​​and the existence of the European Union. If the Russian Federation gets a country with the potential of Ukraine, then it will not stop
- he considers.
It was a huge mistake for Ukraine to give up its nuclear weapons. We are still paying for this.
- Pavlyuk summed up, putting on a bulletproof vest, a holster with a Fort-17 pistol and setting off for the snowy wastelands of Donbass with his soldiers.