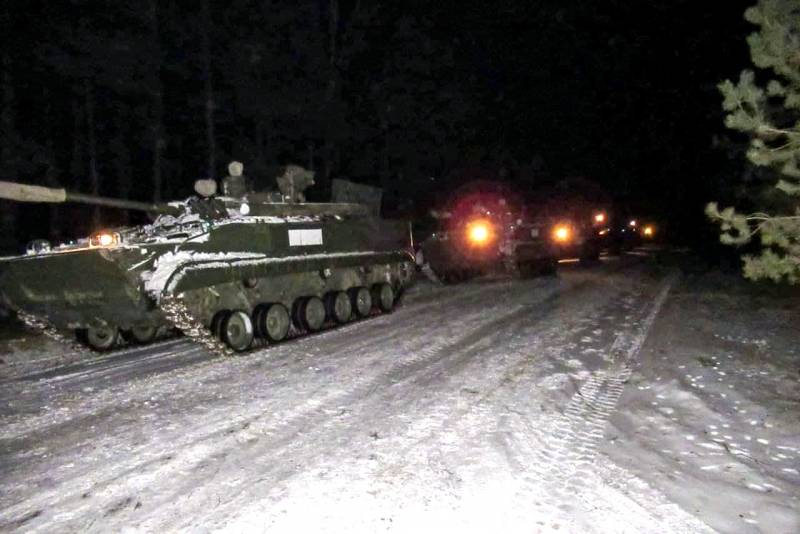 Echelons with personnel and
technique
RF Armed Forces to participate in the verification of the forces and means of reaction of the Union State of Russia and Belarus. On January 20, the Ministry of Defense of the Republic of Belarus informed the public about this on its website.
The report clarifies that at the Polonka railway station, located near the city of Baranovichi, the Russians were greeted with bread and salt to the sounds of a military band. Photographs from the scene were presented as evidence.
One of the presented images showed the BMP-3F with tactical numbers neatly painted over on the armor. This armored vehicle belongs to one of the units of the RF Armed Forces, which is yet to participate in the second phase of the mentioned check - the joint exercises "Allied Resolve-2022" from February 10 to 20.
At the same time, some netizens suggested that these were "marines" of the 155th separate marine brigade of the Pacific Fleet of the Russian Navy (military unit 30926) from Primorsky Krai. This unit is part of the Eastern Military District, and in the spring of 2021, it received 40 BMP-3F units.
We remind you that these joint defensive measures of the Russian Federation and the Republic of Belarus in the West, in the USA and Europe, as well as in Ukraine, are called nothing more than "camouflage in preparation for the Russian invasion." However, a different opinion prevails in Russian society - Russophobes, hiding behind the hysteria about the "aggressiveness of the Russian Federation", are themselves preparing to attack Russia.