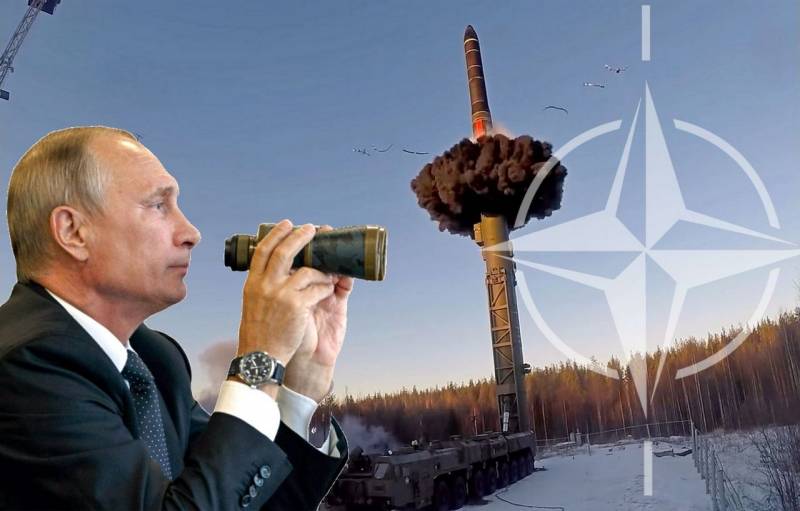 В
предыдущих
In articles, I famously wrapped up the intrigue that Putin spun with his unprecedented ultimatum, which he rolled out to our precious "partners", and they silently swallowed him. Today, I will finally reveal the cards and explain why the Kremlin has such audacity and what Putin's confidence was based on that the West would talk to him at all.
You all know the chronology of past events well, otherwise why did I spend so much time telling you how the Kremlin switched from passive defense to attack, using its diplomatic corps for this (whoever does not know, you are welcome
here
), what reasons prompted him to do this and what he was afraid of. The threats were more than real, the West
policies
In recent years, he has ensured that Putin was put literally against the wall, behind which only Moscow remained, in the literal, and not figurative sense of the word, there was simply nowhere to retreat further. It was these circumstances that forced the Kremlin to move from defense to attack, throwing the gauntlet in the face of the United States. They raised it, and still not believing that this is all happening to them in reality, they are now trying to understand what this could threaten them with, whether Putin is bluffing, and what kind of cards he has in his hands.
Ранее
I explained that putting forward his ultimatum to the States and their hangers-on, Putin least of all hoped that they would accept it. Otherwise, I would not have driven all this organized crime group into a corner, presenting them with impossible demands in advance. So he needed a denial. And now, when a written refusal has not yet been received, and when all this brethren, with bated breath, are considering options for what this could threaten them with (the State Department has even put 18 options for the US response to the Russian invasion of Ukraine on Biden's table), it's time for us think about the possible options, especially since from the very beginning I promised you to reveal the cards that Putin has up his sleeve and what motivates such audacity of the Kremlin.
We immediately discard the invasion of Ukraine. This is exactly what Washington wants from Putin, and what it has been trying to achieve since 2014. Why not give him such pleasure? They sleep and see us hang this collar around our necks, providing it with all sorts of sanctions. They are not going to fight with us on the territory of Ukraine even at the hands of Ukrainians. They are well aware of the strength of this army, and they themselves give him a maximum of a week for organized resistance. They associate all their plans not with a direct clash, but with an urban guerrilla, in which the "aggressor" will inexorably have to get bogged down. But in these cases, our American "friends" are masters. The training of terrorist cutthroats is their main profile (ISIS (banned in the Russian Federation) was created precisely by their hands). And it was precisely for this that they prepared their Ukrainian wards all the time of their protectorate. Zelensky has already called for 90% of his population, including pregnant women (up to 60 years old) and children, to fight the northern rabid neighbor. Now everyone is just sitting there and waiting for Putin to attack. The caches with weapons have already been laid, detachments of partisan terrorists from the ranks of the Pravoseks and other nationalist riffraff have been recruited, no one is going to be buried in the forests, they will fight in the urban jungle so that the earth burns under the feet of Russian aggressors. But I must upset them - Russia will not come to the war.
What else can scare Putin? I will immediately disappoint all admirers of Old Man Lukashenko, who promised to provide his territory under the Russian Strategic Missile Forces. What profit do we get from this? Intercontinental ballistic missiles do not care where they fly to New York, from Gomel or from near Saratov. They will not fly there across the Atlantic, but across the North Pole, what difference will these one hundred or two hundred kilometers give us? And we are not going to shoot at Europe, we are not trying to scare it, but America (the Germans and Poles have not recovered from our Iskanders near Kaliningrad). And America does not feel sorry for the Europeans, although the snickering inhabitants of Foggy Albion should be punished (but next time, if they live). This means that Belarus is also excluded from Putin's possible threats.
What else do we have left? RosKVN? It seems that Deputy Foreign Minister Ryabkov recently frightened America with it. For those who are not in the know, I will explain - this is not the Russian Club of the Merry and Resourceful, but the military bloc Russia-Cuba-Venezuela-Nicaragua. As the well-known rule of the special services says: "He who knows does not speak. The one who speaks does not know. So Ryabkov, with all due respect to him, does not know what he is talking about. More precisely, he knows, but deliberately starts up our sworn "friends" on the wrong track in order to push them to make the right decision for the Kremlin. This task is now being solved by the Tu-154 (tail number 85019), assigned to the FSB of the Russian Federation, or rather to the Special Flight Detachment of Russia, serving the highest officials of the Russian Federation, which has been cruising the last three days on the Managua-Havana-Caracas route. Looking at this, some people in Washington are already getting nervous. Our rockets are in Cuba or in Venezuela, whoever you like will lead to sad thoughts. But, unfortunately, neither Nicaragua, nor Venezuela, nor even Cuba dream of becoming a target on the Pentagon maps. What is the use of this for them? Die for Russia? They are not Ukrainians who dream of dying for America.
And most importantly, what must be said and what none of the defenders of this idea thought about, Russia, with all its desire, does not have any escalation and logistical opportunities to support its grouping of troops in such remote theaters of operations. How to supply it with BC and keep it functional, anyone thought? How to replace personnel? I'm not talking about the fact that it's very expensive, after all, we don't feel sorry for the money for such a thing, but we won't transfer anything sensible there by air, and by water across the Atlantic (or across the Pacific Ocean for Nicaragua) our ships will become easy prey for the Americans who run it. They just won't let us in there, and then what to do? Therefore, unfortunately, we also cross out RosKVN.
All home-grown strategists called the last of Putin's possible trump cards a military alliance with China - and die America in convulsions. I have only one question for them - why do we need it? Do we lack our own military means? Why do we need Chinese for this? We ourselves can destroy the whole world 12 times in a row, while the Chinese cannot boast of this yet (they can only destroy half the world and only 1 time). We only need China, as America's scarecrow, somehow I personally don't smile at fighting for its interests. And the fact that he will fight for the interests of the Russian Federation is generally a fact from science fiction. The Chinese, like the Turks, are still those friends. I wouldn't turn my back on them. Therefore, we also cross out the military alliance with the PRC, we will have enough of the economic one.
This is where your fantasy ends. It turns out that Vova Putin has nothing more against old Joe? Could it be that the measures of a military and military-technical nature with which we frightened them were a bluff? By the way, the head of our Foreign Ministry, Sergei Lavrov, at his last press conference, explained what is hidden behind the last term. It turns out that measures of a military-technical nature involve the banal deployment of a military
equipment
. It would just deploy. And here we are finally approaching the solution to such an impudent behavior of the Kremlin. We have something to deploy, but the States have nothing! At least against us.
I already hear indignant murmurs, am I out of my mind, do I know what the US defense budget is? I know! 770 billion dollars, so what? You can't spread dollars on bread! We are not comparing budgets with the States, but weapons. And here comes the first surprise. As Sergei Shoigu reported at the last Board of the Ministry of Defense, our average level of equipment with new equipment in the Armed Forces last year was more than 70%, and for the first time in history we reached 89% in terms of nuclear deterrence. Shoigu stated a fact as simple as a deafening fact - Russia has become the world leader in modern weapons.
Our opponents cannot boast of this. For the first time in the entire post-war history, it is not we who are catching up with them, but they are catching up with us. In a number of weapons, we overtook them by at least 10-15 years (or even more!). And that is why a historic window of opportunity is opening up for Russia at the moment. It would be foolish not to use them. That's what Putin is doing, trying to roll back the balance of power at least to the turn of 1997, and if you're lucky, then at the time of the collapse of the Union. At the same time, we do not ask permission from the States for this, we stupidly put them before the fact in a notification manner. Rightfully strong!
And the hegemon is naked!
For everyone who disagrees with my last statement, I have only one question - do you think the US has begun withdrawing its troops from Afghanistan from a good life? Now I'm not talking about the shame with which they covered themselves by failing to cope with an ordinary military transport operation, for which they were preparing for six months, I'm now asking you, have you ever wondered why the States went for it? Apparently, not everything is so great in the Danish kingdom - we have to save money, we started from overseas territories.
Many of you are still living by inertia in the paradigm that the United States is a colossus, in the military and economic sense, which is allowed to do everything. Maybe it was, even 20 years ago, but at the moment we can state a sad medical fact for the States that this colossus has feet of clay. Push and he'll fall. What, in fact, is Putin doing now. For many, this looks very unexpected, for some especially impressionable, it seems like madness. But believe me, Putin does not do anything so easily. Just now the very moment has come when the States can only silently open their mouths, but they cannot object to such blatant impudence. And Putin, by right of the strong, dictates his terms to them. And to your enormous surprise, they will also fulfill them. And only Putin will decide whether to allow them to save face or humiliate them to the maximum. I'd let you save face. The country is big, we still have to live with it.
They screwed up their country. Relaxed a lot. It seemed to them that their hegemony would always be. Nothing is eternal. While they relaxed, swaying on the waves of their own greatness, Russia focused. And by 2022 it has reached the bifurcation point. Wait until the States gather their strength, Putin did not and hit in the stomach. From a sock! After all, if a fight is inevitable, then you have to hit first, right? Who is their doctor that they did not take Putin's words seriously? But he warned for a long time, back in Munich in 2007. Well, here we waited (not even 14 years have passed)!
In order not to be unfounded, I will also give evidence of US impotence. I will not consider conventional weapons, we cannot fight them on land, I will only consider the state of affairs in the American strategic nuclear forces, in their air, sea and land-based nuclear triad, because it was it that kept the parties from a possible war for 70 years. There, the affairs of the "partners" are not at all as brilliant as it seems to some naive comrades, if not to say that they are deplorable.
Ground component of the nuclear triad
: all silo launchers for the only US Air Force remaining in service (do not be surprised, their ground-based strategic nuclear forces pass through this department) the ground-based intercontinental ballistic missile (ICBM) LGM-30G Minuteman III are currently in line for repairs and cannot be used for their intended purpose. And the Minuteman-III ICBMs themselves (this is a single-block solid-propellant first-strike ICBM with a maximum range of 13 thousand km) are in such a technical condition that it is simply dangerous to launch them. Since 2010, out of 10 test launches, only one was recognized as successful and 4 more partially successful, i.e. reliability coefficient of 50%, there is something to be proud of (in the event of war, half of their missiles will remain on the launch pads!). In total, according to the Nuclear Posture Review, published by the US Department of Defense in February 2018, the US has 400 such missiles in service.
US NSNF (Naval Nuclear Deterrent Force)
currently consist of 14 Ohio-class SSBNs equipped with Trident-II three-stage ICBMs of the 4th generation. The missile has a maximum range of 11,3 thousand km and has a multiple reentry vehicle with individual guidance units equipped with thermonuclear charges with a capacity of 475 and 100 kilotons. Each of the 14 SSBNs can carry 24 similar sea-based ICBMs. This is the best that is in service with the US Navy at the moment. Our missile defense systems will cope with them, but whether they will cope with our Zircons and Vanguards is not even a question, but a statement - they have nothing against our hypersonic missiles. Must kneel and beg Putin for mercy. And maybe the good uncle Vova will even go for it, but in return he can ask for whatever he wants. And he asked. While politely - through Lavrov. Do you want to ask through Shoigu? Not? Then agree with the proposals of the Ministry of Foreign Affairs. I hope I've made the situation clear on the board.
Air component of the US nuclear triad
currently consists of 46 B-52H strategic bombers capable of carrying nuclear weapons and 20 B-2A nuclear strategic bombers with a low level of unmasking features (the same vaunted "stealth"). The US nuclear arsenal also includes the B83-1 and B61-11 free-fall bombs. To date, FAS experts estimate the number of US nuclear atomic bombs in Europe and Turkey at 150-200 pieces. These are B-61 type bombs with a total capacity of 18 megatons.
As a summary, it can be stated that in 2022 the States enter completely unprepared for a nuclear confrontation with the Russian Federation and China. In 2018, still under Trump, they adopted a new nuclear doctrine for the period until the end of the 21st century. According to this doctrine, the basis of the newly created strategic nuclear forces should be 400 monoblock ground-based ICBMs, presumably called Minuteman IV, the first of which should appear in 2029. For these purposes, they want to leave 450 mine launchers, 50 of which will be false.
According to the new doctrine, the naval component of the strategic nuclear forces should include up to 240 Trident-II SLBMs installed on 12 Columbia-class SSBNs with a large displacement compared to Ohio-class SSBNs (21 tons versus about 19 tons). Subsequently, the named SLBMs will be replaced by new types. The first nuclear-powered submarine of the new class is due to enter combat patrols in 2031.
And finally, the third (air) component of the updated triad will be 60 heavy bombers of the B-21 Raider (B-3) type with air-launched nuclear cruise missiles and adjustable nuclear bombs. The first such bomber should appear in 2025. Subsequently, they plan to deploy a new extended-range cruise missile with a nuclear warhead on these bombers. In addition, the triad will be strengthened by an unnamed number of medium-range dual-purpose bombers, i.e. capable of carrying aerial bombs in nuclear or non-nuclear weapons. The basis of the latter will be the new advanced land-based and carrier-based F-35 multifunctional fighter-bombers already arriving in the US Air Force, which means that they will appear on the airfields of many states of the North Atlantic Alliance (NATO) and its non-aligned allies adjacent to the territory of Russia and China.
In 2019, the serial production of B61-12 guided thermonuclear bombs began by altering the products available in warehouses. A total of 480 bombs are expected to be upgraded in this way. The number of products planned for deployment has not yet been specified. After the completion of all this work, only two types of tactical thermonuclear bombs will remain in the arsenals of the US Air Force: B61-11 and B61-12. As a replacement for older bombs in its family, the new B61-12 LEPs will be sent to NATO bases in Europe that already have similar weapons. There it is stored at six air bases: in Germany (Büchel, more than 20 units), Italy (Aviano and Gedi, 70-110 units), Belgium (Kleine Brogel, 10-20 units), the Netherlands (Volkel, 10-20 pieces) and Turkey (Incirlik, 50-90 pieces).
As you can see, the States have big plans for the future. But right now they are not ready for confrontation, not only with us, but even with our eastern friends. Uncle Vova did not wait for them to get stronger and politely asked to return the flirted debt to us. No, not yet Alaska, but only the rights to the territory of the former Soviet republics. But appetite comes with eating, so I won't be surprised if, during the negotiations, he demands the return of the Baltic States with the countries of the former socialist camp to him. Exclusively by the right of the strong! After all, no one has yet canceled the policy of gunboats.
Physics vs Geography
Epigraph: "The most important advantage of our newest systems is their effectiveness, inaccessible to the enemy." (S.K. Shoigu)
It just so happened that in the 21st century the global confrontation for world domination, which is unfolding right before our eyes, has come down to a banal war of physics against geography, where geography is still winning. But our remarkable scientists are doing everything to change the situation. If in civilian life people fight for metal, then in war people in uniform fight for speed. Do not be surprised, I will now reveal to you a military secret, which, in fact, no one has hidden from you. It's just that purely civilian people prefer not to get involved in military affairs, and purely military people prefer not to tell purely civilian people what kind of sheer nonsense they are paid by such crazy money, preferring to naive questions - how did you manage to puff out your cheeks and get off with common ones, nothing meaningful phrases about military and state secrets. But all the grey-haired, bronze-faced, four-star generals in the Pentagon, as well as our occupants of the building on Frunzenskaya Embankment, with rumpled faces and not shining like a hussar, hide from you that this secret consists only in the fact that the state, in order to preserve its own sovereignty, is forced to spend the lion's share of its budget for the maintenance of fundamental branches of science.
What does fundamental science have to do with it, you ask me, although you yourself perfectly understand that you can't do without it. The answer is - despite the fact that, as I said above, now all wars have come down to a war for speed. And more precisely, for the speed of delivery of a deadly cargo to your potential adversary. Since both sides have missiles, the whole war flared up only over who would rather kill his opponent before he killed you. And our enemy, having an unlimited budget and a bunch of grunting vassals, took the simplest way to reduce the time of approach of a deadly cargo by reducing the distance between their launchers and us, placing their missiles and anti-missiles on our borders. And given his superiority at sea and in the air, he actually drove us into a corner, turning geography against us.
We had no choice but to use our own Physics against their Geography. How our attempt to land our strategic bombers there in order to reduce the time of approach to enemy bases ended for Venezuela, I think you have not forgotten. Fools are no more! And they can be understood - everyone wants to live: Cuba, Mexico, Nicaragua, and El Salvador. And we could not even oppose the American aircraft carrier strike groups, which could attack us directly from the ocean from neutral waters. Therefore, we took a different path. They turned on the brain and opposed their own vigorous Physics against the American grunting and barking Geography, reducing the flight time by several times due to the increase in speed.
No wonder Putin once asked our sworn "friends":
Have you learned how to count yet? Calculate the range and speed of our advanced weapon systems! First, calculate, and then only make decisions that can create additional serious threats to our country and, of course, lead to retaliatory actions on the part of Russia, whose security will be reliably and unconditionally ensured!
The gentlemen listened to Putin, but did not draw any conclusions. But this speech before the Federal Assembly of the Russian Federation for more than two years. During this time, all the promising products listed there by Vladimir Vladimirovich materialized from words into real samples of military equipment, some of which have already entered the troops. As you can see, Putin does not waste words. He ended his speech with the words:
We are ready for negotiations, but we will no longer knock on a closed door! Let's wait until our partners mature and realize the need for an equal dialogue.
Putin has been patiently waiting for more than two years. "Partners" have not matured. Apparently, they were waiting for Putin to crawl to them on his belly. They just got an ultimatum. This time from a position of strength. Now they are raking out.
Hypersound is not Khukhr-Mukhr for you! It will break through any of your echeloned defenses and destroy both decision-making centers and aircraft-carrying strike groups, he, in fact, does not care who to destroy. And most importantly, he will do it faster than your bronze-faced four-star generals will have time to run to the bunker, trying not to crap along the way. Because your missile defense will, of course, detect the Zircons, but it will no longer have time to intercept them. Very fast, however! And we haven't shown you everything yet. About Poseidons and Petrels with their unlimited temporary possibilities of being under water and in the air, I generally keep quiet. So far, Sergey Kuzhugetovich took out only Daggers and Zircons from his pocket, and your bronze-faced generals already felt bad (some asked to leave, and this is at full speed!). And it will only get worse from there. At the same time, no one knows what will happen next, and Putin is mysteriously silent. So maybe fulfill our requirements, and we will go to the edges - we do not touch you, you do not touch us, why do you need unnecessary trouble?
What kind of troubles, Sergei Kuzhugetovich also said. The video is attached, listen, Sergey Kuzhugetovich, as a true military man, is laconic, he is not accustomed to chatting too much:
Did you listen? Fearfully?
"Did you think we were going to take selfies here?!"
(The author of the phrase is Maria Zakharova, Director of the Information and Press Department of the Ministry of Foreign Affairs of the Russian Federation). Moreover, our Minister of Defense announced all this two years ago. Everything he talked about has already been implemented in metal and delivered to the troops. "Kinzhal" and "Avangard" have been on combat duty for two years now, "Poseidon" and "Sarmat" are undergoing the last test tests. But Putin did not limit himself to these toys. They were surprises for our pet Donald Trump, but for Tired Joe, Vladimir Vladimirovich had separate gifts. But more about this in the last, final part.