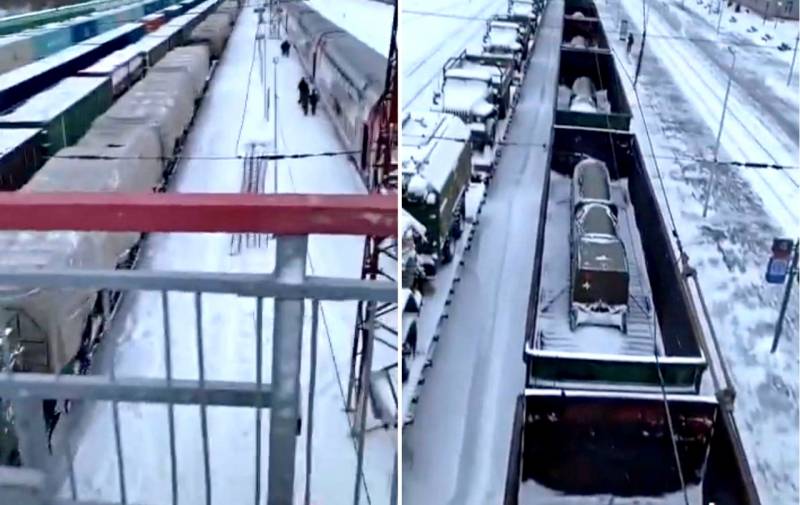 Information has appeared on the Web that the Russian military is deploying Iskander-M operational-tactical missile systems and ammunition for them (9M723 ballistic missiles with a range of up to 500 km) in a westerly direction. Eyewitnesses filmed the covert transfer of self-propelled launchers of the indicated OTRK and missiles for them by Russian Railways.
It should be noted that Western media and analysts who do not get tired for years
consider
scenarios of Russia's "attack" on Ukraine, unanimously assert that Moscow will definitely use Iskanders against Kiev. The Russians will allegedly use these OTRKs to destroy Ukrainian civilian and military infrastructure.
Bridges, airfields, ports, radar, air defense and electronic warfare positions, command centers, places of permanent deployment of units of the Armed Forces of Ukraine, as well as warehouses (arsenals) and other objects will allegedly fall under the strikes of the Iskanders. The destruction of bridges should deprive the Armed Forces of maneuverability, and the airfield and port network should impede supply.
Note that all such reasoning and assumptions have no real basis or justification. Russia and Belarus
launched
joint verification of the forces and means of reaction of the Union State, which will take place in two stages with the involvement of units even of the Eastern Military District (VVO - Transbaikalia and the Far East).
In addition, the Central Military District (CMD) informed that in 2022, 900 practical exercises and exercises will be held at training grounds in the Urals, Siberia, the Volga region, as well as at Russian military bases in Tajikistan and Kyrgyzstan. Thus, throughout the vast territory of the Russian Federation, trains with personnel and various
technique
in different directions. At the same time, the inhabitants are not aware of the plans of the General Staff of the Russian Federation and make a variety of assumptions, which often reflect only their personal preferences, unwittingly playing along with propagandists from the West.