On January 17, monitoring resources recorded a group of three large landing ships of the Baltic Fleet of the Russian Navy, which began to leave the Baltic. The next day, these ships, having passed the Øresund Strait (separates Denmark and Sweden) and Skagerrak (separates Denmark and Norway), entered the North Sea.
All three mentioned BDKs of the Baltic Fleet, "Minsk", "Korolev" and "Kaliningrad", are ships of the 2nd rank (project 775), built for the Soviet Navy at the shipyard in Gdansk (Poland). The ships are intended for landing amphibious assaults on an unequipped coast. The Russian Navy has 16 such ships and they form the basis of the landing capabilities of the Russian fleet.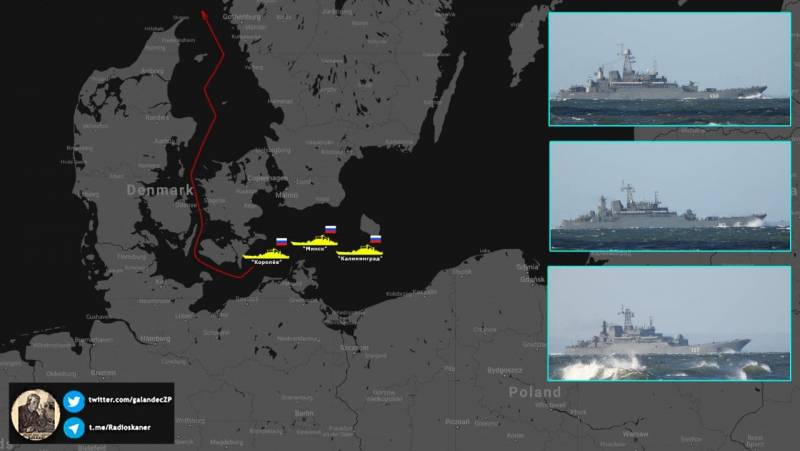 On January 18, these ships met in the North Sea with three large landing ships of the Northern Fleet of the Russian Navy - Pyotr Morgunov (project 11711), Olenegorsky Miner and Georgy Pobedonosets (project 775). After that, British netizens were worried about "a possible surprise Russian landing operation against the United Kingdom", because a few days before that, a Russian reconnaissance ship "Vasily Tatishchev" was discovered off the coast of Great Britain.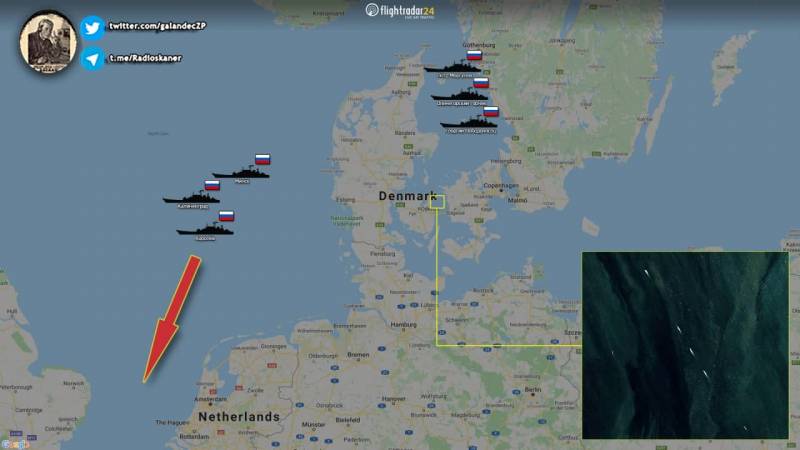 However, the Swedish and Danish navies hastened to reassure the inhabitants of Foggy Albion. They stated that according to their information, all six Russian BDKs are heading to the Black Sea. After that, it was suggested that "the Russians are going to nightmare Ukraine." How true the assumption of the Swedes and Danes will become known only when the large landing ships get to this area.
We remind you that the Black Sea Fleet of the Russian Navy has 7 large landing ships: "Saratov", "Orsk" and "Nikolai Filchinkov" (pr. 1171 "Tapir"), as well as "Caesar Kunikov", "Novocherkassk", "Yamal" and "Azov" (pr. 775). Thus, a serious grouping of Russian landing ships may be formed in the Black Sea.