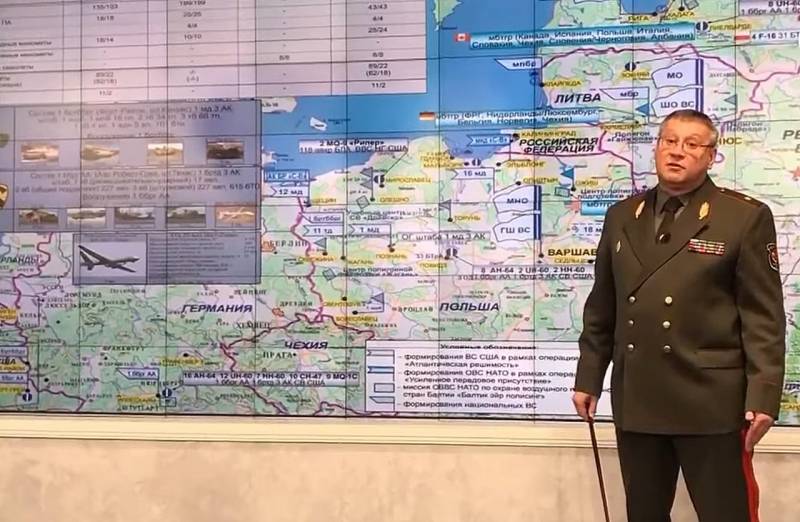 The buildup of an unfriendly NATO military contingent near the Belarusian borders causes concern in Minsk and requires an objective response. This was announced by the deputy head of the General Staff of the Armed Forces of the Republic of Belarus - the head of the main operational department, Major General Pavel Muraveiko.
The high-ranking military spoke about the current tense operational situation near the borders of Belarus. He clarified that the Belarusian side, together with the Russian colleagues, considering the difficult situation, decided to conduct a surprise check of the forces and means of reaction of the Union State of Russia and Belarus.
This reaction will be absolutely adequate and transparent. <...> At the final stage, an exercise will be held - "Union Resolve-2022"
Muraveiko added.
At the same time, one interesting detail attracts attention - there is no Ukraine on the map of the General Staff of Belarus, against which Muraveiko made his statement. The Republic of Belarus has a common border with Romania.
Earlier it became known that Russian troops had already begun to arrive in Belarus to conduct the first stage of testing the effectiveness of the regional (joint) military group. State Secretary of the Security Council of the Republic of Belarus Alexander Volfovich informed about this.
The decision was made on the basis of an assessment of the emerging military
political
situation near the borders of the Republic of Belarus and the Russian Federation
Volfovich said, assuring that there was nothing extraordinary and that joint events were known at the end of last year.
At the same time, he added that Minsk simply cannot but be concerned about the destructive and aggressive policy pursued by the militant West. Volfovich concluded that "at any moment a provocation can happen and the irreparable will happen," therefore, it is necessary to evaluate your capabilities to repel an enemy strike.