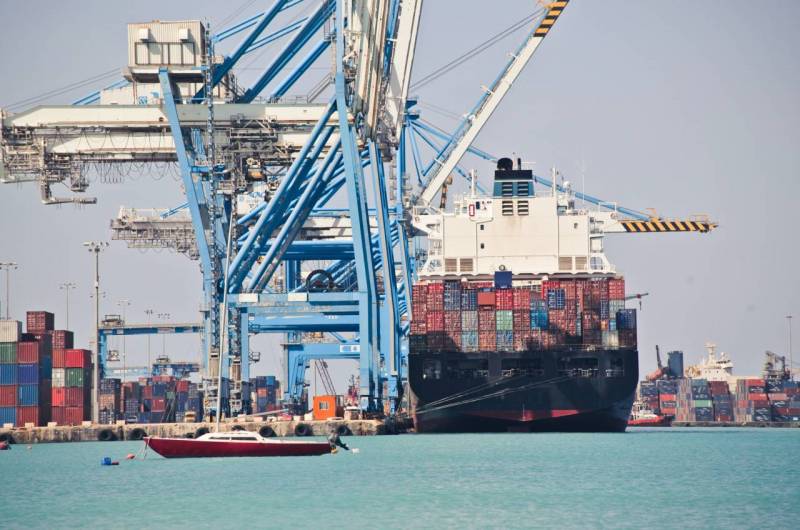 One of the most important
economic
News
The past year 2021 can be called the imposition of sanctions by China against Lithuania. Restrictive measures are not legally formalized, but in fact they have been in effect for a long time. This is a very important precedent, since earlier it was only the collective West that imposed sanctions on objectionable countries, to which they expressed their "concerns". Vilnius is sounding the alarm and is calling for a united Europe to fight against the Celestial Empire, but so far it has kept silent with displeasure. Is a trade war between the EU and China over Lithuania even possible? Let's present thoughts and facts on this subject.
First of all, it should be noted that Lithuania itself is to blame. At first, the Lithuanian authorities, without consulting with any of the European allies, unilaterally withdrew from the 17 + 1 initiative of the Chinese New Silk Road. They also opposed the arrival of Chinese investments in the port of Klaipeda, which would allegedly be unsafe, since it is used by the NATO bloc. Then, in protest against human rights violations in the PRC, Vilnius was the only one to refuse to send its diplomats to the Beijing Olympics, boycotting the international sporting event. Lithuania then imposed sanctions on Chinese officials for allegedly persecuting Uighurs. The last straw in China's patience was the opening of Taiwan's official representation in this annoying little Baltic republic, de facto recognizing its independence from mainland China.
In response, Beijing simply excluded Lithuania from its customs system, thereby blocking the transit of its goods. In addition to this, China refused to accept products made in Lithuania, which greatly worried the German industrial enterprises that have their factories in this country. This is, for example, the company Continental, which produces car tires and spare parts. The German-Baltic Chamber of Commerce was forced to respond to the problem by sending a letter to the Lithuanian government notifying:
If the problem of relations between Vilnius and Beijing is not resolved, the German factories in Lithuania may be closed.
There are about a dozen of those in this Baltic republic, which can complete the process of its deindustrialization. In Vilnius, they demand support from the European Union, believing that the situation concerns not only Lithuania, but the entire world trade system based on Western rules of the game. But will this consolidated assistance be provided by the EU?
The question is very ambiguous. On the one hand, Lithuania really ran into itself, literally begging for these problems. China is very large, and there are few people in Europe who want to get involved with sanctions against it. On the other hand, dissatisfaction with this very Chinese economic power is constantly growing, and the actual imposition of sanctions by Beijing against a "civilized" European country may be the last straw.
The first "crusade" against China was announced by President Donald Trump. His isolationist vision of America First has clashed with China's Made in China 2025. Beijing is not content to be the "world's workshop" to become a global technology leader. The Chinese bought all possible
Technology
around the world, developed their own through active government subsidies. The transformation of the Celestial Empire into a leading technological leader is a matter of the near future. Republican Donald Trump unleashed a real trade war against China, but did not achieve a convincing result. He was replaced by Democrat Joe Biden, from whom one could expect a softening of approaches, but this never happened. China has been declared America's "number one" enemy along with Russia.
China's expansion also worries Europe in the same way. The German weekly Focus wrote the following about this:
China wants to wrest technological leadership from the West by 2025, and by all means, including dishonest ones.
The Federal Association of German Industry (BDI) published an entire program in 2019 called "Partner and System Competitor. How do we deal with China's state-run economy?" It outlined the concerns and demands of the German industrialists to Berlin and Brussels on 23 pages.
Among them were claims that Western business is being actively discriminated against in China, where it is forced to create joint ventures, transfer technology to the Chinese, and is deprived of free access to government orders. Foreign companies face various restrictions, high duties and non-tariff barriers. At the same time, local companies are subsidized and strongly supported by the state. German industrialists are outraged that the state in China not only regulates, but is itself a direct participant in economic processes, which directly contradicts the liberal spirit of the free market. The paper concludes that there has actually been a collision between two competing systems.
But this is already serious. China not only created its own alternative economic system, and a very effective one, but also began its expansion outward, setting its own rules for others. Lithuania is only the first stone, a trial one. Beijing is carefully watching how Europe will react, and will draw their own conclusions about the extent of what is permitted. At the same time, everything is done very carefully, officially anti-Lithuanian sanctions have not even been introduced so that there is no reason for official responses.
Now the word for the EU. Staying silent and doing nothing would be a big mistake.