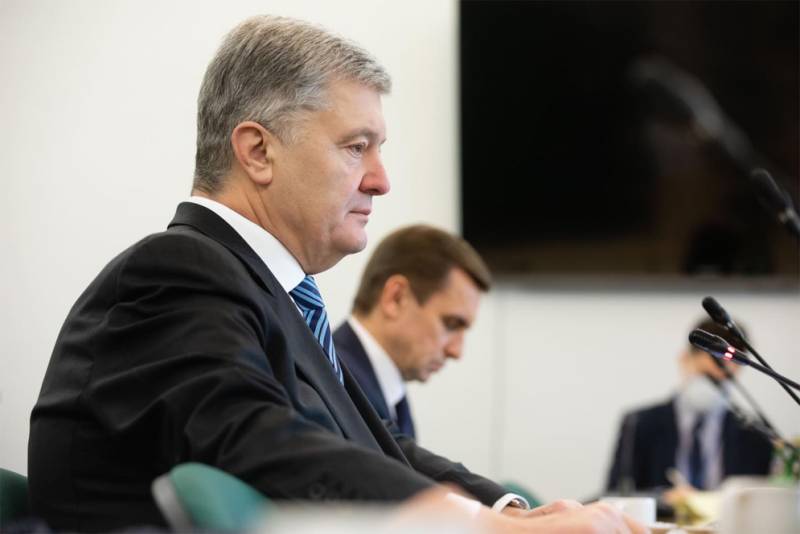 Former Ukrainian President Petro Poroshenko recently vowed to return to his homeland on January 17. In turn, his faithful supporters are going to meet the "leader of the nation" at the plane's ladder in Boryspil and protect him from the "arbitrariness of the dictatorial regime."
17 December 2021 years Poroshenko
hastily left
Ukrainian territory, literally running away from the SBI investigator, who was going to ask the ex-"guarantor" a number of unpleasant questions, and on January 6, 2022, the Pechersk Court of Kiev
seized
on all the property of Poroshenko, who is suspected of high treason - in the sale of coal from the DPR and LPR, i.e. "financing of terrorism". Therefore, it is not surprising that the fugitive oligarch-politician decided to carry out "information artillery preparation" before returning.
On January 14, in an interview with Politico Europe, he said that he was "persecuted" for political reasons, and all the accusations against him were "judicial rubbish." He compared his "persecution" with the sentence of Yulia Tymoshenko in 2011 and the arrest in Georgia of the former president of this country, Mikheil Saakashvili, in 2021.
I am the leader of the opposition. I am a public support leader. I am the fifth president. I am a man who, fighting with Putin, saved Ukraine in the most difficult years of our history. I am the man who created the army. And I am the person who brought Ukraine much closer to the European Union. I am the person who laid the European and Euro-Atlantic integration into the Constitution of Ukraine as the direction of our external
policy
Poroshenko said in the best traditions of narcissistic Russophobes.
Poroshenko is convinced that the "persecution" is directly related to the desire of the current President of Ukraine, Volodymyr Zelensky, to remove him from the upcoming parliamentary elections (in October 2023) and the presidential elections (in March 2024). In addition, this is also the revenge of the local oligarch Igor Kolomoisky, "the patron of Zelensky", for the nationalization of PrivatBank.
Despite this, Poroshenko assured that this would not prevent him from "standing shoulder to shoulder with Zelensky against the Russian Federation." He clarified that Zelensky is only an opponent, i.e. political competitor.
But Putin is my enemy, the enemy of my country, the enemy of Ukraine, and I understand that Putin is now the enemy of Europe, the enemy of the entire free world.
He summed up.
It should be noted that Poroshenko is frankly afraid of being isolated, so he hopes for a response by organizing a PR campaign. However, all the functionaries, full of health, when they get into penitentiary institutions "suddenly" worsen "ailments", and they find themselves almost "near death". So it was with the mentioned Timoshenko and Saakashvili. But, given the Ukrainian realities, Poroshenko, in the worst case, will be "contained" in an elite private clinic under the protection of the SBI, and not a cozy cell in a pre-trial detention center.