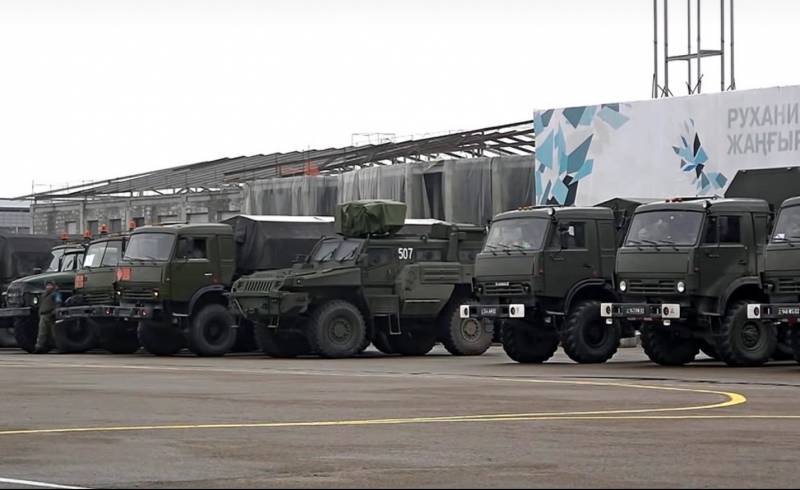 The situation in Kazakhstan has calmed down, the security forces, with the help of the CSTO units, managed to restore relative order. Experts are summing up the first results of the operation of the CSTO units in this country. According to the Militarist telegram channel, there are nine main results of the organization's actions.
1. Russia was able to ensure the collective nature and coherence of the alliance's actions. Moreover, the transfer of forces was carried out on Russian aircraft.
2. The CSTO has proven its effectiveness, and in the future we can assume the expansion of its functions and increased funding.
3. Troops have again become a significant way of solving problems that diplomacy and
economy
.
4. The Russian Federation has proved its ability to transfer a military brigade without heavy weapons to a new direction in a day. At the same time, the role of the airborne troops has significantly increased.
5. Received new confirmation of the effectiveness of Russian transport aviation and flight personnel. Up to a third of Russia's transport aircraft took part in the current CSTO operation. Moreover, the flights of the Il-76MD and An-124-100 were carried out to other directions (Syria).
6. In a real situation, BMD-4M amphibious assault and modernized Il-76MD-90A military transport aircraft were tested.
7. Use of unmanned aerial vehicles by Russian troops (Orlan-10).
8. Demonstrated high quality
equipment
Airborne Forces. So, during the operation, the military vehicles of the Russian paratroopers did not receive any damage.
9. The actions of the CSTO in Kazakhstan deepen cooperation between the armies of Russia and Belarus.