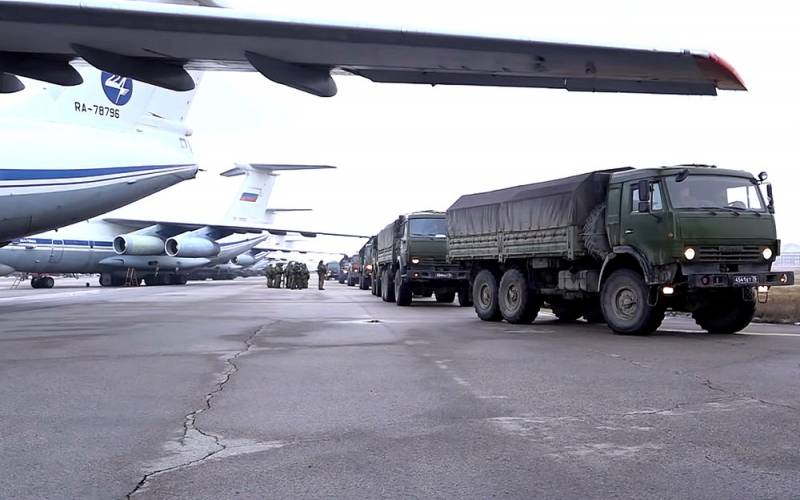 A couple of days ago, in connection with the introduction of the CSTO peacekeeping forces in Kazakhstan, US Secretary of State Anthony Blinken uttered his next loud and stupid phrase, which was even described by the Russian Foreign Ministry as rudeness:
If Russians come to your house, then it is then very difficult to get rid of them.
If translated from English, then it sounded something like this. In response, the Russian representative Maria Zakharova very specifically reminded the American of what happens where his armed compatriots come - "... it is very difficult to stay alive, not to be raped, robbed ..." and so on. Who is following
policies
, they know this story. Well, they've already got it back to normal, so it seems like once again the American representative publicly screwed up, sorry, and ... it's okay - they won't notice their own or pretend they don't care, but they don't give a damn about the rest, in general.
But then suddenly the very same phrase of Blinken was taken and repeated almost word for word by the head of European diplomacy Josep Borrell. Previously, European leaders were considered to be a little more educated and cultured, or something, in contrast to the "cowboys from the Wild West", accustomed to shoot from the hip, and then think. There were, however, and from them some "pearls". The heads of the military departments who never held weapons in their hands and who did not smell gunpowder especially sinned with stupid belligerent statements about the Russian Federation. For example, Germany, Britain or NATO Secretary General Stoltenberg. But these, it seems, the "military" position obliges to speak out harshly, and these nonsense are their own and their own. Such is the new elite in Europe today - stupid. With Borrell, things are much worse. Personally, it hurt my ear. He is, firstly, a diplomat, and secondly, he is not at all from a new generation of politicians, and the phrase is not his. And this is the most important thing. Somehow I immediately imagined a little white shaggy lapdog, with frank dog servility licking the sweaty and smelly feet of its owner, who returned home after a working day.
To what extent should Europe be lowered? Here, in my opinion, even some talk about some kind of independence of the Old Continent no longer makes sense. If according to Putin, then the jackal Tabaki after Sherkhan at least repeated "smart" things, such as "... and we will go to the north", here even every shameful nonsense foolishly soaked by the owner is relayed here. It seems to me that further comments are superfluous. As well as any phrases against the background of ongoing negotiations such as "do not decide about us without us," and so on. - everything has already been decided for you, lapdogs. They will say to sit - you will sit down, they will say to lie down - you will lie down, and if not - with a newspaper in the face! So it is with NATO, and with gas pipelines, and with "green" energy and many others. It is a pity for old Europe, but, apparently, "it's too late to drink Borjomi" in this case, as the classics said.
But this is all, though foreign policy, but all the same lyrics. In reality, Blinken gave this very idiotic phrase in all seriousness when describing the introduction of the CSTO peacekeeping contingent into Kazakhstan. Let me stress - according to the statement of the legitimate leadership of Kazakhstan itself, which is a member of this organization. And the troops were led not only by Russian, but also by other members of the organization - Armenia, Belarus, Kyrgyzstan, Tajikistan.
And literally today (January 11), the Kazakh president announced that the peacekeepers had successfully completed their mission - they had prevented the coup that had begun and ... would be withdrawn over the next few days. And I personally have no doubt that they will indeed be withdrawn. And a more abrupt answer to the blatant and boorish lies from the United States and the pushing of their European jackals, probably, cannot be.
The CSTO troops, in which, and this is undoubtedly true, the leading role is of course played by the RF Armed Forces, were delivered to a neighboring country engulfed in riots so clearly and with lightning speed that Western observers once again simply "dropped their jaws". And the local and not so "revolutionaries" obviously immediately lost the desire to continue playing the revolution on the territory of Kazakhstan.
Something tells me that these forces will be withdrawn in such a way that many years later it will be considered in military educational institutions around the world as an ideal example of how such operations should be carried out in general. And this, undoubtedly, is in stark contrast to the recently also observed by the entire world community literally live on air, the "withdrawal" of US troops from Afghanistan. Although all this shame, chaos and horror can hardly be called a "withdrawal of troops." It is also necessary to add that the CSTO operation under the command of the RF Armed Forces in Kazakhstan lasted a couple of days and achieved the set task. The United States was in Afghanistan for 20 years, the country during this time was completely ruined, and after the shameful flight of the American military, it was precisely those against whom the States were fighting there all this time came to power. The previous "mission" of the Americans in Vietnam ended, which is typical, in the same way - two decades of bloody carnage, a devastated country, the defeat of the United States and a shameful chaotic flight. Apparently, something similar is already outlined in Iraq ...
Strikingly different from all this, the withdrawal of Soviet troops from Afghanistan in 1989: order, slender columns
equipment
, fluttering banners, etc. What happened next was a slightly different conversation and a lot of pain. But then we went out on our own, voluntarily and in an organized manner, no one kicked us out and we were left with the government we had established, which held out in the most difficult conditions for several more years, during which, by the way, the Soviet Union itself was gone.
Roughly the same, solely on their own initiative, voluntarily and in an organized way, Russian troops left Eastern Europe, where the army of the USSR, and then the Russian Federation was located practically from the moment of the end of World War II until the early nineties. And then there were problems too, but these were already our problems with our troops on our territory.
And in the same organized and voluntary way, we left Cuba, Vietnam and somewhere else, just when for some reason we believed that we were now friends with the West and we no longer needed troops abroad ...
But the Americans during all this time did not voluntarily come out of nowhere. If they were somewhere, and now they are not there, it means that they were kicked out in shame and in no other way. But such places on planet Earth, unfortunately, are still very few. And after all this, some people still open their mouths to say something about "Russians at your home"!
Nevertheless, it is worth proceeding from the fact that the whole world and its elites do not consist only of the weak-minded and stuck in their own infallibility Blinkins, Borrels, Stoltenbergs and others like them. The world is much wider. It has many different states with different problems. And people in all these states at a very different level, thanks to modern media technologies, are sitting right now and looking at all this happening literally in front of their eyes. And they inevitably draw conclusions. Someone like these conclusions, some do not. But these conclusions can be interpreted absolutely unambiguously: Russia is strong, even unexpectedly very strong, Russia can help and do it quickly and effectively, the Russian armed forces at the moment are clearly the best and most highly organized in the world, which has been clearly demonstrated recently. and if you call the Russians for help, then ... this does not mean at all that you will pay for this help with many years of occupation, chaos, rivers of blood, etc. etc. as is the case with the USA. This is exactly what has now been demonstrated to the entire world community clearly, visually and intelligibly. And everyone knows that it is better to see once with your own eyes than to hear a hundred times. So they look, and so they see ... And they probably draw conclusions.
Therefore, I am absolutely sure that after the exemplary entry of troops into Kazakhstan and the lightning-fast resolution of the current situation, which in itself was a strong blow to the image of the West in general and the United States in particular, the same clear and orderly withdrawal of these forces will be an even stronger blow. After which it will be extremely difficult to recover.
The entire theory of American superiority is based mainly on the image of this very superiority. And it is he who at the moment is crumbling into dust in front of everyone's eyes. And the stupid and self-confident statements of those who consider themselves the political elite there only give this whole picture a wonderful contrasting frame. So that the picture itself stands out even more. Well, as they say, "make the fool pray to God, he will break his forehead ..."
And we certainly do not feel sorry for their foreheads. Quite the opposite.