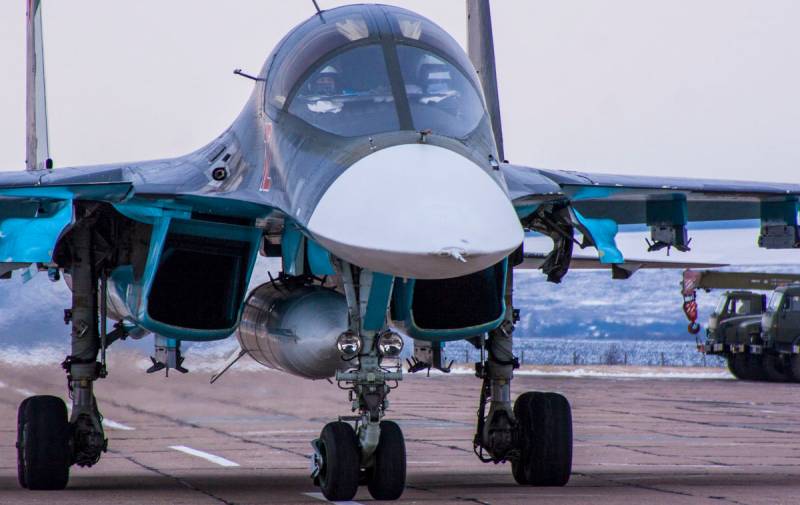 The Russian multifunctional supersonic fighter-bomber Su-34 of the 4 ++ generation is the undisputed champion in terms of fuel capacity, taking into account the volume of both internal and external tanks, writes WarZone.
The Su-34 is a strike aircraft that entered service in 2014 and has been developed on the basis of the Su-1986 since 27. It replaced the Soviet Su-24 bomber.
One aspect that is particularly impressive about this jet is its ability to carry a staggering amount of fuel for a tactical-grade combat vehicle, allowing some potentially very long-range missions to be carried out even without air refueling. It is truly the king of fast jets when it comes to how much fuel it can get into the air.
- says the publication.
#Russian #sukhoi Su-34 Hell Duck with additional fuel tanks for a very Long Range Patrol or Picnics !!!@qretaxyeta @ Ninja998998 pic.twitter.com/4wgG8UK9hw

- Su-57 5th Gen Fighter (@ 5thSu) December 31, 2021
The supply of internal fuel tanks of the Su-34 is 11,4 tons (according to some sources, 12,1 tons). In addition, the aircraft has a retractable probe on the left side of the nose for in-flight refueling. Despite this, the Su-34 also provides for the placement of up to three external fuel tanks (PTB-3000), each of which contains 3,05 tons of fuel, which is slightly less than the internal tanks of the American F-16 fighter (3,9 tons ). An option with two winged PTB-3000 and one fuselage PTB-2000 (1,86 t) can also be used.
The maximum fuel supply of the Su-34 with the mentioned PTB is an incredible 18,6 tons, and according to some sources - 19,3 tons. At the same time, the F-15E, the main competitor of the Russian Utenka, can carry a total of 16,16 tons together with Conformal fuel tanks (CFTs) that fit tightly to the airplane's profile.
The range of the Su-34 with PTB is 4 thousand km, which is 1 km more than the Su-24 with PTB had. At the same time, the range of the F-15E with additional tanks is 3,86 thousand km.
These aircraft are used for a wide variety of missions. But the main tasks of the Su-34 remain: cutting off the enemy's forward troops from supply from the rear, destroying enemy communication lines and command centers. Until now, the Su-34s have been used in real combat only in Syria.
But, if Russia launches an offensive against Ukraine, it is likely that the Su-34 will be actively involved. And, thanks to their huge radius of action, they will be able to work from bases located in the depths of Russia
- summed up the media.