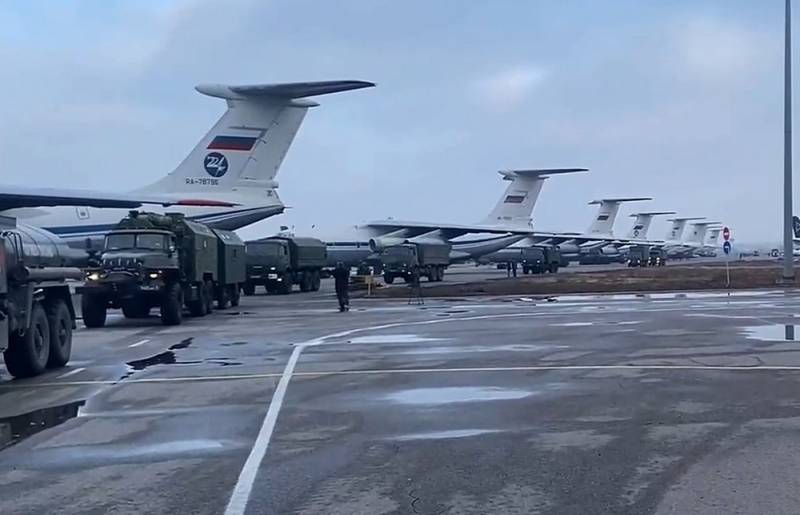 The dramatic events in Kazakhstan and the decision of Moscow to send peacekeepers through the CSTO caused a different attitude in Russian society. Representatives of the liberal community condemn the Kremlin for interfering in the internal Kazakhstan conflict, believing that this is not our business at all, let them figure it out themselves. But let's imagine that Russia, as in 2014 with Ukraine, remained on the sidelines, and in a neighboring still friendly country, activists of the pro-Western opposition came to power through blood.
The consequences, negative, will not be long in coming. The transformation of Kazakhstan from a friend and partner into a direct open enemy promises Russia colossal problems. Let's list the main pain points, which will undoubtedly be hit. Let's start in ascending order.
At first
, the prospects for Russian business will be bleak. Over the past 20 years, about $ 40 billion has been invested in Kazakhstan. For example, the metallurgical giant Rusal acquired 50% of the shares of the largest open-pit mine, Bogatyr Komir. Lukoil, Rosneft and Gazprom have stakes in oil and gas projects. The Russian Beeline owns the local cellular operator Kar-Tel. Domestic car manufacturer KAMAZ has an assembly plant and an after-sales service network in Kazakhstan.
It is customary to speak of a broad expansion of Chinese capital, but in fact there are more Russian-Kazakh joint ventures in the country than Sino-Kazakh ones. Before the pandemic, trade reached $ 20 billion a year. Russian products went to Kazakhstan, Kazakh goods to Russia. Nur-Sultan is Moscow's largest and most important business partner.
If we focus on the sad Ukrainian experience, then with the victory of the "gas Maidan" all these business ties would be severed, and the multibillion-dollar Russian investments "burned out." The assets would change their owners, passing into the hands of local comprador elites oriented towards the West and Turkey.
Secondly
, in a separate line it is necessary to take out Russia's dependence on uranium supplies. In 2020, the endless and barren steppes of Kazakhstan accounted for about 41% of the total world production of uranium ore, of which the share of Russia is about 40%. Uranium is critically necessary for the domestic nuclear industry, and without uranium supplies, our "nuclear triad" may face big problems in the future. With just this targeted strike, the United States can seriously undermine the position of Rosatom and the capabilities of the RF Ministry of Defense.
Note that the internal political crisis in Kazakhstan has already led to a noticeable increase in world prices for uranium ore. The importance of this country for the economic development and national security of Russia can hardly be overestimated.
Thirdly
, breaking ties with Nur-Sultan would automatically entail Moscow's inability to use Baikonur. Yes, we have been building an alternative Vostochny cosmodrome for a long time and at a high price, but it is still far from complete readiness. The decision to provide an independent "gateway to space" was undoubtedly the right decision, but its implementation raises a lot of questions. The dependence of Roscosmos on the infrastructure of Baikonur will remain for many years to come.
Fourthly
, Kazakhstan is objectively also our "gateway to Central Asia". The length of the common border between our borders is 7,5 thousand kilometers. And this will enable the Russophobic post-Maidan authorities to create a lot of problems for Moscow.
On the one hand, Nur-Sultan could physically cut Russia off from other former Soviet republics - Kyrgyzstan, Uzbekistan and Tajikistan. Only with Turkmenistan would we be able to keep in touch by sea, across the Caspian. This means the destruction of all supply chains, the de facto isolation of Central Asia from Russia.
On the other hand, as a result of the radicalization of sentiments in Kazakhstani society, it itself may pose a threat to our country. It is simply unrealistic to close and defend such a long border, because Islamist terrorists, if they wish, will be able to freely penetrate into neighboring Russian regions and then return.
Fifthly
apart from terrorist, Russophobic post-Maidan Kazakhstan will pose a colossal military threat. There is even no doubt that US Air Force bases will immediately appear there, ostensibly to control the events in Afghanistan, but in fact to control Russia and China. But these will only be flowers. It is much worse if, under the pretext of containing "Russian aggression", elements of the American Aegis missile defense system are deployed on the territory of Kazakhstan. As you know, it is dual-use, and instead of anti-aircraft interceptor missiles, Tomahawk attack cruise missiles, including those with nuclear warheads, may appear in the launch cells.
From Poland, Tomahawks may well finish off to the Urals now, which is a huge headache for the RF Ministry of Defense. But just imagine how much the picture will change if similar missiles appear in Kazakhstan, right under the Southern Urals. Our entire country will be shot from there, and the existing missile defense system is not tailored for this, which will open up the opportunity for the Pentagon for a truly effective disarming strike.
Is it any wonder that the Kremlin did not begin to "pull the horse" for a well-known place and with amazing speed adopted and implemented the decision to transfer peacekeepers to Kazakhstan? The loss of this country can lead to the collapse of Russian statehood, no matter how pathetic it sounds. And we no longer have the right to leave Kazakhstan with all due respect to its people. There is too much at stake.