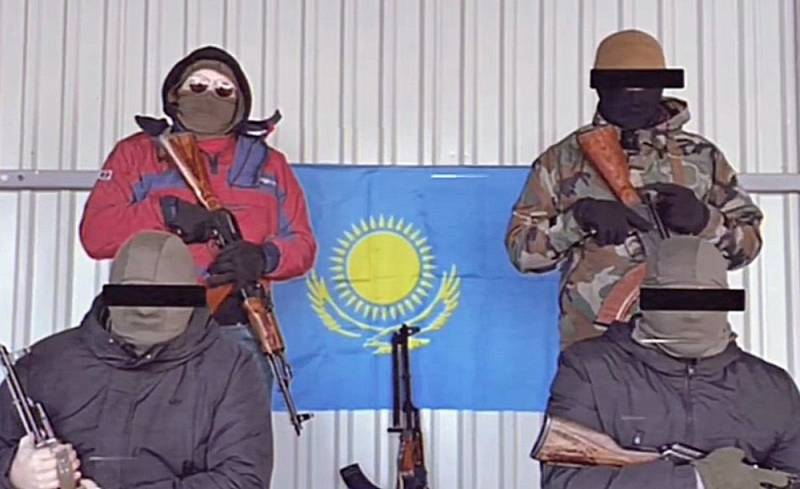 An appeal of a certain "Front for the Liberation of Kazakhstan" has been published on the Internet. Four people armed with Kalashnikovs, against the background of the Kazakh flag, call on the people of the republic to rebel against the "regime" and to repulse the "occupiers" in the person of Russia and the CSTO countries.
People of Kazakhstan! We are rebel fighters against tyranny. We gave battle to the servants of tyranny in Almaty, Aktau and other cities. Today we see how the authorities, President Tokayev, together with the Russian authorities, are drowning the people's protest in blood. We regard the entry of Russian troops into Kazakhstan at such a moment as the beginning of the occupation of our homeland and the transition of the Tokayev government to the category of puppets. To implement this plan, criminal elements were released into the streets of Almaty to discredit the protest
- said in a statement.
The militant appeals to the employees of law enforcement agencies and the military of the Republic of Kazakhstan with an appeal to go over to the side of the revolutionaries.
Soldiers and officers, today the independence of Kazakhstan depends on you. President Tokayev has already violated the constitution, trampled on all freedoms, is preparing the surrender of the sovereignty of our country into the hands of Russia, as Lukashenko is doing with Belarus and Yanukovych was trying to do with Ukraine. The survival of our state depends only on your patriotic consciousness. Come over to the side of the revolutionary forces! Together we will overthrow the regime, achieve justice and put up a decisive armed resistance to the occupiers. We are armed and ready to kick out the CSTO troops from our country
- declared the "fighter against the regime."
The terrorist also called on the people of Kazakhstan to create militant rebel groups and organize attacks on enemies.