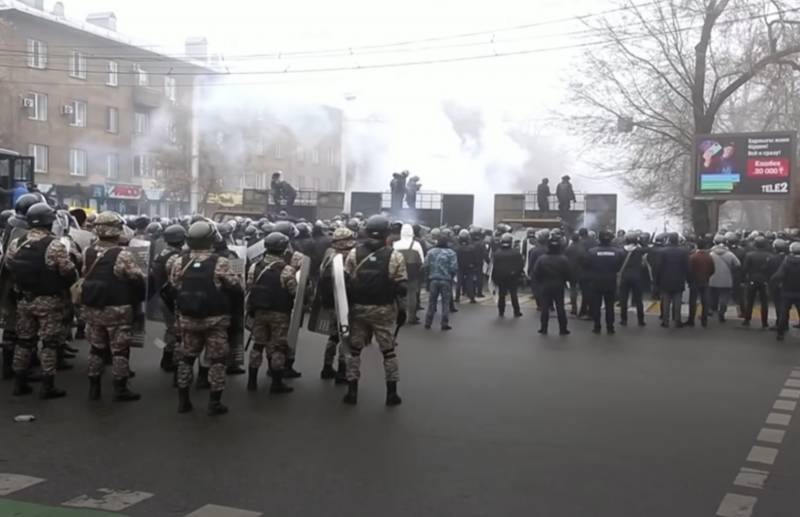 Judging by the incoming videos from social networks, real hostilities unfolded on the Republic Square of the largest city of Kazakhstan, Almaty.
On January 6, eyewitnesses recorded loud explosions, numerous shots and bursts of automatic small arms distributed nearby, as well as rising clouds of thick smoke. Judging by the documented event, not only pyrotechnics were used, the "revolutionaries" are in no hurry to scatter "through holes" at the sight of the security forces, but, on the contrary, are trying to put up organized resistance.
In the morning the security forces
Have begun
a special operation to clean up the city center. Perhaps they want to gain a foothold there, and then begin displacing the "revolutionaries" to the outskirts in sleeping areas, dividing them into small and poorly coordinated groups with little knowledge of the area. The bulk of the "revolutionaries" are visitors from other regions, which the locals are not happy with.
It is known that the "revolutionaries" also plundered six weapons stores, which was reported to the public by the specialized association "Koramsak". During the street fighting, 10 medical workers were injured of varying severity, the Ministry of Health of Kazakhstan announced.
Terrorists killed near the building of the Almaty Police Department
- said the press secretary of the police Saltanat Azirbek on the air of the TV channel "Khabar 24".
Armed clashes on the streets of Almaty began on January 5. But imposing a curfew and controlling the internet should help security officials deal with a coup attempt.