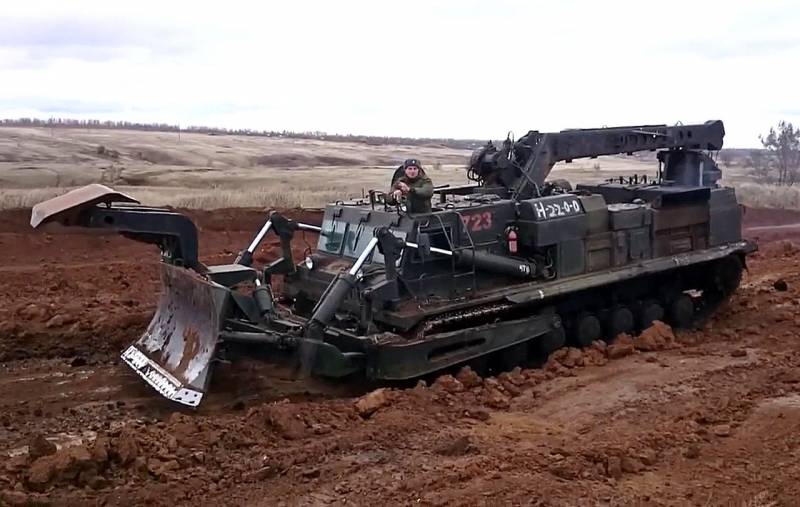 The huge engineering vehicles of the RF Ground Forces will help pave the way through Ukraine for the advancing units. Military expert David Ax wrote about this in his article for the American edition of Forbes.
Donbass will be the most likely battleground if Moscow expands to invade Kiev-controlled lands. However, this area is rugged terrain. Pine forests, destroyed industrial facilities and villages, as well as long-abandoned roads make it difficult to pass
equipment
, the author believes.
But the Russian army has a BAT-2 for this. A monstrous 40-ton special vehicle that can blaze a trail through almost anything. They have already appeared in and around the separatist-controlled Donbass
- noted in the publication.
The task of the sappers (engineers) of the Russian army on the BAT-2 and other special vehicles, of which the Russians have a huge number, is to clear paths for the assault troops. They are needed for engineering reconnaissance, filling craters, building bypass routes, improving difficult-to-pass areas, building or repairing bridges and clearing passages through minefields. Visually, BAT-2 may seem outdated, but it is not. This is actually a T-64 tank, from which the turret was removed and a bulldozer blade, a spike ripper, a two-ton crane and a fighting compartment for eight people were added.
BAT-2 is a very efficient special vehicle. It looks intimidating, but it is lightly armored and therefore vulnerable to enemy gunners. These engineering vehicles help clear paths for tanks and infantry fighting vehicles, but they also rely on their protection during their work. In the doctrine of the Russian army, engineers attached to a battalion tactical group (BTG) form a movement support squad (OPD). Each OPD has four BAT-2 units that follow the first line of tanks.
There is no doubt that BAT-2 will be crucial for "any Russian attack through Donbass." BAT-2 was seen in Donbass in 2015 and then in 2019, as evidenced by OSCE data. Now users of social networks regularly publish videos showing Russian engineering equipment heading towards the Ukrainian border, the author summed up.