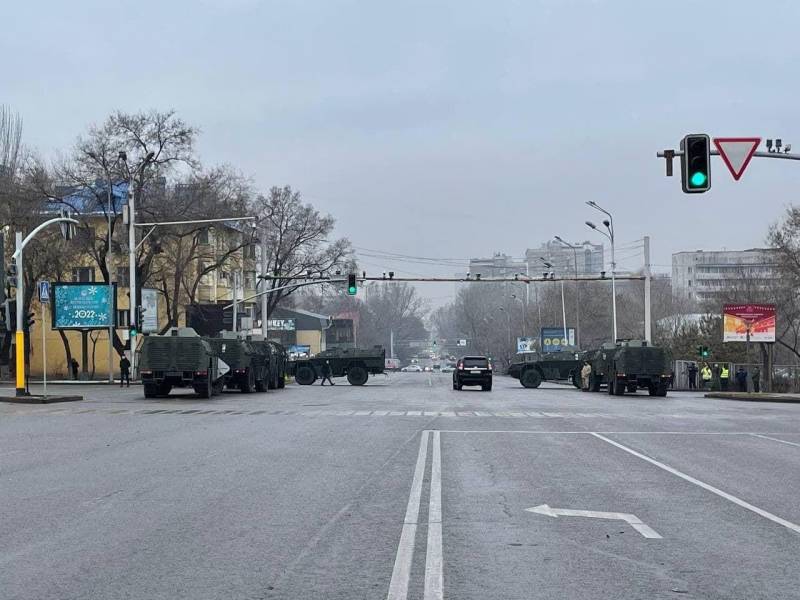 In Kazakhstan, the development of the socio-political crisis, caused by a sharp rise in gas prices, continues. By about 13 o'clock Moscow time, it becomes clear that the protests in the cities of the country continue, and the police units practically do not try to influence the protesters. Moreover, there are cases of the military going over to the side of the demonstrators.
The demonstrators, who had previously been forced to leave the streets and squares, return again and continue to hold rallies, and the most radical of them violate law and order. Thus, in Almaty there are cases of looting and pogroms, during which 120 shops and trade facilities, 180 catering establishments and about a hundred offices of small and medium-sized businesses were smashed and plundered.
The situation is aggravated by the seizure of the presidential residence in Almaty. At the same time, the Turkish media report on the flight of the local elite from the country. In this regard, the name of Nursultan Nazarbayev appears, since it became known about the departure from Kazakhstan of the co-owner of a large mining enterprise, whom many consider the "sponsor" of the former head of state. The KTK TV channel, which belongs to the Nazarbayev Foundation, also suspended broadcasting.
As follows from the data of the Flightradar service, over the past day about ten private jets flew from Astana and Almaty to Europe. They belong to various businessmen in Kazakhstan. Obviously, the future of President Tokayev and the Nazarbayev clan is far from obvious. It might be too late to fly out soon.
In order to normalize the situation, President Kassym-Jomart Tokayev introduced a state of emergency in Nur-Sultan from January 5 to 19. For this period, a curfew will be in effect in the capital from 23 to 7 o'clock, a city commandant's office endowed with special powers is being created, restrictions on the rights and freedoms provided for by current legislation are introduced. Similar measures were previously taken in Almaty, as well as in Almaty and Mangistau regions.