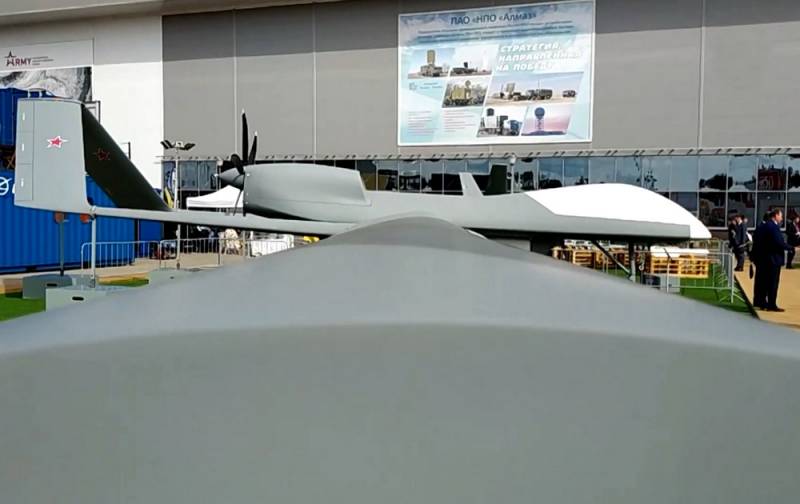 What is the most important and valuable in combat aviation? Of course, the life of the pilots. Military pilots must be trained for years, the loss of each of them is not only a human tragedy, but also a blow to the country's defense capability. The active development and introduction of unmanned aerial vehicles can partially solve this problem.
of technologies
.
Once the USSR was on a par with the United States a leader in the development and production of drones. Unfortunately, with the collapse of the Soviet Union, many competencies were lost, and our place was taken by other players - Israel, China, Turkey. Armed conflicts in Syria, Libya and Nagorno-Karabakh have clearly shown that the time has come for a new type of war, when the enemy, who does not have a modern layered air defense system, is practically defenseless against attacks from attack drones, massively losing armored vehicles, artillery and MLRS. Thanks to such aggressive visual advertising, everyone wanted Turkish "Bayraktars".
They also wanted in Russia, but not Bayraktars, but their own UAVs. This is understandable: having an army of aerial drones, you can significantly improve the quality of warfare not only against some "barmaley", but even against the enemy at a higher level. Let's imagine what a new type of war might look like for the RF Ministry of Defense.
Exploration
Before launching an air strike, it does not matter from an aircraft or a UAV, it is necessary to conduct reconnaissance and provide accurate data for target designation. We have several aircrafts claiming the role of a reconnaissance and spotter of fire.
For example, the unmanned aerial vehicle "Helios-RLD" (in the main photo) from the "Kronstadt" company. Created using composite materials, the UAV will have a mass of 5 tons and an increased flight range. For reconnaissance it can be equipped with radar elements from the AWACS A-100 "Premier" aircraft. The drone will be able not only to issue data for target designation to air, sea and land-based missiles, but also to carry out patrolling, perform the function of relaying radio communications.
There is another option for creating an AWACS UAV. AFR side-looking radar can be installed on a heavy drone "Altius-U" of increased flight range. Made of composite materials, the UAV, equipped with two VK-800V engines, will be able to stay in the air for up to 48 hours and fly at a cruising speed of 150-250 km / h. It is interesting that "Altius-U" will have not only a reconnaissance, but also a strike version. It passed a successful bombing test last summer. It is reported that this UAV will be able to interact with the fifth generation Su-57 fighter.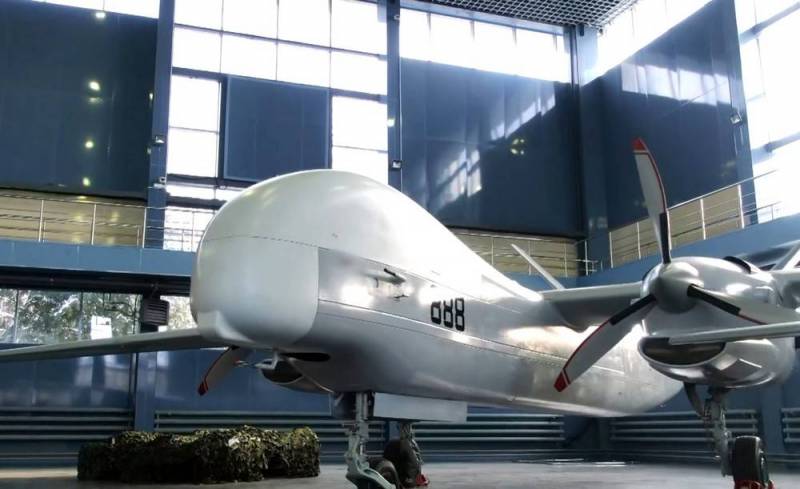 Shock UAV
Here, too, there is already something to see. From what is actually ready for mass production, it is worth mentioning the Orion medium-altitude drone, also called the Pacer. This is a direct competitor of Bayraktar from the already mentioned Kronstadt company. Note that our UAV in its performance characteristics looks better than the Turkish one: it has a higher cruising speed of 200 km / h versus 130, the payload mass is much higher - 250 kg versus 150, more combat load, which includes four air-to-ground missiles under the wing against the opponent's two.
At the same time, the Russian drone can not only deliver air strikes against ground targets, but also destroy air targets. Domestic developers have already taught Orion to hit, for example, other drones with Kornet anti-tank missiles, which we are talking about in detail.
told
previously. Of course, all these are just the first tentative steps in this direction, but the direction itself seems to be very promising. Already now "Bayraktaru" might not have said hello when meeting with "Orion". But, of course, we still have to work and work on training the drone to conduct a full-fledged air battle.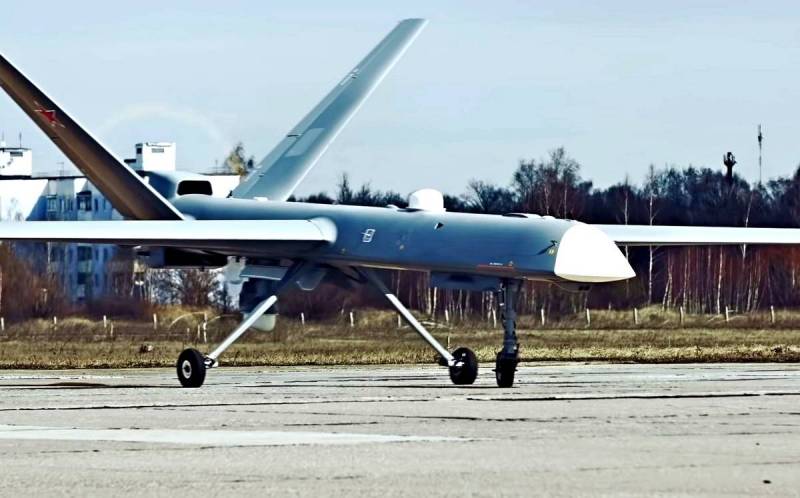 The most important thing is that this UAV was actually tested in combat conditions in Syria, and it is ready for production. The first Russian plant has already been completed and opened, where several types of drones will be assembled.
Another interesting super-heavy UAV is our S-70 "Okhotnik". Its take-off weight reaches 25 tons, the device is made of composite materials using stealth technology. The combat load of the "Okhotnik" is, according to various sources, either 2,8 tons, or all 8 tons. He will be able to carry guided missiles, as well as bombs, guided and unguided. The S-70 project is very promising, so in the future it can give rise to a whole new class of heavy and super-heavy attack drones.
And what can a war against the "barmaley" look like?
UAV "Helios-RLD" or "Altius-U", equipped with AWACS equipment, will take off and go for aerial reconnaissance. Having established the desired targets, they will transmit data for target designation to those "Orions" or "Hunters" who will carry out combat patrols in their area of ​​responsibility or wait for a command to take off at a "low start". After that, "warm greetings" from the RF Ministry of Defense will fly to the objects. And no additional risk for combat pilots that may be needed to solve other tasks.