In the past year, the largest military fleets on the planet have grown even more powerful. They were replenished with new surface ships and vessels, as well as submarines. The network compared the changes that took place in the US Navy and the PLA of the PRC.
The Chinese navy is expanding its capacity at an impressive pace. In 2021, the PLA Navy added 16 ships and one submarine: two UDC Project 075, three destroyers (destroyers) of Project 055, two destroyers (destroyers) of Project 052D, nine corvettes of Project 056A and one SSBN of Project 094A. The total tonnage of the new replenishment is 170 thousand tons.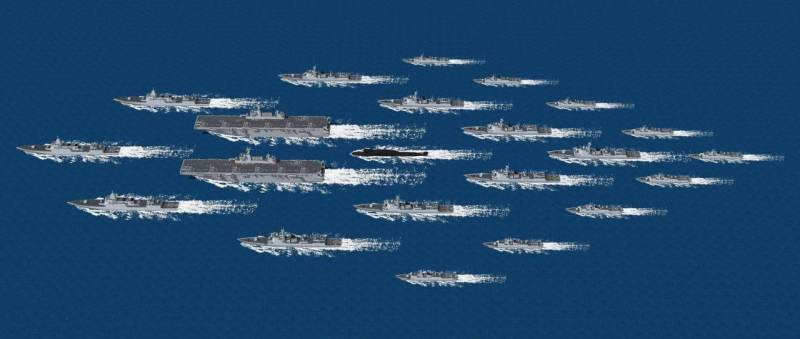 During this time, the US Navy was replenished with only three surface warships and an expeditionary floating base. The following were transferred to the fleet: the 71st destroyer (destroyer) "Frank Petersen Jr." Arleigh Burke, two Independence-class coastal ships, USS Oakland (LCS-24) and USS Mobile (LCS-26), and USS Miguel Keith Expeditionary Mobile Base (ESB- 5) Lewis B. Puller class.
It is easy to see that the Americans' successes in military shipbuilding are very modest in comparison with the obvious achievements of the Chinese. The US Navy currently has 294 pennants and is the largest on the planet. But the growth of the American fleet is not observed (there is a slight reduction and replacement of old ships and submarines with new ones). Therefore, in 2025, the PLA Navy may significantly outnumber the American fleet. Beijing will have 378 pennants, and there is little doubt about that given the pace of Chinese shipbuilding.