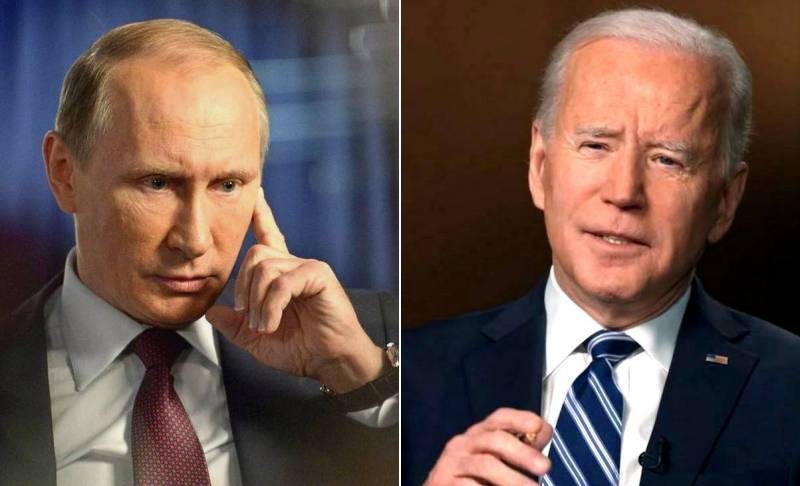 US President Joe Biden said that during a telephone conversation with his Russian counterpart Vladimir Putin on December 30, he threatened Moscow with a "high price" for the invasion of Ukraine. The American leader made such an explanation on December 31, when he spoke with media representatives and commented on the negotiations.
We made it clear to President Putin that if he takes any more actions, invades Ukraine, then we will apply severe sanctions. We will increase our presence in Europe together with our NATO allies, and this will be a high price that she (Russia - ed.) Will have to pay
- said Biden, being in Delaware.
Biden stressed that in the course of the above-mentioned conversation with Putin, it was once again agreed to hold three planned events of a diplomatic nature. On January 10, US-Russian talks are to take place in Geneva, Switzerland. On January 12, a meeting of the NATO-Russia Council will take place in Brussels (Belgium). On January 13, negotiations will take place within the OSCE (on January 1, Poland took over the chairmanship in this structure).
The White House host added that both sides expressed their concerns during the conversation. Moreover, Biden "made it clear" to the master of the Kremlin that all the efforts of diplomacy can work only if the Russian Federation begins the process of de-escalation, including on the border with Ukraine.
In turn, the Ukraine considered the negotiations between Putin and Biden a "dangerous call" for Kiev, since the Americans did not hold preliminary consultations with the Ukrainian side. For example, the head of the Center for the Study of Civil Society Problems (Kiev), a Russophobic political scientist Vitaliy Kulik, in his article for the Glavred portal, directly wrote that Americans doubt the reliability of the current Ukrainian government.
Kulik is confident that Biden's conversation with Ukrainian President Volodymyr Zelensky, scheduled for January 2, will be tied to the past conversation of the American leader with Putin. Washington will simply confront Kiev with the fact of making or not making certain decisions without taking into account the position of Ukraine. At the same time, Biden will certainly touch upon the topic of strategic stability, which should "strain" Zelensky.
Strategic stability is not only about the non-proliferation of nuclear weapons, it is also about the spheres of influence of Russia and the United States in the Black Sea basin and in the Middle East. And we must be vigilant so that there are no dangers in the different reading of this stability between Kiev and Washington.
- summed up Kulik.