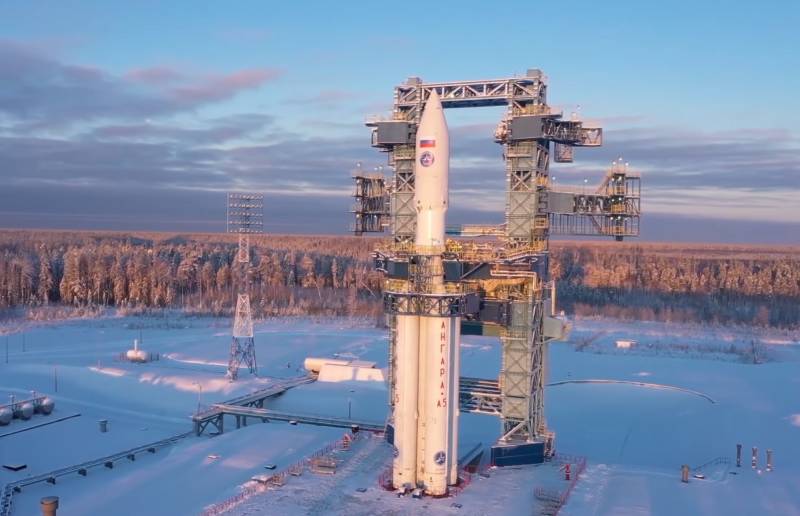 In early December, the Russian authorities
warned
citizens about the forthcoming launch at the end of the month from the Plesetsk cosmodrome in the Arkhangelsk region of the Angara-A5 heavy launch vehicle. This was supposed to be the third flight design test of this launch vehicle over the past 7 years.
The launch took place on December 27 at 22:00 Moscow time. The Ministry of Defense of the Russian Federation presented a video and circulated a communiqué stating that all pre-launch operations and the launch of the launch vehicle took place in a normal mode.
Three minutes after the launch, the Angara-A5 launch vehicle was taken for escort by ground-based means of the V.I. German Titov of the Aerospace Forces of the Aerospace Forces. At the estimated time, the Perseus upper stage routinely separated from the third stage of the Angara-A5 launch vehicle and began launching a non-separable overall mass model of the payload into the calculated orbit
- specified in the statement of the military department.
After that, the Ministry of Defense of the Russian Federation did not provide details about further events, for example, about the successful launch of the specified model into the desired orbit. At the same time, according to unofficial data, including foreign media, the transfer of the mentioned payload (approximate mass 2,6 tons) to the target geostationary orbit with an altitude of 36 thousand km did not take place. Upper stage "Perseus" (full weight with fuel reserve, but without model weight - 20 tons), after separation from the third stage of the launch vehicle, was able to carry out only one activation of the propulsion system instead of four required according to a typical nine-hour scheme. As a result, "Perseus" and the model were in a circular orbit with an altitude of only 170-200 km instead of the planned one. In about a month, they should leave orbit and burn up in the dense layers of the Earth's atmosphere. Thus, the third LKI "Angara-A5" were unsuccessful. The launch vehicle itself, apparently, worked fine, but the upper stage let it down.
We remind you that the first two LKI samples of the "Angara-A5" LV, in December 2014 and in December 2020, were successfully carried out with the upper stage "Briz-M". During the third LCI, the Perseus was used for the first time. Moreover, the fourth LCI, planned for 2022, must also pass with this upper stage.