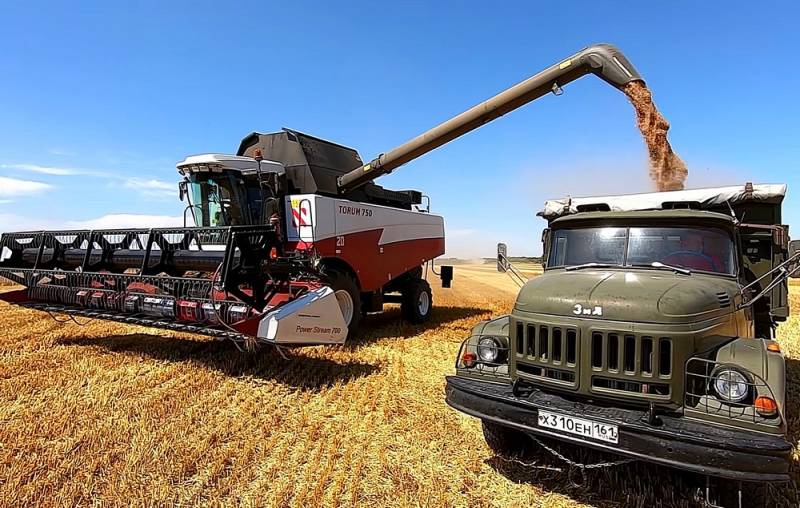 With unusually generous harvests over the past few years, Russia has grown to become the world's largest food exporter. This even gave reason to call it an "agrarian superpower." Unfortunately, this is a rather strong exaggeration, since the domestic colossus actually stands on feet of clay.
Yes, over the past decades, quite a lot has been done for the agricultural sector: investments have gone, modern
technique
, new arable lands are being plowed up. But the Russian agricultural industry has a real Achilles' heel: it is critically dependent on imported seed. What if the US and EU impose sanctions and we simply have nothing to plant?
The situation is, without exaggeration, very serious. Only grain crops are a pleasant exception to the general rule, where we still use varieties of Soviet selection. The only thing that saved domestic wheat from replacing imported wheat was that the West had not previously developed varieties adapted to the difficult climatic conditions of Russia. Otherwise, there is no doubt that domestic farmers would now critically depend on foreign seed material for grain crops. By the way, transnational corporations have already opened their stations in our country several years ago, where they produce zoning of imported wheat varieties on experimental fields. So everything is still to come, but we'll talk about that later.
For other crops, things are very bad. According to the professor of the basic department of trade
policy
PRUE them. G.V. Plekhanov Ibragim Ramazanov, dependence on imported seeds for potatoes is 90%, for corn - 65%, for rapeseed - 70%, for sunflower - 75%, for fruit and berry crops the spread is even higher, from 30% to 95%, depending on from culture. The purchase of seeds and chemicals abroad costs several billion dollars annually, and you have to pay in foreign currency. This is about 25-40% of the cost of the final product. So just imagine what will happen if our "agrarian colossus" is pushed in the West by banal banning the supply of seeds.
Replace with your own? And which ones? Agriculture begins with seed production, but in Russia it is now in a half-life state.
In the USSR, there were 42 breeding centers at institutes that created new varieties with given characteristics. Then they were registered and sent to the elite semichozes, which multiplied these seeds and sent them to agricultural producers throughout the country. A truly efficient vertical was operating, leading the new variety from the idea stage to the marketable seed. After the so-called "reform of the Russian Academy of Sciences" from 42 breeding centers, there were either 16, or 11, according to various sources. Instead of a single centralized system, there are "islands" that, among other things, are now working for foreign customers, zoning imported varieties.
At the same time, with the entry into the WTO, Russia opened its internal market to transnational corporations, where a real monster with colossal resources and financial capabilities appeared several years ago. In 2016, the German chemical concern Bayer merged with the American producer of genetically modified seeds Monsanto. I wonder how exactly within the framework of the liberal
economic
mythology, should domestic breeders compete with a similar producer, which has actually become a market monopolist?
By the way, about the liberals. This is not to say that absolutely nothing is being done in our country to replace imported varieties. In 2017, a federal scientific and technical program of the agro-industrial complex was adopted, within the framework of which 19 new varieties of potatoes were bred, of which 10 were in demand from farmers, 6 hybrid varieties of sugar beets and even one new breed of meat chickens called Smena-9. But all this positive activity can be canceled out by the legislative initiatives of our liberal government, which is clearly guided by the WTO norms.
Thus, the Ministry of Agriculture developed a new law "On seed production", which was approved by the Cabinet of Ministers and sent to the State Duma of the Russian Federation. After reviewing it, the Association of Independent Russian Seed Companies and the Russian Grain Union were forced to unite and send an open letter to President Putin criticizing this document. In particular, it was noted that the bill introduces new and unjustified administrative barriers and state fees for the registration of new varieties. Agrarians counted at least 29 new administrative barriers hindering the work of domestic breeders:
For the first time, a ban is introduced on any use of seeds that do not meet the requirements established by the federal executive authority, while the federal executive authority has the right to make exceptions to this rule for individual companies or prescribe the destruction of seeds for others ... With an average estimated cost of such a passport of 50 rubles, the budget and breeders will turn out to be simply unbearable, and the so-called genetic passport will turn into a non-guaranteeing "filkin certificate".
Why is this done? Up there, of course, you can see better.
Meanwhile, the above-mentioned law has passed the third reading in the State Duma, and a specialized federal state information system (FSIS) "Seeds" has already been created.