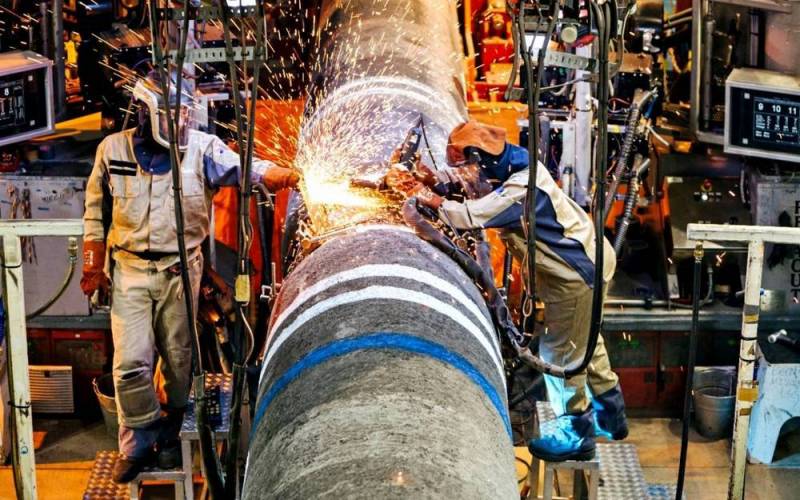 It has long been known that only the smartest representatives of the human race can learn exclusively from other people's mistakes, not allowing their own. The vast majority of people stubbornly "stuff the bumps" in order to comprehend even seemingly quite obvious truths. However, there are those among us who are unable to draw conclusions even from their most deafening failures. Previously, such characters were bluntly called fools, and now they are tolerantly referred to as "alternatively gifted individuals." And it looks very much like that in the leadership of the Western countries, it is precisely those who belong to this very third category that have taken the upper hand.
Indeed, it is quite difficult to explain in some other way the intentions, stubbornly declared by Western leaders and public figures, not only to continue the "green revolution", but also to increase its pace and volume. Following such dubious ideas has already led many countries to extremely sad consequences in the form of an energy crisis, entailing a number of additional disasters (at least in the form of very real prospects for the emergence of global problems with industry and agriculture). However, to all appearances, the "collective West" does not intend to change the chosen course. Let's try to figure out what this can lead to in the future, and what consequences it will have for our country.
Lesson for the future?
The business publication Bloomberg frankly declares: eight or even tenfold growth in prices for "blue fuel", the rise in the price of electricity fivefold literally "bring to its knees" the European industry. One by one, the largest metallurgical enterprises reduce their production volumes, while the production of aluminum, zinc and steel is falling. Losses incurred by companies in just a couple of recent months are in the tens, if not hundreds of millions of dollars. The next step is the final "fall" of the chemical industry, which is now desperately trying to fight the disaster, and is also stopping plant after plant. Expensive gas is an unprofitable product, a huge part of which is made up of agricultural fertilizers. There will be no them (or they will skyrocket in price), and the energy crisis will be followed by a food crisis. It would seem that the situation is completely unambiguous.
The authors of Bloomberg bitterly state that if the new year, 2022, begins with a fair amount of cold weather, the Old World will face a dilemma: save its own industry, or provide heat and light to its citizens. Its capacity is simply not enough for both at once. But the European Union has so far taken only the first, rather timid and cautious steps towards "decarbonization". What will happen if he "rushes" in this direction, as they say, headlong? Contrary to logic and common sense, the voices of those who urge not to stop, carefully weigh the pros and cons of the forced "green transition", think, and possibly revise the priorities, and, on the contrary, accelerate it even more, are heard louder and louder. In particular, the world's most famous billionaire Bill Gates came out with just such a "manifesto".
In his "programming" article on Wired, the Microsoft founder talks about the need for a "new, clean industrial revolution." How to listen to him, just business: "create new ways of generating electricity, making things, growing food, moving around, cooling and heating homes." And all this - "without the slightest emission of greenhouse gases." The billionaire admits that such a goal is "incredibly ambitious" and "extremely costly." But it doesn't matter! In his opinion, in order to achieve it, it is only necessary that "corporations and governments" drive all their funds to the cent, to the penny, into "creating a new, environmentally friendly market." Cars? Only on electric traction! Do not offer or buy others! Literally everything should be "green" - from electricity to cement and steel "used for construction projects". What about the proposal of less environmentally friendly, but much cheaper alternatives, produced by those who did not move their minds on the ideas of decarbonization?
Gates is silent about this, but we know how they are already planning to resolve such issues. Old Billy, disguised as a kind-hearted "egg-headed" philanthropist, only vaguely hints that "investors should refuse to invest in
Technology
causing climate change "and" encouraging financially ambitious projects to achieve a great environmental goal ". Tellingly, specifically among those he names new ways of storing electricity, the development of "environmentally friendly" aviation fuel and work in the field of "pure hydrogen". Hydrogen is a separate topic, but on the first two points, it can be noted that research in these areas is incredibly expensive and has not yet yielded any intelligible results. But you need to invest more!
Will we pay for other people's mistakes?
Interestingly, it is in no way possible to write off such ideas, relayed by one of the most successful businessmen in the world, who has long since passed because of his wealth and influence into a completely different league than even the business elite, to naivety, fanaticism or, forgive, ordinary nonsense. Old Billy has in his language what other "best people" of our planet have on their minds, who, alas, have more than real capabilities to decide the fate of its population. By the way, as I wrote earlier, in another recent interview, the same character frightened humanity with the soon-to-come "waves of bioterrorism", for which you need to prepare, sparing no expense. In any case, the ideas voiced by persons of this rank are definitely not an empty sound.
There is enough evidence of this literally at every step. In the same United States, "green" psychosis continues to rage with no less force than in Europe, if not more. The current head of the White House has already given an official order to all state bodies of the country to prepare for a complete and completely total "greening", and within the shortest possible time. To begin with, all US federal authorities and their local divisions, without exception, are obliged to completely stop the criminal acquisition of "dirty" cars with internal combustion engines by 2027, and by 2035 to get rid of them completely. To better understand the essence and scope of the issue, you should know that the car fleet of the American authorities includes 650 thousand cars and is replenished with 50 thousand more cars annually. At the same time, in 2020, federal garages of electric cars had ... half a percent of the total number of all cars on the balance sheet. At that time, the government spent more than $ 4 billion on its transport, of which $ 730 million was spent on fuel purchases. Big Savings Coming?
No matter how it is! According to representatives of the same auto industry, such projects, as well as the prospect of transferring at least half of American vehicles in general to the category of "environmentally friendly" (at worst - "hybrid"), voiced by Biden personally, will require investments from the state budget for many billions of dollars. Does the navel come loose? But this is just the beginning ... According to the same Biden initiative, the US government by 2030 should generally "consume electricity exclusively from carbon-free sources", and by 2050, in general, achieve "complete carbon neutrality." Again, here it is necessary to understand this: in this case, we are not talking about only government buildings, "public places" and the like.
In the United States, it is the federal government that is the largest employer, landowner and, by extension, energy consumer. The White House expects precisely because of these factors to achieve success in its irrepressible desire to "completely change the principles of obtaining and using energy, the functioning of vehicles and buildings." It seems that the American
the economy
and the infrastructure is going to, as they say, "break on the knee" for the sake of "lofty ideas" and "principles" of Mr. Biden, Mr. Gates and other like-minded people. Back in late October of this year, Washington announced plans to allocate at least half a trillion dollars for the "fight against climate change". Perhaps more than 500 billion. For a country that has recently been dangerously balancing on the brink of default and forced to stretch the limits of its own national debt, like the notorious shagreen skin, it sounds pretty bold. Or just crazy.
All this could be just a reason for abstract reflections (after all, the Americans themselves defend the right of everyone to "go to hell on their own road"), if not for the firm intentions of the "green revolutionaries" to drive the whole world under their banners without the slightest exception. The truly wicked irony here lies in the fact that the United States itself admits that the main blame for the current climate change lies precisely with their country. According to a study published not so long ago in the American journal World Political Review (WPR), it was the United States that, starting in 1850, which dates the conditional beginning of "global industrialization", has emitted 509 gigatons of carbon into the Earth's atmosphere. And this is at least a fifth of the total volume of this gas that has got there so far. In fact, the whole world is being asked today to pay in full for the sins of the Americans, Britons and other "flagships" and leaders of the "industrial revolutions" that preceded the one that Bill Gates is now calling for.
What should Russia do about this? Yes, actually, nothing special. Little by little, little by little, it will not be superfluous to transfer our own industry to more environmentally friendly technologies. However, by no means at an emergency pace, not to the detriment of their economic and political interests. Both the leaders of different levels and ordinary citizens are less likely to listen to the "all-panic" and alarmists, broadcasting about the "end of the era of oil and gas" - 2021 has very convincingly shown how it really "ends". Well, and be ready to defend your interests in the most decisive and tough ways, among which "screwing the valve" on the main pipelines is still the most humane. However, as recent events show, this is exactly what our country is doing in perfect order.