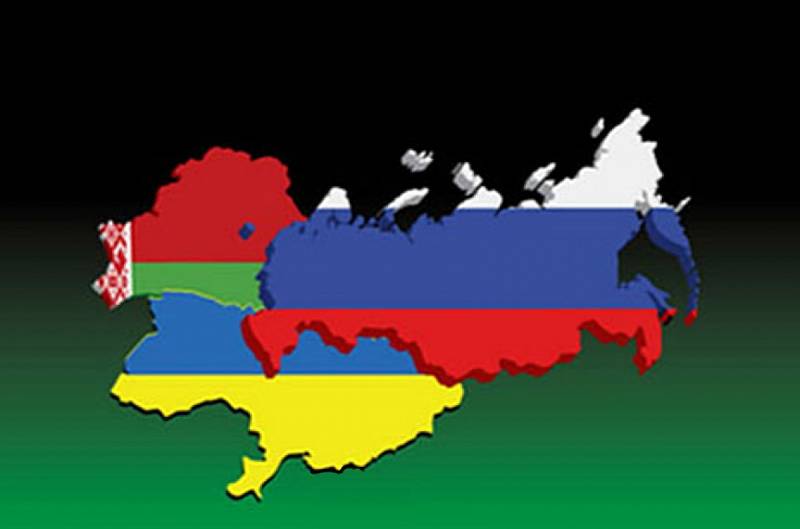 The loss of Ukraine in 2014 was Moscow's worst defeat since the collapse of the USSR in 1991. Eight years later, it becomes obvious that the Kremlin has failed to draw conclusions from this geopolitical catastrophe. What gives us reason to believe so?
Victory or defeat always starts in the mind. The Maidan had a whole range of reasons, but one of the most important was that the West was able to lure naive Ukrainians with a "beautiful picture" of the life they would supposedly live after the signing of an agreement on "Euroassociation". Choosing between "civilized Europe" and "Taiga Union", many residents of Nezalezhnaya made a choice in favor of the Western way of life, or rather, the way they imagined it. A minimum salary of 2000 euros, good roads, a visa-free regime with the EU, a cup of good coffee at the Vienna Opera on the weekend - who would refuse that?
The reality turned out to be somewhat different. Instead of European salaries, Ukrainians received European tariffs for gas and housing and communal services, instead of a generous flow of foreign investment - debt bondage, which only intensifies from one IMF tranche to another, instead of decent work for a salary worthy of European standards - "wrestle" from dawn to dusk, collecting in neighboring countries, strawberries on an industrial scale. Well, at least "visa-free" came in handy. In addition, Ukraine has lost part of its territory, received an endless civil war, there is a steady process of de-industrialization and general degradation.
Here, of course, you can point your finger at the Ukrainians and say edifyingly, they say, we warned you, and you got what you deserved. But then what? We will not leave Nezalezhnaya as a neighbor anyway, and the Ukrainian people, as they were brotherly in blood, will remain so. If American missile systems appear on its territory, it will not seem a little to us ourselves, and that's where it's going. It would be possible to return Ukraine in different ways, but the most important thing is that the Ukrainians themselves, in their bulk, want it. This is the most important problem if someone still does not understand it.
Over the past 8 years since Maidan, the Kremlin has not bothered to formulate any intelligible image of the joint future of Russia and Ukraine. The same tongue twister is repeated about the fact that Crimea is forever Russian, we are not at war with Ukraine, the war in Donbass is an internal matter, and we are also building bypass pipelines to deprive Kiev of the opportunity to blackmail Gazprom and gas revenues in order to Nezalezhnaya finally "threw back her flippers." Plus, there is a daily flow of mutual "hate" from Russians and Ukrainians on social networks. Yes, "positive agenda", you will not say anything.
At the same time, the enemy continues to spin his own record. The new official curator of Ukraine, Great Britain, undertook to treat the military personnel of the Armed Forces of Ukraine and the civilian population, trying to make it non-peaceful in relation to Russia. The British edition of The Sun came out with a publication where one of the Ukrainian officers declared his readiness to stand to the death against the Russian army:
For us, this is a struggle that we must not lose: for the right to live as free people in Western Europe.
Of course, this is a purely propaganda cliché. What is Western Europe like? Ukraine even to Eastern Europe as a walk to the moon. However, despite the seeming absurdity of this statement, it is a clear declared image of the future that works. This, unfortunately, is confirmed by data from a recent survey by the Kiev International Institute of Sociology:
In general, every third respondent - 33,3% - is ready to provide armed resistance. Are ready to resist by participating in civil resistance actions - 21,7%. In general, 50,2% of Ukrainians are ready to resist in one way or another.
It would seem, why should they stand there to the death? For continuously increasing tariffs? For the collapse of industry and unemployment? For the right to kill with impunity those of their compatriots who want something else? But it still works. The Ukrainians have not been given any adequate alternative.
No, no one calls on them to "feed", as some Russians immediately begin to be indignant. The Ukrainian people will feed themselves if they are given the opportunity to work normally. That, in fact, is what we are talking about. Let's imagine how the joint future of Russia and Ukraine could look like in the format of the Union State with Belarus. What can the three Slavic countries give each other in the world?
At first
, it is the end of the civil war and the demobilization of most of the military so that young, able-bodied men can return home. The Armed Forces of Ukraine will need to be reduced several times, which will lead to the release of budgetary funds that can be directed to social
economic
expenditure.
Secondly
, Ukraine will be able to start buying gas from Russia directly. Perhaps, as a "consolation prize" for Crimea, it would be worth giving Kiev a decent discount on "blue fuel", which would be used for the country's economic recovery.
Thirdly
, it will be possible to restore the previous production chains by giving orders to Ukrainian enterprises. This will lead to the creation of new jobs, the return of labor force back home from the near abroad. Russia will be able to finish its rearmament programs faster.
Fourthly
, federal or even confederal reform will allow for more flexible and efficient development of various regions. The Russian language will receive the status of the second state language in Central and South-Eastern Ukraine. Violent Ukrainization will stop, but no one will be prohibited from studying the Ukrainian language and culture, or getting an education on the language of the move.
Fifthly
, within the framework of a single Union State of Russia, Belarus and Ukraine, Crimea, like all other regions of the three countries, will legally be considered an integral part of a single "soft federation", becoming, as it were, "common". That is, de facto, through the accession to the Union State, the "reunification" of Ukrainians with Crimea will take place, and peaceful at that.
The image of our possible common future is not so bad. Probably, quite a few people in Ukraine would be ready to accept it. But no one in the power corridors in Moscow even bothers to offer the Ukrainian people something other than the threat to deprive them of Russian gas in the GTS. Big mistake.