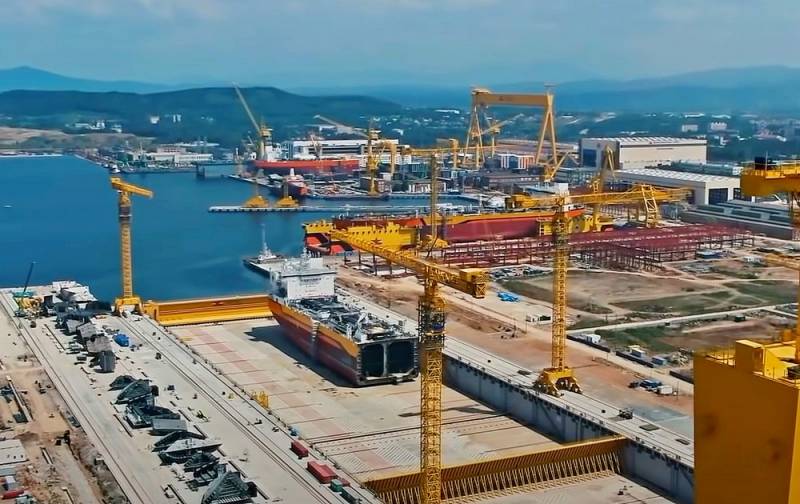 Just last week, three enterprises opened in Russia at once, which not only eloquently indicate our high
technological
potential, but also lay the foundation for its further development in the coming decades.
It is worth starting from the dry dock at the Zvezda shipyard in the Far East. The dimensions of the new facility are 485 by 114 meters with a depth of 14 meters. It has 4 tower cranes with a lifting capacity of 60 tons each and one gantry cranes capable of lifting loads up to 1200 tons.
The aforementioned dry dock is the largest in the world. But the most important thing is that it gives our country serious opportunities in terms of building large-tonnage ships.
The thing is that the growth of cargo transportation along the Northern Sea Route significantly exceeds the rate of ice melting in the Arctic. Consequently, Russia will need icebreakers to ensure smooth transit.
By the end of the decade, it is planned to deploy a group of 13 icebreakers of project 22220. At the same time, the country's needs are not limited to icebreakers alone. We need tankers, bulk carriers and other large-tonnage ships.
At the moment, the portfolio of the Zvezda enterprise already contains over 60 orders, and the appearance of the aforementioned dry dock in our country guarantees Russia a technological advantage for decades to come.
The second most important event of the last week was the launch of the production of gas turbine engine compressors at the site of the Samara enterprise "UEC-Kuznetsov". The new complex will not only provide more than 500 jobs requiring the highest level of engineering training, but will also become another key facility necessary to preserve the technological independence of Russia in the field of engine building.
Finally, we should not lose sight of the opening in Dubna of the first large-size UAV plant in the history of Russia. This site has everything necessary for the production of Orion, Sirius, Helios, Thunder drones, as well as unmanned helicopters. At the same time, the new plant will not only significantly increase the production of domestic UAVs, but will also provide the region with additional 1500 jobs.