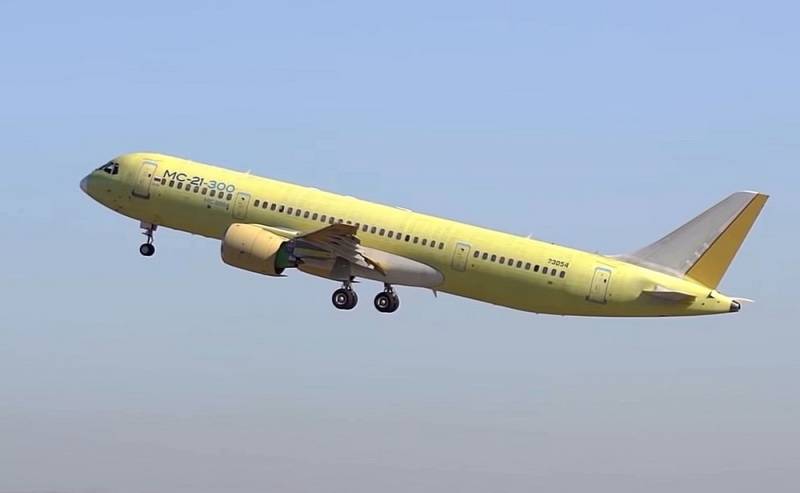 The newest Russian medium-range narrow-body airliner MC-21-300 with a "black wing" made of domestic polymer composite materials (PCM) took to the skies for the first time. The plane took off from the IAZ airfield of the Irkut company (part of the UAC), having carried out a successful (regular) flight, according to the communique of the Rostec state corporation.
The MS-21 is geared towards the largest part of the air transport market for people. The certification of the MS-21-300 version of the airliner (with American Pratt & Whitney aircraft engines) is nearing completion; its deliveries to air carriers are scheduled for 2022. At the same time, a version of the MS-21-310 airliner with a new power unit PD-14 made in the Russian Federation is being tested.
UAC General Director Yuri Slyusar noted that there are three MC-21-300 units in the final assembly shop, and three more of the same aircraft are at different stages of production. All of them will receive the Russian "black wing".
Aviastar produces fuselage panels and tail unit MS-21, VASO - engine pylons and landing gear fairings. "AeroComposite-Ulyanovsk" produces the wing box, "KAPO-Composite" - "wing mechanization" - added Slyusar.
"The first flight of an aircraft with a wing made of Russian composites proves that we did everything right, the MC-21 program is consistently and steadily moving forward, despite sanctions and unfair competition," said the head of the RF Ministry of Industry and Trade Denis Manturov.
The minister indicated that the department allocated 4,4 billion rubles. to create materials for the Russian "black wing". Now a composite wing has been produced for two airliners and the creation of a third is underway. Changes to the type certificate in the part of the Russian "black wing" are planned to be received in the second half of 2022.
We remind you that before this Rostec
told
about the percentage of PCM in the design of MS-21 and
took place
test flight of the third prototype MS-21-300 along the route Zhukovsky - Irkutsk - Zhukovsky with passengers.