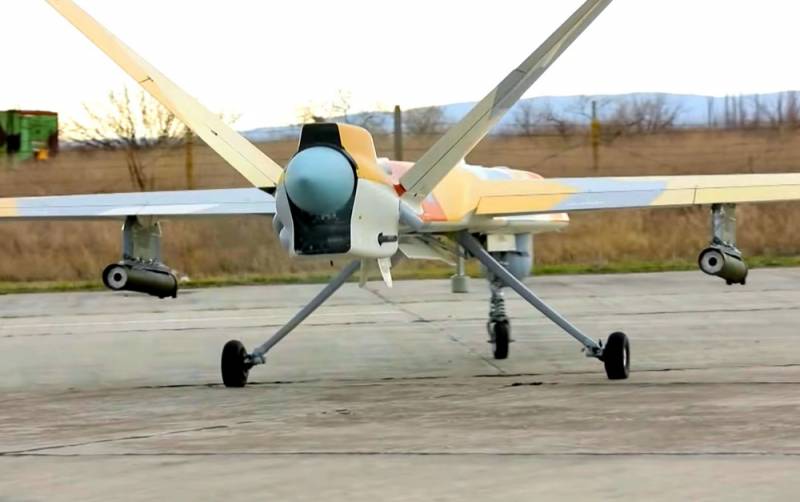 This week, there have been heavy reports of the Orion UAV. It is reported that this drone was used more than 40 times to attack the positions of militants in Syria, that Orion was successfully used to destroy an air target, and that the first Russian UAV plant was completed and opened in the Moscow region. What conclusions can we draw from this?
Few people now remember, but at one time the USSR was among the pioneers in the field of unmanned aircraft. Then there was the collapse of the superpower, the chronic underfunding of the military-industrial complex, an openly sabotage attitude was insistently introduced that "we will buy everything we need abroad for petrodollars."
Technologies
, meanwhile, continued to develop, and suddenly it turned out that the UAVs, reconnaissance, shock and reconnaissance-shock, have a wide niche for use. Currently, the recognized leaders in this area are the United States, Israel, China and Turkey. The latter managed to squeeze the maximum out of the armed conflicts in Syria, Libya and Nagorno-Karabakh. Who, besides military experts, knows the names of Israeli or Chinese drones? Yes, no one, but everyone has heard about the Turkish "Bayraktars".
For Russia, such changes in the arms market turned out to be a rather unpleasant surprise. In Syria, our servicemen had to face constant aerial attacks by terrorist UAVs. To protect the Khmeimim airbase, an echeloned air defense system had to be built. At the same time, all the advantages and disadvantages of unmanned aircraft were very clearly manifested.
On the one hand, a low-speed UAV is no match for a full-fledged manned aircraft and is a fairly easy target for air defense systems. If necessary, the sky can be cleared by fighters, air defense systems or air defense systems. On the other hand, a large "swarm" of attack drones, not even factory ones, but artisanal ones assembled by terrorists "on their knees", can "overload" the air defense system. Let's not forget that the ammunition of anti-aircraft systems is not infinite, requires reloading, while each shot of the same Pantsir-S1 air defense missile system costs tens of thousands of dollars. It turns out an analogue of firing a cannon at sparrows.
Thus, unmanned aircraft should neither be overestimated nor underestimated. It can be actively used in conflicts of low and medium intensity against an enemy that does not have a modern air defense system, but it can create problems for an army armed with powerful air defense systems. War has its own
economy
... Why are we all talking about this?
Moreover, there has been a positive trend in Russia: in the past few years, projects of new drones of all classes - "Orlan", "Orion", "Altius", "Hunter", have appeared. Spiteful critics can say that all these are piece copies, but the argument is "crooked", since the projects are very young, and before the launch of the UAV into a series, it must be properly "driven", identified and eliminated all "childhood illnesses" so that later the same ill-wishers would not have the opportunity to mock some problems. What is gratifying is that at least one Russian reconnaissance and strike drone is already definitely ready for mass production.
We are talking about the "Orion" developed by the "Kronstadt" company, which is also called the "pacer". Work on the device began in 2011 by order of the RF Ministry of Defense. The Russian UAV is a direct competitor to the Turkish Bayraktar, a medium-altitude, long-range drone. Beginning in 2018, Orion began to be tested for armament, and from 2019 - tested in real combat conditions in Syria. On a suspension, a domestic UAV can carry: corrected air bombs KAB-50, guided gliding bombs UPAB-50, unguided air bombs FAB-50, an analogue of Turkish MAM-S - corrected small-sized air bombs KAB-20, as well as an analogue of the American AGM-114 Hellfire - airborne guided bombs X-50 missiles. The result is a powerful enough shock drone that can compete with the "Turk" in the hunt for enemy armored vehicles on an equal footing.
However, now the Orion's capabilities are not limited to actions against the "earth". Just a few days ago, this UAV demonstrated the ability to conduct an air battle against another UAV. The Russian drone was able to intercept and destroy a helicopter-type intruder drone that simulated an attempt to break through to a military airfield. The conditional enemy tried to approach the target covertly, actively maneuvering and using the terrain. Despite this, the intruder was found and eliminated. At the same time, the domestic UAV was so "harsh" that it was able to shoot down an air target with the 9M133FM-3 "Kornet-EM" anti-tank missile.
What conclusions can we draw from what happened? Over the past decade, Russia has developed and prepared for mass production an effective and competitive reconnaissance and strike UAV, capable not only of striking ground targets, such as tanks or artillery installations, but also of conducting aerial combat against other drones. Once on alert, the Orions will be able to conduct constant patrols, for example, in the area of ​​the Khmeimim airbase, intercepting enemy UAVs before they strike, which will qualitatively strengthen the Russian air defense system. And it is time for the Bayraktars to begin to be afraid, since they have their own hunter.