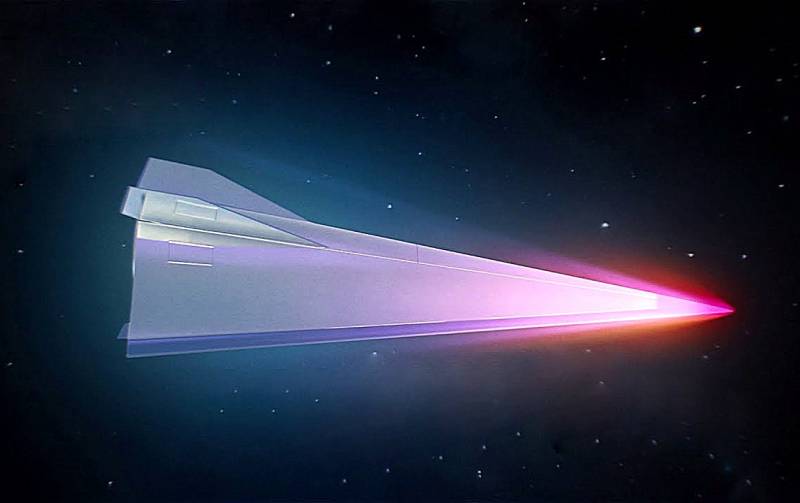 In the light of the latest proposals on ensuring security in Europe, which came from the Russian leadership to the United States and NATO, and for some reason called an "ultimatum to the West", there is only talk everywhere, and not so much about the Russian proposals themselves, but about what this will happen if this very West does not react properly. And this burning question now worries the minds of analysts and journalists around the world, not excluding Russia itself. It is well known that Putin, unlike many of his foreign "colleagues in the workshop", does not throw words to the wind, and if he has already begun to speak with "sworn Western partners" in such a harsh language as never before, it means that he has reasons for this there are probably the most compelling ones, and even with a safety net ... Just the other day, the Zircons were launched from the ship in a salvo.
A salvo of hypersonic missiles. For the rest of the world, this phrase is still generally from the realm of fantasy, so this "rest of the world" has a reason to think about it. Not only about the "Zircons", although about them too, but most importantly - over the Russian proposals for joint common security. Although something tells me, and not only me, that even after that our Western "partners" will not come to their senses, and will not want to get down from the top of their imaginary world. That is, according to numerous forecasts, the response of the Americans, and they decide everything unambiguously, will be negative. In what form it will be presented is another question. They can, as already mentioned, start "blurring" the negotiation process, they can "switch the arrows" - they say, NATO partners are against (some kind of Estonia or Poland), or they can pretend that they do not understand what they are talking about ... all, however, are just variations of the word "no." And then it will be necessary to act. But as?
This is what worries everyone.
Some, first of all, European uneducated figures, paint a certain picture with the invasion of Ukraine by gigantic tank wedges, accompanied by thousands of Russian soldiers, from their last strength to fight with the help of American Javelins and Turkish Bayraktars, there will be valiant Ukrainian warriors, whose unenviable fate, nevertheless, it is still a foregone conclusion. Apparently, they are haunted by their own wet dreams about the once failed blitzkrieg. Well, yes, and also all these phrases about "coffins for thousands of Russian soldiers" ... They would very much like this, but they are unlikely to wait - there are far from stupid people in the Kremlin, you don't need to measure everyone by yourself, dear Westerners
policy
... There won't be any tank wedges with coffins, but
technique
stands where it stands, precisely so that everyone can see her there. And they did not relax too much - the GDP promised to keep all enemies in suspense, and so it does. So I would not seriously consider the option with a large-scale ground attack on Ukraine a la World War II.
There are versions with the deployment of our strike systems somewhere closer to the territory of the United States itself, a response threat, so to speak. Here, theoretically, some Latin American states - Cuba, Nicaragua and Venezuela - that are friendly to us, or rather hostile to the States, could come into account. The latter, however, is already far away for a direct threat, but planes can be placed there - the Swans have even been trained ... But the placement of missiles, planes or even ships somewhere far away means that it is necessary to create full-fledged military bases there. All three above-mentioned states are located on the American continent, that is, overseas, and, unfortunately, we are not yet in control of the oceans. The full-scale supply of such bases exclusively by air, in the event of a naval blockade, for example, is extremely difficult and unrealistic on a long-term basis. It is still problematic for us to have bases in America, if not to say a little realistically. Until the program for the development of the Russian Navy is fully implemented, and this is definitely not tomorrow ... Such trifles as the consent of not very reliable local leaders is another question, but also a question.
There is also a choice of various options for aerial attacks by the Russian Aerospace Forces with various options for dismembering Ukraine after them. And then, naturally, with the instant suffocation of the Russian
economics
a mass of new "tsar - sanctions" and similar horrors, plus the strengthening of NATO contingents along the entire length of the eastern borders of the alliance ... If we cleanse it of various journalistic "husks", then it is a very realistic plan. Its apogee, possibly, will include the deployment of our strategic missiles in Belarus - Father himself said that he agreed in advance.
But in all these scenarios, something seems to be missing, something that can really change the balance in the world. Instantly. But this is exactly what, in my opinion, Putin has in mind, acting and speaking now in exactly this way. Moreover, Deputy Foreign Minister Alexander Grushko, in my opinion, he was, spoke in the style that in case of refusal to comply with Russian conditions, the United States, they say, will be very much and unpleasantly surprised. And also that Russia's response will be military and military-technical literally.
And why, in fact, no one in this sense at all considers the possibility of a non-nuclear strike on the territory of the United States or the European NATO countries? Indeed, the Russian requirements also include the withdrawal of US offensive weapons from the territory of the "eastern" members of the Alliance. And if the Americans refuse, then? ... Aegis launchers are already in Romania and Poland. And everyone understands that the transition of these silos from the function of "anti-missile defense" to the state for the use of attack cruise missiles is technically laid down in them in advance. That is, this is precisely the kind of offensive weapons of the United States that threaten us near our borders. But everyone, it seems, is absolutely sure that the GDP has little guts for this - after all, the territory of NATO, protected by their Fifth Article, and even an American object ...
And if not thin? And if there is insurance, in case of what? It is not for nothing that the Chinese comrades have already supported all of our president's actions in relation to NATO in advance. I propose to consider this seemingly crazy option nevertheless closer. From the point of view of what he can bring us. Maybe it won't seem so crazy afterwards. And the Americans, as Grushko promised, will be so surprised they will be so surprised! Naturally, they will have to be warned, about ten to fifteen minutes in advance, according to the "Iranian version", so to speak, so that people are removed from these facilities. And also that we are acting in accordance with the previously put forward ultimatum, sorry, the conditions for NATO that it refused to fulfill, and in the event of a prudent lack of a direct military response from the United States, there will be no further attacks. Till. It is Gerasimov who will inform Milli by phone when the Zircons or something similar will already fly.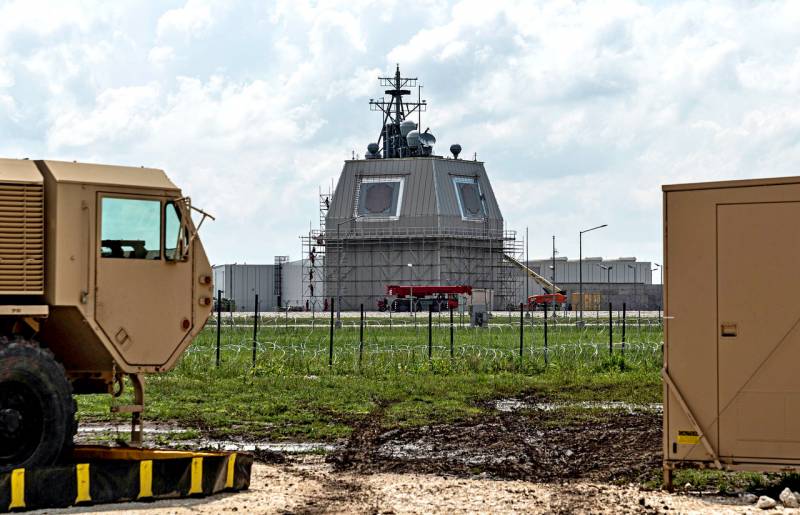 Aegis missile defense system in Romania
I personally have never seen a hypersonic missile test. But I saw others, older. And in general, I can quite vividly imagine how something like this with a speed of 10 km / h strikes a stationary ground target about the size of a destroyer superstructure. In the end, it is practically she herself, only on land. The spectacle must be absolutely enchanting! And the psychological impact on the audience is heartbreakingly murderous. After such impressions, few people will want to take part in hostilities against the side from where something like that came from. For completeness of the described picture, it is necessary to add that right before the hit of a Russian missile, which no one in the world is able to stop in any way, into the American anti-missile system "Aegis", from it in all directions, headlong, on improvised vehicles and on foot will be absolute panic to flee the American servicemen. As the recent events in Kabul have shown, they can do this. For this, of course, it would be good to prepare in advance, so that it would be like and to whom all the action was "accidentally" filmed from different angles, and then shown to the whole world on TV. They say, they say, that modern Europeans and Americans are not afraid of war, because they have never seen it - so let them see it in real life, right at home ...
After such a medial blow, the Americans will see Afghanistan as a slight embarrassment, such as Biden's exhaust in the presence of the British queen. The third world war, which everyone is so afraid of, will not start. I believe in Putin, I always listen to him attentively, and I proceed from his own words. The destruction of a ground-based launcher, especially without casualties (if possible, we did everything for this) is hardly worse than the sinking of an entire warship in the Black Sea, and this is exactly what the president spoke about. And he also said that if a fight was inevitable, he had to hit first. What is not such a blow? Moreover, it will be a blow against the NATO bloc itself, which this bloc will definitely not withstand - who needs such security? And so that the hegemon and his especially zealous companions do not suddenly have stupid thoughts in the heat of the moment, it is necessary to simultaneously raise a couple of planes into the air, including those with "Daggers" and, for example, surface a serious underwater missile carrier somewhere in the right place. After that, Ukraine can simply be offered to surrender peacefully or make its security infrastructure the next target. Something tells me that we will quickly come to an agreement with Ukraine and a new, very independent and even more friendly to the Russian government will emerge there than even in fraternal Belarus, which will take some time to learn the Ukrainian language, at least for decency.
In the event of a collapse of NATO, I think that soon the problems with sanctions and Nord Stream will also be forgotten. And the US troops, as a result, will leave the European continent altogether. Thus, we will resolve the issue of European security for a long time, which is what Russia is striving for.
Well, yes, the reader will say, it is somehow too similar to the well-known program for the rapid development of small towns called "Moscow - Vasyuki", the author is Comrade O. Bender. Maybe. But in 1990, I certainly would not have believed that in a year my great Motherland - the USSR would not become, in 2013 I could not even imagine that Crimea would return to Russia, and a year ago similar statements from our Ministry of Foreign Affairs and personally from the President appeared I would be fiction, and not scientific. Who said that NATO is eternal and the United States is forever the hegemon?
No one. And nothing is impossible, as practice and my personal experience show. So why not take these Aegis out of the place where they bother us so much? And they will not fight with us anyway - they certainly have little guts, everyone has seen it ... In my opinion, it is a quite realistic plan, although it is quite bold.
In the end, I would like to add that all of the above is not the disclosure of some state secret, but only the author's personal opinion as an analyst not burdened with political responsibility, drawn up on the basis of publicly available information. And it is in this form that it should be viewed.