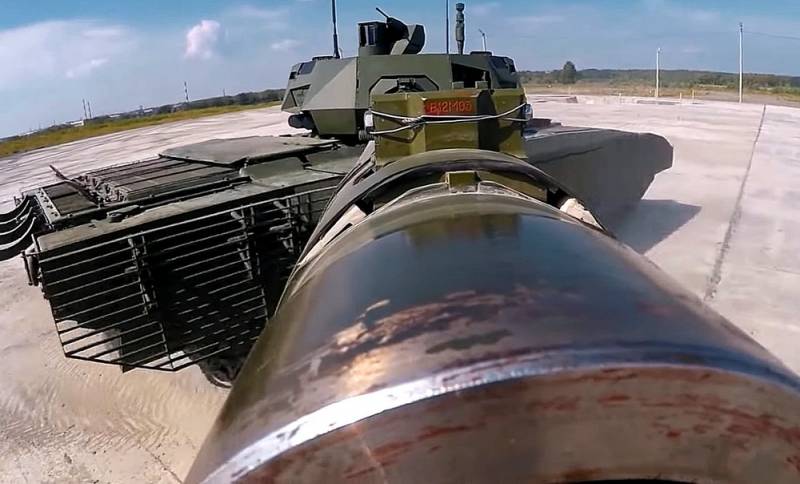 The emergence of unmanned control systems is one of the most notable and significant achievements of the military industry. UAVs have already proven their usefulness and effectiveness in real armed conflicts. Now it's the turn for unmanned tanks and self-propelled guns. How soon will robotic armored vehicles appear on the battlefield, and can Russia, one of the world's recognized centers of tank building, be among the leaders in this promising area?
"Storm"
In fact, work in this direction in our country began in the last 2020 year. Uralvagonzavod on its own initiative started development work on the project of a robotic complex on the chassis of the T-72B3 tank. According to the publicly available images, the first Russian tank-robot will look like a "post-apocalyptic": a bulldozer-type blade will be installed on the nose of the armored vehicle to demolish obstacles, such as burned-out cars, in its path. With such a cinematic appearance, the unmanned "Storm" clearly has a place in a blockbuster about the near-term "dark future".
In total, it is planned to create several modifications of the robotic tank:
1.With tank cannon and machine gun armament with two cannon options - 125 mm and 152 mm,
2. Armed with RPO-2 "Shmel-M" rocket launchers,
3.With two 30-mm automatic cannons and RPO-2 "Shmel-M" rocket launchers,
4. "Flamethrower version" with blocks of NURS 220 mm launchers with thermobaric shots,
5. A special security vehicle.
There is not the slightest doubt that such a combat
technique
will find its niche. Robotic tanks and multiple launch rocket systems can be used to perform a wide range of tasks: reconnaissance, defenses, fighting tanks and fortified points of the enemy, evacuating people and damaged equipment from the battlefield, demining, etc. However, for its mass production, it is first necessary to acquire the appropriate technologies.
So, we need modern systems for determining the location of the tank, remote control and firing, closed data and video transmission channels, and it is also highly desirable to have developments in artificial intelligence (AI) to increase the autonomy and effectiveness of independent actions of the armored vehicle. In this regard, a natural question arises: how expedient is it to develop and implement such advanced technologies on, to put it mildly, not the new T-72B3? Wouldn't it be rational to turn the super-modern T-14 into a robotic tank?
Unmanned "Armata"
Let's face it, the Armata platform is asking for robotics itself. This promising main battle tank with an uninhabited turret was originally developed for a crew of three. But it would be better to do without people on board altogether, and such work is already underway, said Vladimir Artyakov, First Deputy Defense Corporation Rostec:
The well-known Armata tank was originally designed as a crew-driven vehicle. But the level of modern technology today makes it possible to turn it into a drone - we carried out the relevant tests, and they turned out to be successful.
We are talking specifically about artificial intelligence technologies, which are necessary to control military equipment. Looking at the T-14, with its oversaturation with the most advanced technology, it is very easy to imagine it as a robotic tank. This is the so-called "stealth" -tank, created for conducting "network-centric warfare" of the 21st century, capable of conducting reconnaissance and combat independently, as well as directing and adjusting the fire of other tanks, self-propelled guns and anti-aircraft missile systems. "Armata" is equipped with a unified tactical control system (ESU TZ), capable of managing a unified information network, with the integration of various types of communication, including communication with unmanned aerial vehicles and other reconnaissance means, online interaction of different types of troops on the battlefield.
The T-14 is a real "tank from the future" and it can become unmanned. The question is, why did Uralvagonzavod start the robotization process not with him, but with the elderly T-72B3?
Perhaps the fact is that the "Armata" is still produced only in a very small experimental series. Next year, the troops are expected to receive only 2 dozen "tanks of the future". Perhaps the main drawback of the T-14 is the excessively high price. How much will it increase if you make "Armata" a full-fledged robot? There is still no definite answer to this question. However, if we assume that the robot tank should become a "consumable that you do not mind", then its price should not be too high. As history shows us, wars are not won at the expense of the "wunderwaffe"; the "weapon of Victory" should be simple, reliable and massive.
For this reason, most likely, "Armata" in the future will be precisely a command tank with a crew on board, and unmanned T-72B3 will go to storm the fortified areas.